With the flourishing market of ecommerce comes the challenge of converting the visitors into buyers along with their retention for long time. This challenge requires the eCommerce owners to design their websites giving user experience the utmost priority over the other, failing which can adversely affect the eCommerce business on several levels. For instance, user might leave your website and switch to another one which is easy to use or it can even affect the search ranking.
We have enlisted the best practices of UX design that can be followed by ecommerce websites to make the customer journey a satisfying and rewarding one.
1. Develop customer centric search
According to a report by Salesforce, it was found that before making a purchase 40% of the customers usually take help from intelligent assistants. This implies that search experience can either make or break sales. Let us explore the ways to create a customer centric search.
Voice search:
Online retailers can benefit by using voice search. With the help of voice search technique, businesses can enhance the user experience and therefore, can stand out from the competitors. According to future of retail report of 2017, voice recognition technology is becoming popular and will continue to grow. This technology is convenient, fast and easy to use. Better user experience results in better customer engagement. For instance, Amazon Alexa is one of the popular virtual assistants in the e-commerce field. Customers can easily speak to Alexa, assign it various tasks and teach it to execute something new. Alexa can also provide information about exclusive deals, stock prices, check account balances, and more. Alexa is convenient to use, which consequently increases the spending on Amazon by an average 10%.
Image recognition:
Human brain perceives images more clearly than text. In the field of e-commerce, pictures play a crucial role while selling the products online. Many times it happen that in real world we see many interesting things, but when we try to search it online, we are unable to express that image in words. We have a clear, beautiful picture in our mind but words fail us to find that. Well, the solution to this issue is image recognition technology. This allows the users search the product using the image recognition technology.
2. Use of Horizontal filter
Most of the e-commerce website interfaces include vertical sidebar filtering. But over past few years horizontal toolbar has gained popularity. Let us explore the advantages of horizontal filtering:
Flexibility:
One can use sliders, tables, paragraphs in more flexible manner while using horizontal filters.
Displayed as the User Scrolls:
We can easily pin horizontal navigation to the page where filters can be made available as the user scrolls; delivering a comfy and seamless user experience.
Mobile and tablet friendly:
Horizontal filtering allows the use of full width of the page and view different filters while scrolling, which makes it more mobile and tablet friendly.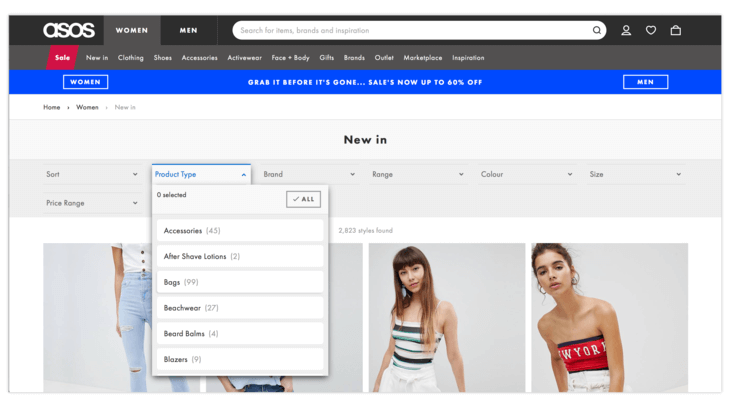 3. Selection among infinite scrolling, pagination and load more buttons
It is very important for the merchants to select appropriate ways as to how products are loaded on website. We will help you with options to select the best one for your online store.
Pagination:
Most common way to load new items in e-commerce website is pagination. Displaying a large catalog on online store makes it look clumsy. Therefore, smaller chunks of information are provided to make the customers focus only on the essential parts of a particular page. Well, the option of pagination is very helpful for someone looking for specific product and not just simply scanning. Also, search time can be easily estimated by the users while looking at the total number of results.
3. Infinite Scrolling
Implementing infinite scrolling can provide incredibly smooth experience to the users. It loads the content in a continuous manner while the user scrolls down the page, allowing more user engagement. This technique is used in popular sites such as Twitter and Facebook. This technique does not imply for every online business. It works really well with flat content structure. But this is not a good option when it comes to goal oriented tasks. It could be really tedious job to find products that are displayed in linear format on a never ending page without any filter or navigation techniques.
Load more:
This is a decision maker giving an option to the customers whether they wish to see more products on the web page. This functionality facilitates the users to explore more products than on websites having pagination, but this is not as quick as infinite scrolling. Its gives the customers a sense of control and doesn't leave them in the sea of content.
4. Reduce product information and number of CTAs on website
Most of us don't have time to read massive texts. Therefore, it is good to make product descriptions short and crisp for every customer. Some tips to make your product descriptions attractive at the same time informative without overloading the website.
Focus on Target audience:
Know your audience for whom you are writing. Keep your messages clear & interesting, thereby, creating a deep connection with your target customers and making them place an order.
Scannable descriptions:
It is advised to write the descriptions with clear headings, subheadings and bullet points as most of the visitors are not much interested reading every word of the page.
Clear call to action:
We all are aware of the call to action buttons that require website users to take some specific action. These CTAs should be made creative and compelling that can make the website visitors click on it.
5. Simple signups and checkouts
Everyone loves simple and quick things. Therefore, keeping the process of signups and checkouts simple, crisp and intuitive is a key to give the website visitors the best of their experience. Following things should be kept in mind to make the signup and buying process easier.
Easy on-boarding:
Try to make the on-boarding really simple and don't ask too many questions in the very first go. Name and email address are enough for registration and other personal information can be sought after on-boarding.
Use Single Column Structure:
A single column structure enhances the ease of navigation. Users naturally move down from top to bottom along a single line. The major disadvantage of using multiple columns is that the user might not know where to start and which direction to read in. Also, registration process might take a bit long with multiple columns and leave the users with not so good experience.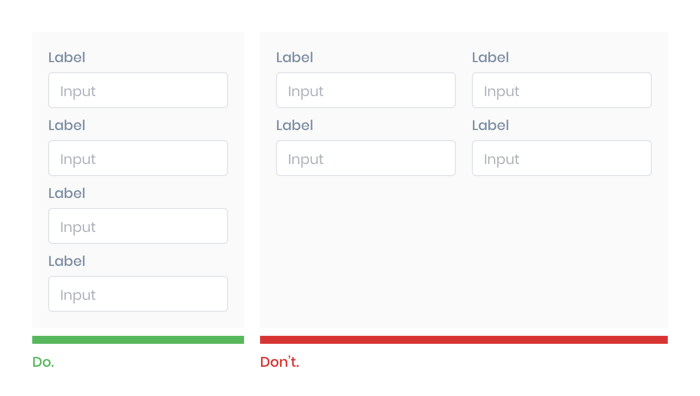 Segment fields into Semantic Groups:
If you have a lot of questions in your checkout form, segment them into semantic groups. This will create a great user experience allowing users to proceed with filling the form and prevent unwillingness in filling the form.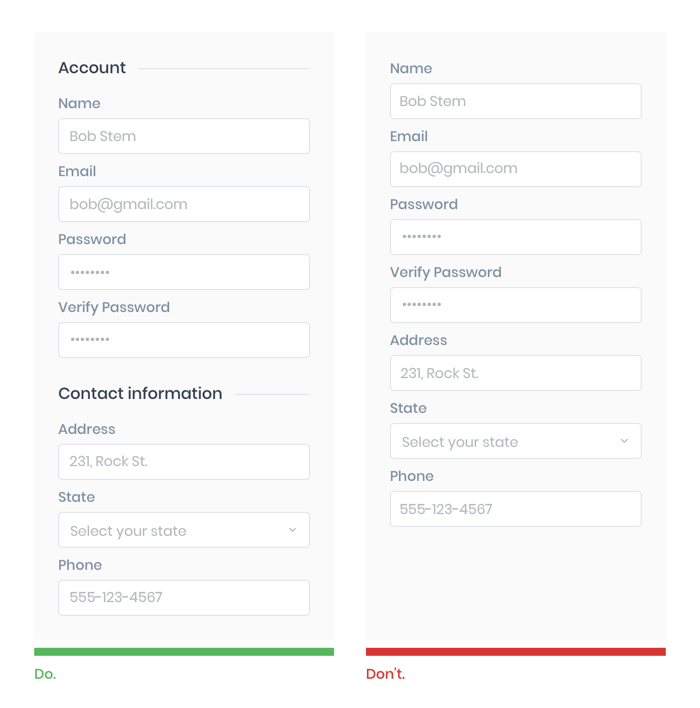 Avoid using auto correct during checkout:
Autocorrect option works really poor when it comes to filling of proper nouns, email addresses, abbreviations etc. Implementation of auto correct during checkout makes the users to stop and write correct words, which is both time consuming and irritating.
Validation of data after filling the form:
It is a good practice to allow the user to check the data immediately after filling the fields and not at the end of checkout process.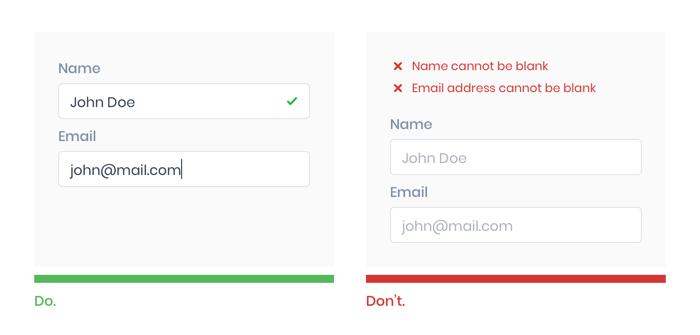 6. Newsletter Subscription Form
Newsletter sent via email is a powerful tool for better communication and customer engagement. The option of newsletter signup in the online store lets the store owners collect customer email address, which can be used in future for email marketing campaigns.
While surfing the internet, people come across lot of sign up forms. The significant thing here is to grab the attention of the people who encounter the sign up form. Well, this can be achieved by providing the visitors with an attractive UX design. This will encourage anyone to sign up for the newsletter and make a purchase from the website.
Let us explore some of the options that can be adopted to encourage users for newsletter sign up.
Using different variety of buttons:
The CTAs should be attractive and grab the attention of the visitors, compelling them to at least click or tap it. Sometime, website owners hesitate to use big buttons with vibrant colors, but big buttons with eye-catching colors can be used to grab the attention of the website visitors. Also, to make the sign up process really easy and quick, one can use buttons to sign up with Facebook and Twitter.
Try go minimal:
Going minimal is a popular trend in the UX design nowadays. We all are aware of the term minimalism, which can be defined as the design with appropriate number of elements to keep a website functional and gives an attractive look to it. While creating the newsletter sign up form, balance the fonts, colors and graphics to make it both stylish and functional.
Selection of appropriate words:
Make the sign up form clear and understandable as people don't like vague sentences and complex phrases. Provide an easy experience to the user in the newsletter sign up form to attract potential subscribers. Further, don't annoy the customers by asking them to create the username from scratch, it's easier to use phone number or email address.
Use pop up window:
Colorful and eye catching popup windows can easily attract the customers' attention. While using a pop up window, give the website visitors some time to look around the website first and then the window should pop up after some 15 seconds. This will give users enough time to gain interest in the product or service. When implemented properly, this is one of the most effective methods to get more subscriptions.
Conclusion:
While managing an ecommerce website, it is very much needed that the website owner should pay attention to the UX. It can help the website owners create a unique experience for the customers, encouraging them to stay loyal to their brand for a longer period of time.
If you are a website owner and wish to give your website visitors a unique user experience, we can help you with viable design solutions for your website.
Do comment below if you have more to share about making your ecommerce website give a better user experience.