Audience development: ownership, engagement, and retention
In this attention-hungry ecosystem, only the ones that thrive are the ones who develop an audience and then go ahead and strive to build their own marketing list. Building a relationship with your audience has become vital to keep the publisher flywheel in motion. And Owning an audience gives markets the liberty to engage with this audience without anyone throttling the reach or moderating your content.
Vivek Khandelwal, Co-Founder & COO, iZooto will share his secrets on how the flywheel can be put in motion, letting you gain insights on not only how you can develop your own audience but also on how you can reengage and retain them.
What will be covered
Traffic vs Audience
Putting the publisher flywheel in motion
7 ways to grow an audience
How subscribers increase lifetime value and revenue
Playbook for retention
What next – Upcoming trends
Don't know if you will be able to make it for the webinar? Register anyway, and we will send you the recording.
Anil Gupta
CEO & Co-Founder at Multidots
Anil has managed and mentored 50+ WordPress migration projects in the last 12 years at Multidots. His WordPress CMS knowledge and experience, ability to understand project-critical timelines, and his skills to solve unique migration challenges, have been amongst the biggest assets for Multidots and our clients.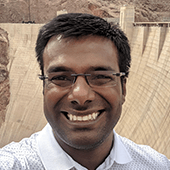 Vivek Khandelwal
Co-Founder & COO, iZooto
Vivek Khandelwal founded iZooto three years back to help businesses engage and retain website visitors with personalized web push notifications. Second venture. Writes about technology, entrepreneurship, and mobile. Avid cyclist.
iZooto works with more than 15,000 marketers worldwide and was recently ranked first in the G2Crowd listing of "best web push notification software. iZooto is trusted by many large enterprise publishers including the likes of Condé Nast, NewsCorp, BloombergQuint, etc. and has helped publishers boost their site traffic by up to 15%. Publishers also tap on iZooto's monetization stack to increase the revenue by up to 12% with push notification ads.