After a lot of careful deliberation, you're finally on the verge of going from Sitecore to WordPress for your enterprise CMS and customer experience (CX) needs.
But if you're still a bit on the fence about your decision to migrate from Sitecore to WordPress, or need a quick refresher on why the switch is a wise decision, remember that WordPress:
Is a fully enterprise-competent and scalable solution.
Is highly flexible in terms of the features you can plug and play.
Is a super intuitive, secure, SEO- and mobile-friendly CMS.
Has an ever-growing community of developers and experts helping each other.
These are just a few of the many reasons why going from Sitecore to WordPress is a smart bet.
Simply put, in terms of functionalities and possibilities of what you can do with WordPress as your enterprise CMS, rest assured you're on the right track.
And the icing on the cake? WordPress takes the trophy by a mile when you consider the head-to-head comparison in terms of the ownership costs. Here's why WordPress costs significantly less than Sitecore:
WordPress has a greater number of ready-to-go elements, so the total development time is lower for WordPress than the same site built on Sitecore.
A specialist WordPress agency typically costs less than a Sitecore specialist agency.
Maintenance and operations costs are lower for a WordPress site considering how your teams would rely less on a development agency for ongoing support, thanks to superior CMS flexibility and ease of use.
WordPress as a CMS is free as there are no licensing costs, while Sitecore has custom licensing costs which, as you're aware, are quite hefty.
So, all things considered, your decision to switch from Sitecore to WordPress is correct and financially prudent. And in this post, you'll learn how to assess the various aspects of your Sitecore to WordPress transition.
Table of Contents
Aspect #1:
Decide the Sitecore Functionalities to Keep/Drop
The first aspect to consider is the Sitecore product(s) you're currently using and which of its functionalities do you actually need (and which are going unused, unnecessarily adding to your expenses).
As you know, Sitecore has four products that offer a rich blend of built-in features. Here's a quick recap of the same:
1. Sitecore Experience Manager (XM)
The most basic of Sitecore's offerings, the Experience Manager (XM) is a CMS that offers:
WYSIWYG (What you see is what you get) editing with the Experience Editor
Drag-and-drop interface with Sitecore® Experience Accelerator
Multisite, multilingual content management
Omnichannel delivery
Integrations and in-session personalization
2. Sitecore Experience Platform (XP)
The Experience Platform (XP) takes the XM to the next level by adding upon the CMS features:
Real-time personalization
Customer insights and data with Sitecore Experience Database
No-compromise headless with Sitecore Omni
Continuous optimization using machine learning with Sitecore Cortex
Cross-channel marketing automation
Advanced testing and analytics
Campaign creation tool
3. Sitecore Experience Commerce (XC)
The Experience Commerce (XC) further adds eCommerce capabilities to your Experience Platform. In addition to the CMS and CX features, you get:
Personalization of shopping experiences with real-time context and historical insights
Creation of storefronts, product pages, carts, checkouts, accounts, and more
Catalog and inventory management
Customer account and order management
4. Sitecore Content Hub
The Content Hub is a standalone, streamlined marketing hub that unifies content planning, production, collaboration, and management. It provides a home for all your digital assets, media, and product data. It offers:
AI for content personalization and tagging
Marketing resource management to align your marketing teams
Creation of personalized print collateral with customizable templates
Integration with Sitecore CMS and commerce solutions
Content Marketing Platform (CMP) for content planning, scheduling, and production
Coming to WordPress, you get all of these functionalities — from WYSIWYG editing, marketing automation, personalization, and multilingual to countless integrations, testing, analytics, and eCommerce — in a more specialized and cost-effective way.
For example, if you talk about making your WordPress website multilingual and add localization, it's easy to do so with a plugin like WPML or Weglot. Likewise, if you wish to configure granular user roles and permissions so that individual users have access only to what they need, then it's easy to do so in WordPress.
In essence, thanks to an abundant and diverse set of plugins and integrations, you can add just about any functionality you need to scale your WordPress website as your business grows. And as each add-on solution is built by a company that specializes in what they offer, you get better performance at a lower cost.
So, when going from Sitecore to WordPress, evaluate your Sitecore bundle's (product(s) and edition) existing features and capabilities.
To slash unnecessary costs due to unused features, and also to avoid software bloat that negatively impacts your site's performance, make a detailed list of the functionalities you wish to add and remove in your new WordPress website.
Aspect #2:
Think About Sitecore Modules and Their WordPress Equivalents
Next, think about the four modules Sitecore offers:
Sitecore JavaScript Services (JSS): This module offers your developers an easy way to build apps on top of Sitecore using JS frameworks, with the help of a command-line interface (CLI), workflows, app integrations, Node.js, GraphQL, along with headless deployments and server-side rendering.
Sitecore Connect for Salesforce CRM: This enables you to collect and connect bi-directional syncing of all your customer and enterprise data between Salesforce CRM and the Sitecore Experience Platform.
Sitecore Connect for Salesforce MC: This module lets you build comprehensive marketing campaigns with Sitecore content connecting to Salesforce Marketing Cloud's Journey Builder and Email Studio.
Sitecore Email Experience Manager: This allows you to create and manage highly customizable email campaigns that are personal and relevant to your customers.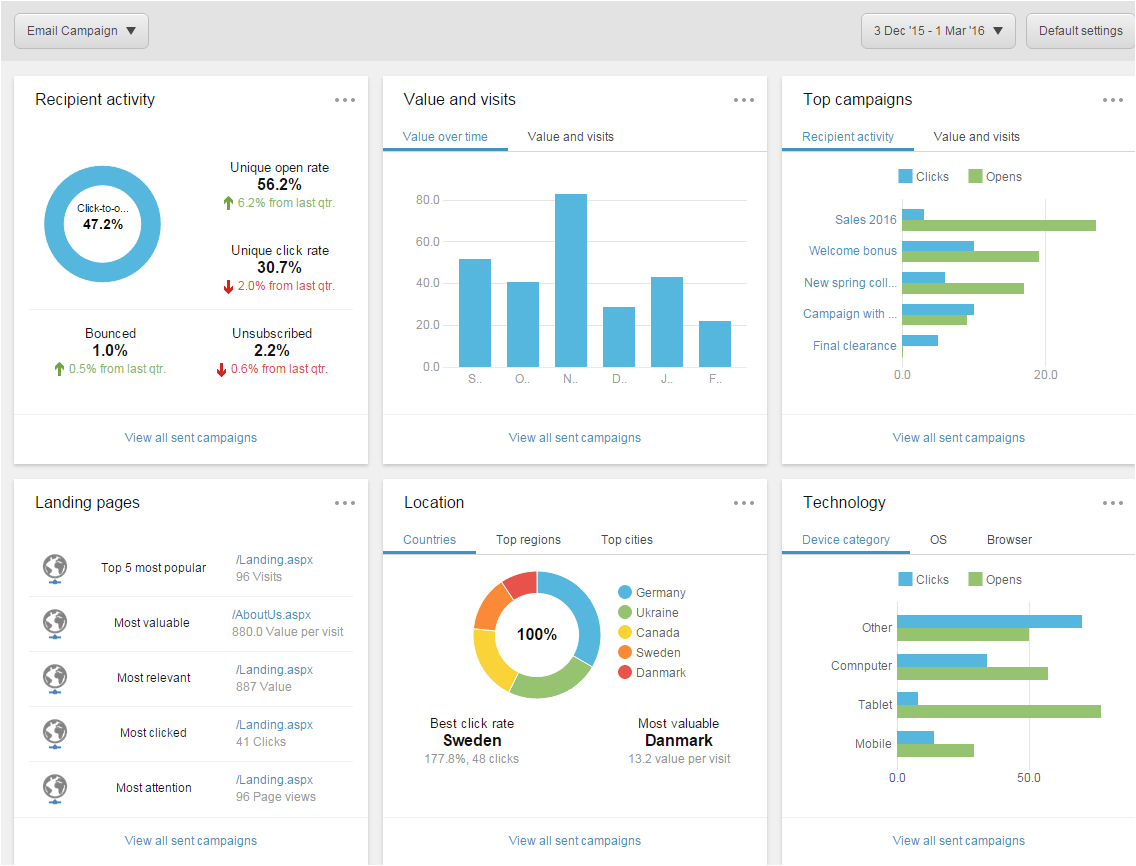 When moving to WordPress, you need to evaluate how you'll map these modules to the new CMS.
Let's say you want to continue using Salesforce for your customer relationship management and marketing campaigns. You can readily do so, as there are various ways to integrate your WordPress website with Salesforce based on your budget and data complexity, such as:
For getting the Salesforce Marketing Cloud (MC) in your WordPress deployment, you can use a solution like Skyvia. With it, you can easily perform bi-directional data synchronization, use data filtering, perform data transformations, and much more. Its visual editors enable precise mapping configuration to quickly configure your data migration or synchronization.
Similarly, for other Sitecore add-on modules such as 301 Redirect, Log Analyzer, etc., you can find equivalent WordPress plugins that provide the same functionality and benefit from a lower overall ownership cost.
Aspect #3:
Consider the Key Sitecore Integrations vs. WordPress Counterparts
Another key aspect you need to consider is the Sitecore integrations that you're currently using and how you'll map these integrations to WordPress. Of course, as discussed earlier, now's a great time to think about which integrations to keep, which to drop, and which to upgrade.
That being said, no matter which third-party integration you plan to use, WordPress will most likely support it. For all the integrations Sitecore supports, WordPress has the same or equivalent integrations (and yes, while facilitating a lower overall ownership cost).
For instance, you wish to upgrade to HubSpot for marketing automation such that you have the capability to:
Put lead nurturing on autopilot with email drip campaigns
Visualize, customize, and personalize your workflows
Build beautiful automated emails without having to code
Incorporate chatbots for better engagement
And much more.
WordPress supports HubSpot as a featured integration so it's built natively into WordPress.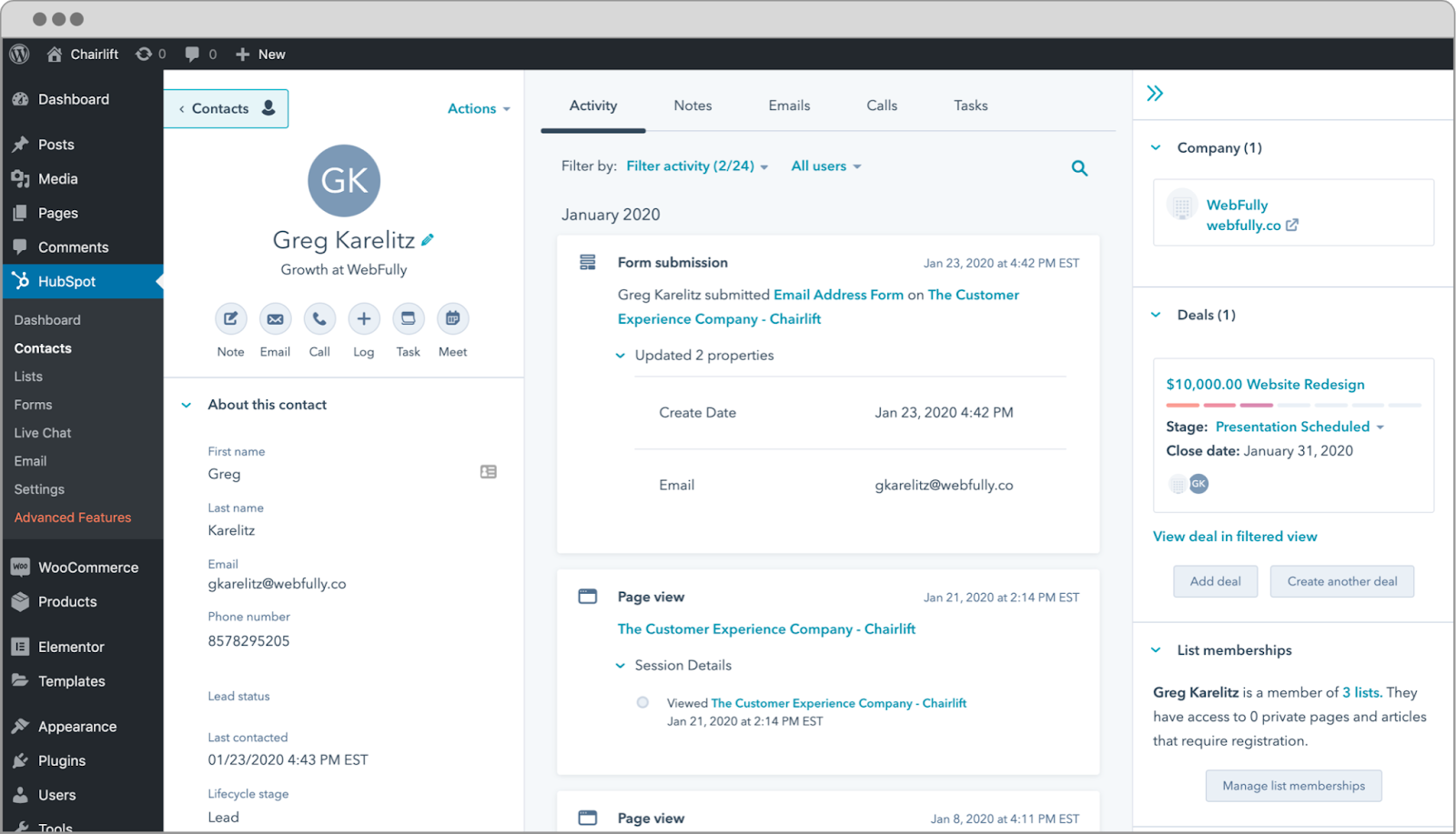 Likewise, say you're using Microsoft Dynamics 365 with your Sitecore subscription, and wish to retain this integration after your migration so that you have:
Real-time segmentation of customers and commerce-enabled personalization
End-to-end integration and testing for performance, stress, and scalability
Analytics and personalization based on retail interactions
Product catalog synchronization and publishing
And more.
Guess what? WordPress integrates well with Microsoft Dynamics 365. You can either use a plugin like Dynamics 365 Integration or use Zapier to automatically send info between Microsoft Dynamics 365 CRM and WordPress in a matter of minutes and without a single line of code.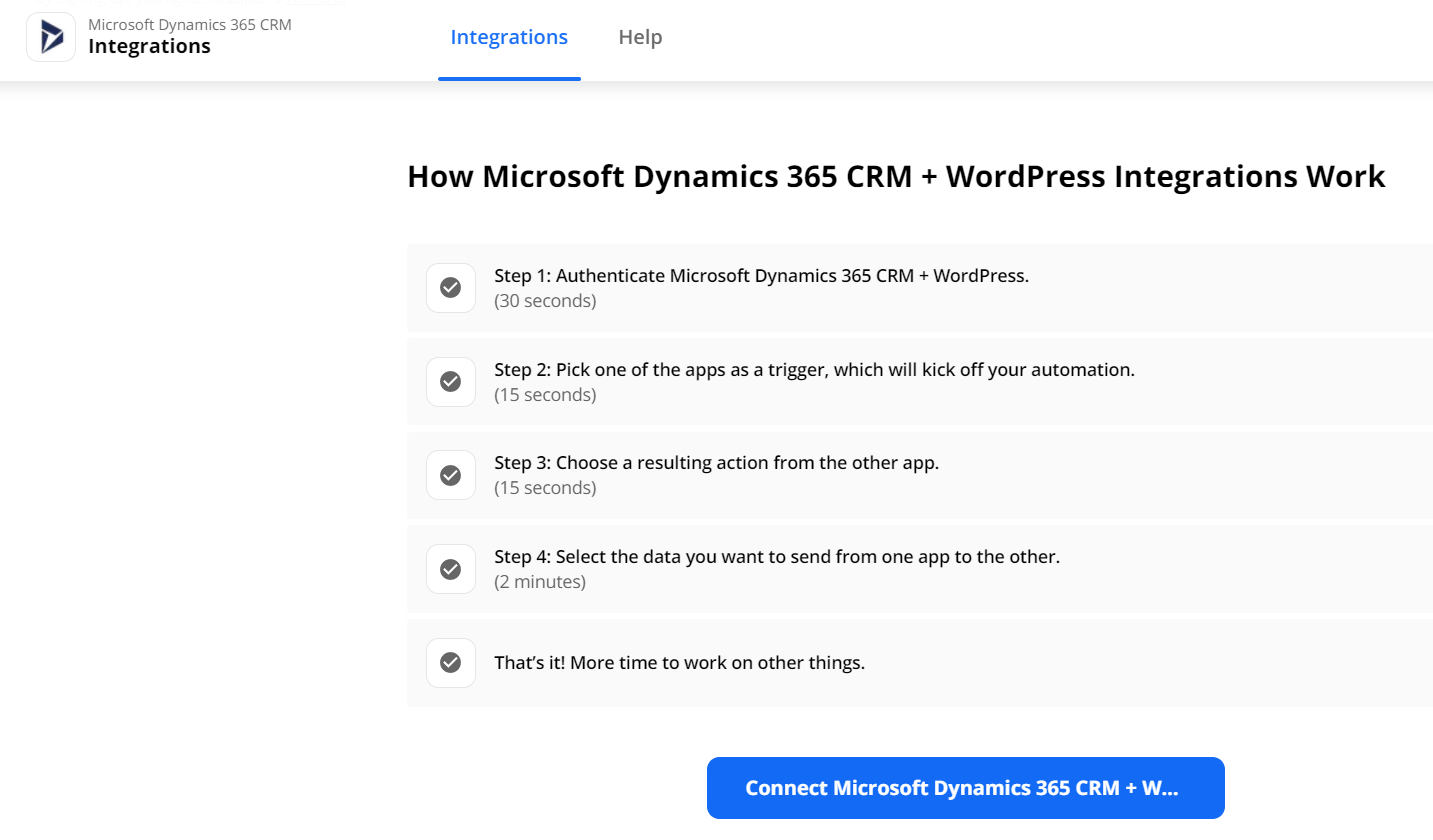 Long story short, you're likely using a few third-party Sitecore integrations (aka Connectors) that deliver specific out-of-the-box functionalities.
Be it for SEO, marketing automation, CRM, or payment management — you're sure to find an equivalent solution on WordPress or even better alternatives you can upgrade to. So, be sure to evaluate the existing integrations that you wish to retain, ditch, or upgrade when going from Sitecore to WordPress.
FAQs:
Sitecore vs. WordPress Ownership
Now that you're aware of how to evaluate the three key aspects of your Sitecore to WordPress transition, let's take a look at some of the most frequently asked questions and concerns about WordPress ownership from an enterprise perspective.
Q1: Is WordPress truly enterprise competent?
Absolutely.
While it's understandable if the first things that come to mind when you think WordPress are hobby bloggers and simple DIY websites, the power of this CMS lies in its scalability and flexibility.
So it may not be apparent immediately, but WordPress is fully enterprise competent and you can have all of Sitecore's enterprise features and integrations on WordPress at less than half the cost.
With the right planning, you can migrate to WordPress and outclass your Sitecore performance in nearly every regard — be it marketing & CRM, custom workflows & user permissions, personalization & localization, enterprise-grade security — you name it.
Q2: Why is the ownership cost of WordPress substantially lower than Sitecore?
Considering how WordPress is poised to surpass Sitecore as an enterprise CMS, this is indeed a very valid question.
As described at the beginning of this post, the ownership costs of WordPress are markedly lower than Sitecore because of a number of reasons, such as no licensing costs, lower development costs, and more affordable specialist agency partnerships.
Plus, Sitecore licensing includes pre-bundled features that often go underused and add considerably to the annual ownership costs. But with WordPress as your CMS, you can readily add or remove integrations based on your changing needs with no long-term commitments to those products.
And sure, when you leverage a high-end managed WordPress hosting platform for enterprise — such as WordPress VIP — you'll incur a few thousand dollars in hosting and development costs. Even so, all things considered, your total WordPress ownership and running cost could easily be less than half that of Sitecore.
Q3: Will there be downtime when migrating from Sitecore to WordPress?
No — when you partner up with experts who have years of experience and a proven track record in Sitecore to WordPress migration and know the ins and outs of WordPress, rest assured that your migration is successful with 100% data accuracy and zero downtime.
Q4: What are the opportunity costs associated with picking WordPress over Sitecore?
Simply put, opportunity cost is the profit lost when one alternative is selected over another. So when you choose WordPress over Sitecore, it's only natural that you'll lose something in order to gain all the various benefits of WordPress.
One potential opportunity cost to consider is how a Sitecore product subscription provides you with a near-complete solution that includes everything you need (marketing automation, personalization, etc.), with only a few add-ons needed. Whereas with WordPress, you may need a lot of plugins, integrations, and APIs to achieve the desired functionalities and performance.
Also, if you don't opt for a premium managed WordPress hosting platform like WordPress VIP, you need to take care of things like security, backups, and updates on your own, which can be a time-consuming and tedious affair.
But all things considered, the opportunity costs associated with picking WordPress over Sitecore are minimal — and the benefits of picking WordPress as your enterprise CMS far outweigh the drawbacks.
Q5: How do I ensure I don't lose any data in the migration?
First off, be sure to take a complete backup of your Sitecore website so you don't suffer any data loss in case of any issues during the migration.
Next, to verify all data is correctly migrated, we recommend that you prepare a list of everything (pages, posts, links, visuals, sections, categories, tags, users, user groups, comments, custom fields, menu items, taxonomies, SEO metadata, and URLs and redirects) in a spreadsheet.
Furthermore, establish the date of content export and ensure that your Sitecore site is frozen post after the export so your editorial team can't update/add/edit the content, and consequently, there's no loss of data during migration.
Our technical team can help you with this. Through strict security protocols, we've always ensured our clients' data is fully and securely migrated to the new WordPress deployment and the content integrity is maintained.
What Real-World Users Have to Say
When you take a look at the side-by-side comparison of the two platforms on G2, it's evident that real-world users vote WordPress as the platform of choice, for small-business, mid-sized, and enterprise companies.
At the time of writing, the Sitecore Experience Platform (XP) rates 3.9/5 stars with 356 reviews. Whereas WordPress.org rates 4.3/5 stars with 7,899 reviews — a definitive victory.
According to G2, when evaluating the two platforms, reviewers found WordPress easier to use, set up, and administer. Reviewers also preferred doing business with WordPress overall.
Reviewers felt that WordPress.org meets the needs of their business better than the Sitecore Experience Platform.
When comparing the quality of ongoing product support, reviewers felt that WordPress is the preferred option.
For feature updates and roadmaps, reviewers preferred the direction of WordPress over Sitecore.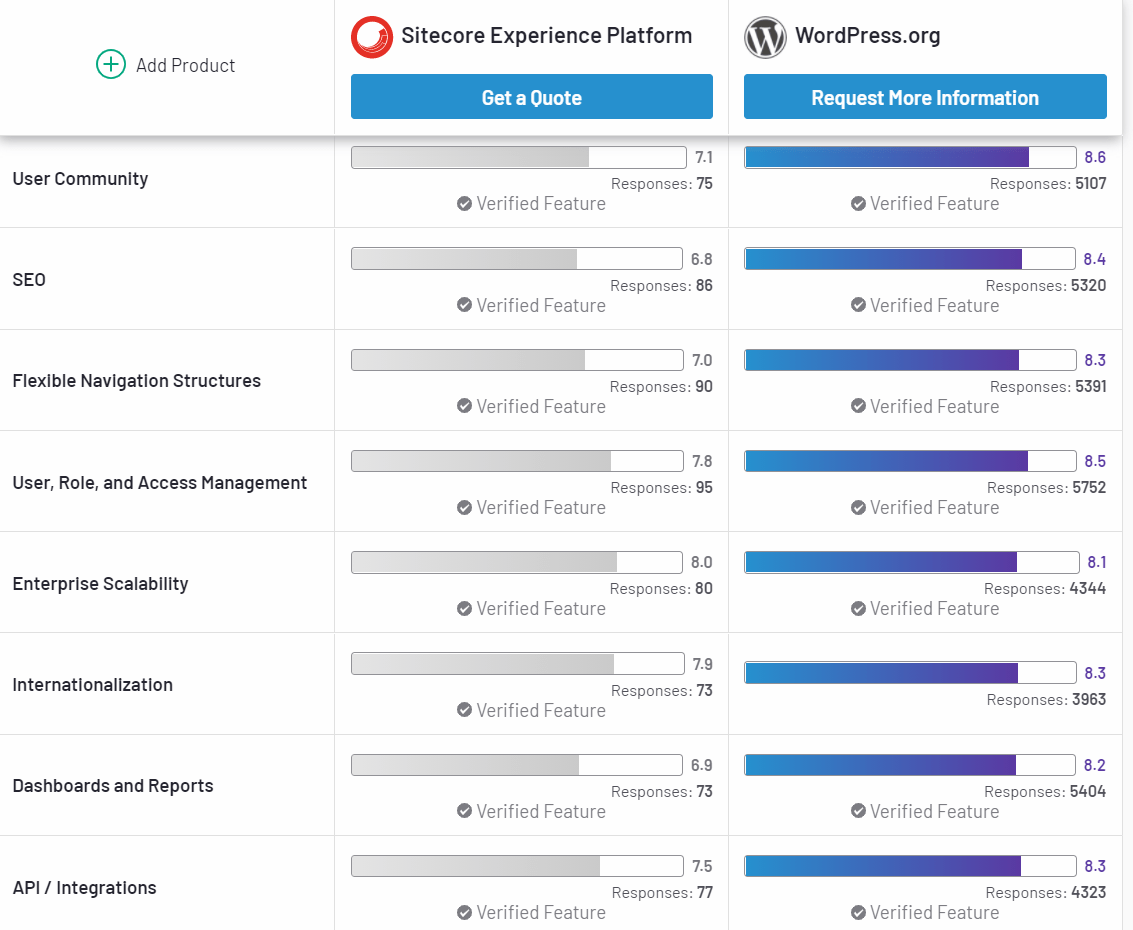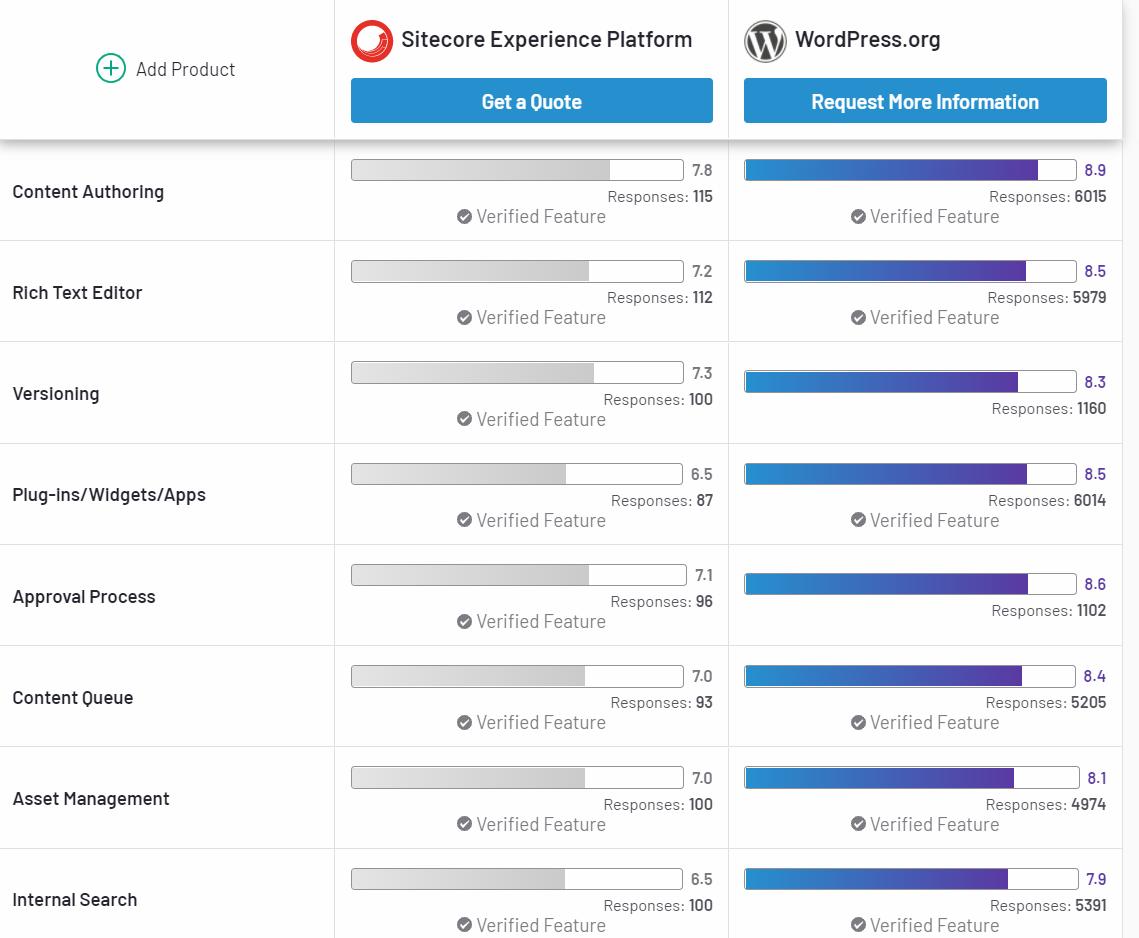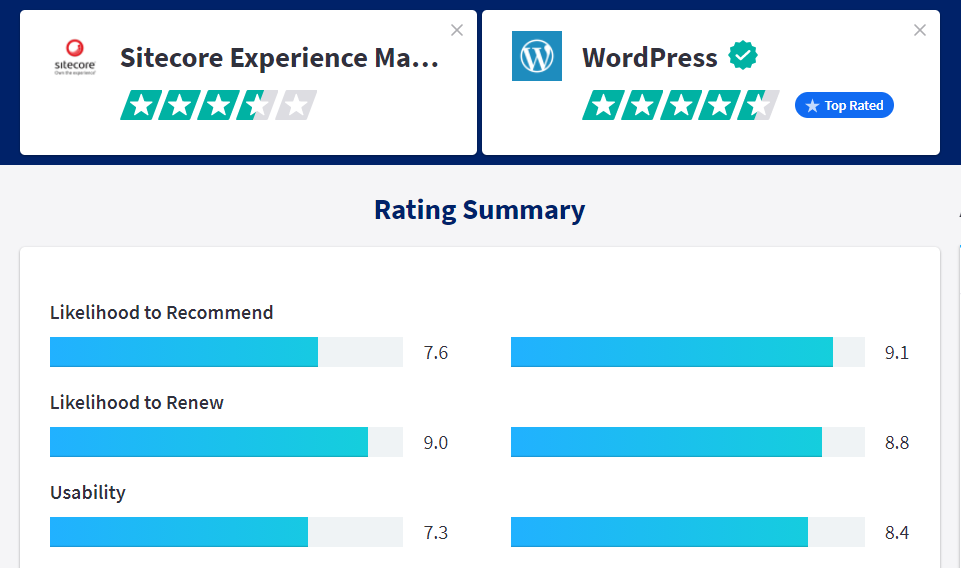 And on TrustRadius, the Sitecore Experience Manager (XM) scores 7 out of 10 based on 122 reviews and ratings. In contrast, WordPress scores 8.5 out of 10 based on 2,656 reviews and ratings.
Wrapping Up
Making the switch to a new CMS is never straightforward, especially if you have a large enterprise-grade website. But when you consider and evaluate the key aspects outlined above, you're in a better position to succeed with your Sitecore to WordPress transition.
Long story short, make sure to assess the functionalities, modules, and integrations you wish to keep, leave behind, or upgrade based on your budget and business goals. Oh, and feel free to use our interactive calculator to get a better picture of your WordPress ownership costs.