We all have grown up playing video games. No one would have ever imagined the advent of mobile games would replace the so called "charm" of video games. The concept which was used to build video games is known as "parallax scrolling". Now you might be thinking to know more about this effect.
Parallax Scrolling is a part of computer graphics. It is a technique where background images move slower than the foreground images, thereby, giving an illusion of depth in a 2D scene also. In other words it can be referred as watching 3D scene using 2D technology.
This technique has become increasingly popular among the designers, specifically web designers. We all are aware of the fact that the web users visit a website more frequently if it is engaging. And, this is what we want – enhanced customer engagement.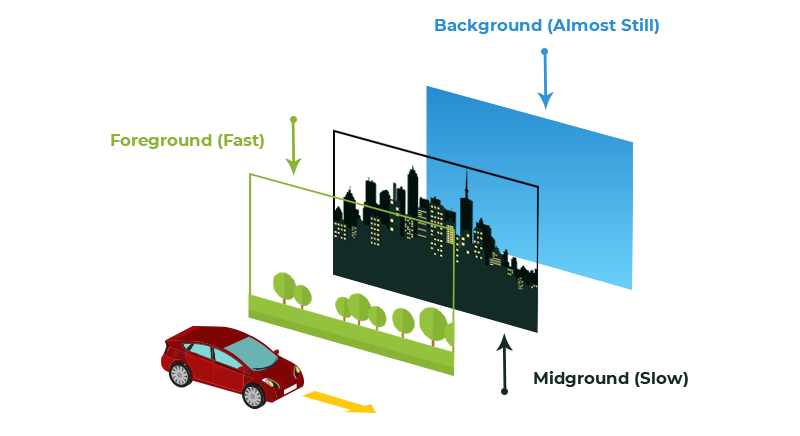 In this blog post we would be talking about how parallax scrolling can increase your user engagement by making your website look awesome.
Let's take a walk through,
1. Presentation of your product:
This is one of the best advantages of using parallax scrolling. If we keep aside video or flash, one is able to present only the static content on the website. Including parallax scrolling in your website design can enhance your user interaction. They feel more engaged and love your site.
If you are a product based company then you can present your product to the visitors in a completely new way. Rather than having a presentation including static images, you can get 3D presentation with scrolling as your control. For instance, Bagagia has presented its product smartly for its customers. By using parallax scrolling, the product is presented in an awesome manner.
Further, you can showcase the different aspects as to why your product is so special. For instance, Ben the Bodyguard has used parallax scrolling to present the services provided by the mobile app. This site has made use of the technique known as personification. They have used the character named Ben, who explains the "dangerous neighborhood". He walks through the dark streets to explain the importance of his job. It is a wonderful representation of the service.
You can also seek attention by creating a certain sphere around your product by making use of parallax scrolling.
2. Tell Tales or Stories:
Another way where we can make use of parallax scrolling is by telling tales or stories to your visitors. You can make your website interactive to keep your users/ visitors engaged. Let your visitors take control and walk through your story as they want. You can make use of layers that would respond differently to the scrolling behaviour of your visitors, thereby creating a sense of depth.
You can make use of parallax scrolling to tell the history of your company. This would be smarter way to let your visitors/customers know how you started your journey to build your organization.
Create a story that is fascinating and can capture the attention of your visitors. Also, you can add music to make it more enthralling.
Nowadays, most of the reading material has become digital. Comic books also can now be made scroll active with the help of Parallax scrolling. Rather than turning pages, you just have to scroll in order to go through the story. The scenes will be highlighted as you scroll through the website.
3. Trigger for Actions:
This might be the most important feature of parallax scrolling. As the visitor scrolls, something happens – this very idea itself keeps users motivated, making them more eager to enter your website.
Parallax scrolling can be a fantastic way to trigger your visitors. You have to just ensure to create a perception that there is something more.
Further, you can drive your visitors for call to action. Engage your visitors through a story and then drive them to take action on a button. For instance, if you own a product website, drive your customers to the action button on your page "Add to Cart" or "But Now".
4. Attribute of Design:
This could be one of the best ways where parallax scrolling can be used to increase user engagement on the website. Make your designs in such a way that your website stands out from your competitors.
Parallax scrolling can help you in making your site have a unique look and feel. Try to make it interactive and include some fun element to give your users an unexpected experience.
Further, you can try to create appealing designs for your website. Hence, the designs when combined with parallax scrolling effect will enhance the look of your website. You can even go for background animation. It would add that little something which could bring life to your designs.
Over to you:
Indubitably, parallax scrolling can bring new life to your website. You would be able to present your product or service in a more engaging way. We hope our blog post would help you make the best use of parallax scrolling to make your website more appealing to your visitors.
At Multidots, we have a skilled team of UI/UX designers, who can bring life to your websites with the help of incredible designs.
If you have any cool ideas that can be implemented using parallax scrolling, let us know in the comments below.