Modern CMS solutions have the capability to create, manage and optimize the customer's digital experience. In this blog post, we will be talking about SiteCore CMS built on Microsoft Platform. It basically uses C# as the programming language to write backend code and ASP.NET Webforms or MVC for building HTML pages.
SiteCore is a powerful framework ideal for B2C, B2B and B2X organizations that are selling online. It facilitates the users with a robust platform for strong content and commerce. It provides a complete Digital Marketing System that can offer a whole outlook of the customer engagement across different channels like Web, Social, Email, E-Commerce, Mobile and Print. Specifically, for e-commerce businesses, SiteCore uses information about your customers to deliver shopping experiences based on the interaction history and various context, thereby, turning the prospects to your permanent customers.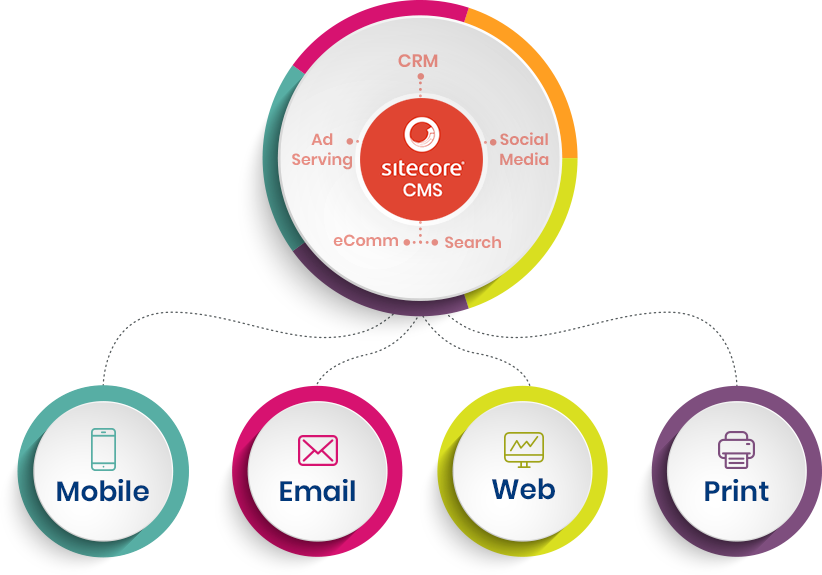 Let us now explore how Sitecore can benefit the marketers by walking you through the primary features of the popular CMS
Important Benefits of Sitecore cms
1. Data Storage at a single place:
Most of the website owners want to give their visitors a great experience online as well as offline. Sitecore facilitates its users to store the customer's data in one place. One can easily connect CRM or ERP with Sitecore in order to collect richer data. Hence, it saves both time and efforts being put into collecting the information from various databases. It is very easy to add new customers and manage the existing ones. This data can be utilized across multiple channels for delivering a distinct experience to individual customers.
2. A separate view of each customer
With the help of Sitecore, you can easily find out where the individuals are in their customer journey. It allows you to see the pages that customers have visited on the website, their social activities related to your brand, the number of emails opened by the customers, their purchase on your site, etc. Also, different engagement values can be set for the independent actions of various customers. Further, you can even acknowledge how closely your efforts match your ideal customer profiles, so that your next communication can target your customers in a way that they can't deny.
3.Real-time analytics for the data that you have garnered
Sitecore allows the users to use the analytics tool to gain more insights about the customer behavior, learn about the campaigns – which and how they are working, how the visitors are navigating your website. You can create or modify the content according to the queries and report generated with the help of analytical data.
4. Easy management of your multiple communication channels
The customer data collected is stored in Sitecore xDB, which allows the user to deliver a connected experience to the customers across all channels. It gives the users below mentioned experiences.
Web: an exceptional experience to those visiting your site.
Email: this is one of the prominent tools used by marketers to engage prospects and customers. Sitecore provides email campaign manager to send personal, relevant emails that can easily align to the respective needs of your prospect and customers.
App: one can easily build apps with the help of Sitecore Mobile SDKs. The apps can be personalized in real time with the help of customer data stored in Sitecore.
Social: Sitecore provides built-in tools for blogs, wikis, reviews, and forums. One can easily connect to popular social networks like Facebook, Twitter, and Instagram to better know their customers.
Print: One can create personalized print content by using the garnered customer's data. Also, Adobe InDesign can be integrated with ease.
Commerce: Sitecore offers various e-commerce options to provide your customers with best shopping experience based on different locations and multiple devices.
Federated experience: Sitecore can also be used to collect data from those sites which are not Sitecore sites. It is beneficial for especially those who have recently moved to Sitecore, it can be either consolidating sites or some acquired company based on a different platform.
5. Marketing Automation
Sitecore has an interface giving a seamless experience to the users. There are easy drag and drop options available. All this helps in facilitating the users to set automated marketing campaigns. Further, the customer interactions can also be personalized across various channels.
6. A/B and M/V testing at ease
One can easily test page components or any other site items without the need of any technical person while working with Sitecore. It helps is determining the performance of various content – whether it needs any tweaking or which is best suitable for the website. A number of tests can be run simultaneously.
7. Multisite development with content personalization:
While using Sitecore licensed version, one can manage multiple domains and microsites along with easy sharing of content between them. The content can also be personalized in real time for a different visitors based on their behavior.
8. Integration with the software solutions
Sitecore offers integration with the number of software solutions including the language translator so that your site content is available in various languages. Also, if your company has invested in some CRM, ERP or any eCommerce software, Sitecore can easily integrate with that platform and the customer data can be easily fed into the Sitecore Experience Database.
9. Page editor and User Management
One can create or edit pages with the help of page editor, which is very simple, intuitive and a big time saver. The preview option allows you to check the page you built. There is also an option of setting access for different users and easily manage the workflow.
10. Web forms for marketers
One

can easily create and publish simple forms with the help of Sitecore. For instance, contact us form.
Conclusion:
There are several enterprise content management systems available in the market. Among those, only a few have managed to improvise business needs. Sitecore tops the list by providing out of the box features and various benefits. Well, if you are planning to have a content management system for your organization, then the aforementioned features of Sitecore can help you in taking better decision.
Would you like to share your thoughts?? Please comment below.