Sitecore to WordPress Migration Services
Sitecore is an integrated .NET Framework-based CMS used by large-scale enterprises to deliver personalized, multi-channel customer experiences. The platform prides itself with built-in marketing automation, eCommerce, and customer analytics features.
But with a tried-and-true, cost-effective, and flexible alternative like WordPress in front of you, is Sitecore really worth the extra investment? Contrary to popular belief, WordPress is enterprise competent and you can have all of Sitecore's enterprise features on WordPress at less than half the cost.
Featured WordPress VIP Agency Partner
Why Migrate Sitecore to WordPress?
As a large-scale enterprise, you may think WordPress isn't capable of Sitecore's built-in capabilities, but you'd be so wrong. With the right plugins, WordPress can outclass Sitecore in nearly every aspect — be it marketing & CRM, custom workflows & user permissions, personalization & localization, enterprise-grade security — you name it. But first, let's see why Sitecore isn't your best bet. In a nutshell, it is:
Costly
Sitecore requires a monthly licensing fee, and the exact fee depends on the amount of support and features you have signed up for. Whereas WordPress is open-source and you don't have to pay for the CMS itself.
Complicated
Users generally agree that Sitecore is a lot more complex to wrap your head around, and you need a certain amount of technical expertise to make the most of this CMS. WordPress, in contrast, is known for its user-friendly interface and it readily accommodates users of all levels.
Inflexible
Sitecore has a bespoke design for individual business needs, but you still have to follow set patterns, whereas with WordPress you can choose your own architecture, design patterns, and have endless customization options.
Difficult to Maintain
Maintaining a Sitecore website can be a tall order, while WordPress is a low-maintenance CMS.
Poorly Documented
Sitecore suffers from poor documentation, whereas WordPress users benefit from its constantly updated and comprehensive documentation.
Slow to Deploy
Being a custom solution for unique business requirements, Sitecore demands more time to get everything ready before you can go live. With WordPress, you can go live in under 30 minutes, and still be fully capable of scaling up your website.
Why WordPress is a True Enterprise-Grade CMS
Sitecore boasts a ton of built-in enterprise features, such as marketing automation, personalization, and localization. It's easy to be sold on many features, but actually putting them to use is a whole other story. But all that marketing prowess is offered by WordPress as well, and at a fraction of the cost.
Personalization
On-site personalization is a tricky area of marketing, and its importance is well acknowledged yet not fully embraced in practice. The key is to keep it simple.

There is a huge range of personalization products on the market, most of which integrate well with WordPress. WordPress also has plugins that work inside the CMS in a similar way to Sitecore's personalized components.

Using all kinds of inputs such as IP address, location, past behavior, pages viewed, and other inputs, you can personalize a WordPress site to optimize the user experience.
Audit Trails & Workflows
Admittedly, WordPress has lagged behind traditionally enterprise-focused CMSs such as Sitecore in terms of its ability to set up custom workflows and audit trails.

But again, there are a number of ways to get the same functionalities in WordPress without cutting corners. There are plugins that allow you to track user activity within the CMS so that you have the necessary compliance information if required.

There are also solutions specifically built for WordPress that extend the CMS with powerful workflow and editorial review processes that can be mapped out and modified visually.
User Roles & Permissions
The ability to configure granular user permissions is crucial for compliance, security, and processes — and WordPress excels at this.

You can have the least privilege protocol, wherein you lock the CMS to give individual users access only to what they need. So if you have a press team that only needs to publish and edit press releases, then you can set up their user roles such that they only have access to those functionalities of the CMS.

Not only does this make the adoption of your CMS more streamlined for each user, but it also keeps things secure.
Marketing and CRM Integrations
Sitecore does offer you a solid marketing tech stack — analytics, automation, etc. — under one roof, but there are so many integrations out there that enable WordPress to outperform Sitecore in every such regard.

After all, it's only logical to use specialized, individual MarTech solutions that aren't just more cost-effective but also the best at what they offer.

For example, with WordPress as your CMS, you can use HubSpot for marketing automation, Salesforce as a CRM, Google Tag Manager, and a wide variety of other tools to power your marketing. Sitecore, on the other hand, has limited options for external integrations.
Multilingual & Localization
This was an area that WordPress used to struggle with, but today there are a number of enterprise-ready options and plugins for achieving both multilingual functionality and localized content.

You can now have a scalable WordPress framework where you can deploy a copy of your website into a new country or language in a matter of hours.
Big Enterprise Brands Trust WordPress
Facebook, Microsoft, TechCrunch, Walt Disney, Sony Music, Qualtrics XM, Toyota, PlayStation, BBC America, Bloomberg, The New York Times, etc.
Key Benefits of
Sitecore to WordPress Migration
You're now aware of the enterprise-level capabilities of WordPress. Here are just a few of the many more benefits of migrating to WordPress:
01.
Usability
People with limited tech experience can use it to its full potential, and more tech-savvy users can customize it in remarkable ways.
02.
Affordability
The WordPress CMS is free and open-source which means you can build appealing and functioning websites within any budget. The costs are associated with hosting, customization, and maintenance.
03.
Flexibility
You can choose from over 58,000 thousand plugins and 8,000+ themes to build a truly unique website tailored to your brand. Whereas, Sitecore is often deemed as slow, clunky, and restrictive.
04.
Enterprise Scalability
Getting started with a WordPress website is relatively straightforward, and as your enterprise grows, scaling up your website to accommodate the growth in traffic and maintain peak performance is easy too.
05.
Security
Any dynamic website is at risk of some kind of attack, irrespective of the CMS. WordPress is perceived to be less secure but in reality, it's the negligence on the owner's part — weak passwords, unreliable hosting, or outdated plugins — that lead to successful breaches. WordPress in itself is a super-secure CMS.
06.
Hosting & Infrastructure
Optimized hosting and infrastructure is key to ensuring safe, scalable, and smooth running CMS in enterprise environments.
With WordPress, you have some great managed hosting options that are specifically optimized for WordPress and offer useful features like automated daily backups, multiple staging environments, Git integration, and much more.
07.
Community
WordPress boasts an ever-growing community of developers and experts helping each other.
08.
SEO and Mobile-Friendliness
WordPress is known for being SEO and mobile-friendly (fully responsive) out of the box, and there are some great plugins to get you to that top spot on Google.
Sitecore vs. WordPress –
12-Month Cost Comparison
Before we give a cost breakdown of both CMSs, here are a few pointers to consider:
WordPress has a greater number of elements that are "ready to go", which means the total development time would be less for WordPress than the same site built on Sitecore.
A specialist WordPress agency will also generally cost less than a Sitecore specialist agency in terms of the hourly/daily rates for a project.
Ongoing maintenance and support will also cost less for a WordPress site considering that a marketing team would rely less on an agency for ongoing development thanks to having greater CMS flexibility.
WordPress as a CMS is entirely free, so there are no license costs to use the WordPress CMS and no need to pay for updates, whereas Sitecore has bespoke licensing costs which are quite substantial.

All this means that more of your project budget can be allocated to ROI-focused activities, such as deeper user research, prototyping & testing, creating more dynamic front end-user experiences, and so on.
Now, for a typical large-scale enterprise website, here's a side-by-side approximate cost comparison of the various facets over a 12-month period, assuming 4 months of initial "project" followed by 8 months of ongoing support, maintenance, and hosting.
| Facet | WordPress | Sitecore |
| --- | --- | --- |
| License (Annually) | $0 | $50K+ |
| Design & Build | $50K-$100K | $200K+ |
| Patches & Updates | $0 | $10K+ |
| Hosting (8 months) | $16K+ | $0K (included in license) |
| Support & Maintenance (8 months) | $0 | $10K+ |
| Total 12-month Ownership Cost | $100K – $150K | $250K – $300K |
Note: Actual numbers will vary based on the complexity of the website and features opted for. Prices are indicated in USD.
Check out our Sitecore Vs WordPress Cost Comparison Calculator to know the approx cost of developing and owning your enterprise-grade WordPress website, based on your existing Sitecore costs.
And so, considering how WordPress is on par with Sitecore for all your enterprise needs and costs substantially less, the real question is why haven't you migrated to WordPress already?
What You Should Consider Before the Migration
Here are a few considerations you must keep in mind before you migrate:
Choose a reputed hosting.
Take a complete backup of your website.
Make a list of your current URLs.
Our Sitecore Migration Approach
We have a well-defined process to ensure successful Sitecore to WordPress migration.
Consulting
Our team of experts will understand and evaluate your goals, along with the challenges you face with your current Sitecore setup. We'll help you make sense of the why and how of Sitecore to WordPress migration.
Planning
Once we understand your website migration requirements, we will prepare a detailed migration plan that considers your existing website features, content, objectives, budget, and timeline.
Initiation
We will work with you to perfect the plan of action. Once you're happy with the plan, we will do a complete backup of your data before starting with the transition from Sitecore to WordPress.
Delivery
We pride ourselves as migration experts and with rigorous testing, we ensure your new WordPress website meets all your expectations and all content is correctly migrated.
Support
Successful Sitecore to WordPress migration doesn't end our partnership. We will take responsibility for your website maintenance, ensuring your new WordPress website continues to achieve performance benchmarks and runs smoothly.
Why Choose Multidots as Your Sitecore to WordPress Migration Agency?
Our experts have a proven track record of successful content migration from Sitecore to WordPress. Here's what you'll get when you choose us as your website migration partner.
01.
Work with Experienced Specialists
Our team is seasoned in WordPress migration services, so you can rest assured that your Sitecore website is switched seamlessly to WordPress.
02.
Reliable Approach
Our approach is thorough and battle-tested. We take care of every minute detail to achieve the exact results that you expect.
03.
Tailor-Made Service
Every business is different, and thus, so is every migration. We understand and cater to your unique requirements to ensure your business remains on track after the migration is complete.
04.
Maintain Website Continuity
We have a zero-downtime approach. Your website continues to function at full performance as we move your data in the backend (on our own servers) from Sitecore to WordPress.
05.
Data Security
Your data security is our top priority. Through our strict security protocols, we ensure all your content and data is secure during the migration process.
06.
Hassle-Free Migration
Your Sitecore migration process becomes stress-free as we handle everything while following an agile methodology to always keep you in the loop.
07.
Core SEO Focus
Your website's search engine rankings are not compromised in any way. We ensure all pages — including all content, links, visuals, menu items, SEO metadata, and URLs and redirects — on the current website are migrated correctly.
08.
Hybrid Migration
Fully automating things almost always leads to data loss or unexpected inaccuracies. We are manual migration enthusiasts and use the most advanced techniques (manual + automated) to ensure your migration happens with 100% accuracy. Our focus is on data integrity and perfection.
Learn Step-by-Step
the Sitecore to WordPress
Migration Process
Wish to save a fortune on CMS ownership
and take advantage of WordPress's remarkable flexibility, scalability,
and user-friendliness?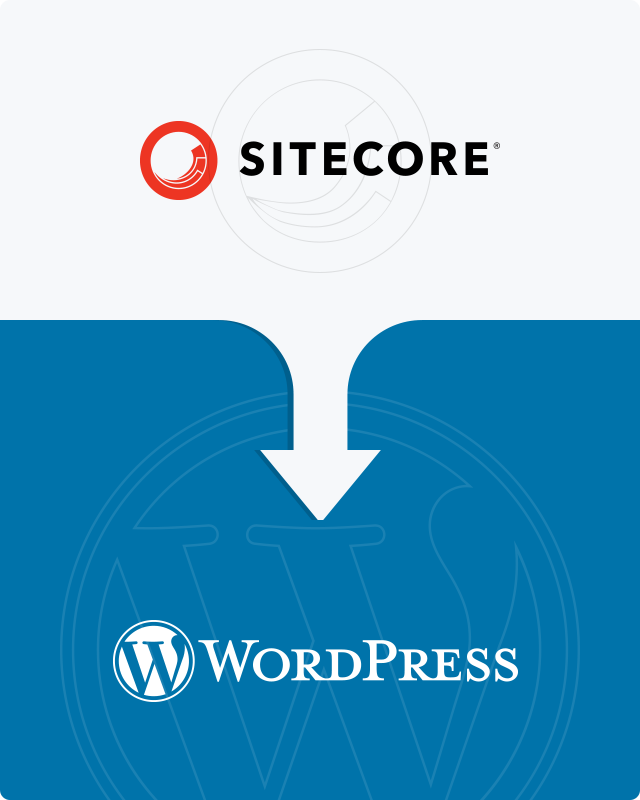 FAQs
If you think:

Your website's backend is too complex, or
Many of the built-in features offered by your CMS are unused, or
You're paying too much for your CMS, or
The performance doesn't meet your requirements, then

it's time to migrate your Sitecore CMS to WordPress. If you are unsure whether you require migration, we can do an audit of your website and suggest a course of action.

This depends on the size of your website, the amount of data, and the functional complexities of your current website. The more complex the site and the amount of data to be transferred, the more time it will take to migrate your website.

If you move it to the same domain, your Sitecore website will be replaced by the WordPress version.

It depends on your current website. To get a better understanding, we will conduct a thorough evaluation and audit of your Sitecore website to gather all necessary information for a successful migration.

There's no fixed cost as various factors like size and complexity come into play. So the cost can be determined once we evaluate your requirements.
Our Clients
Other WordPress Migration Services
Blogger to
WordPress
Squarespace to
WordPress
WordPress to
WordPress Multisite
Proprietary CMS to WordPress
Let's talk about your dream project?