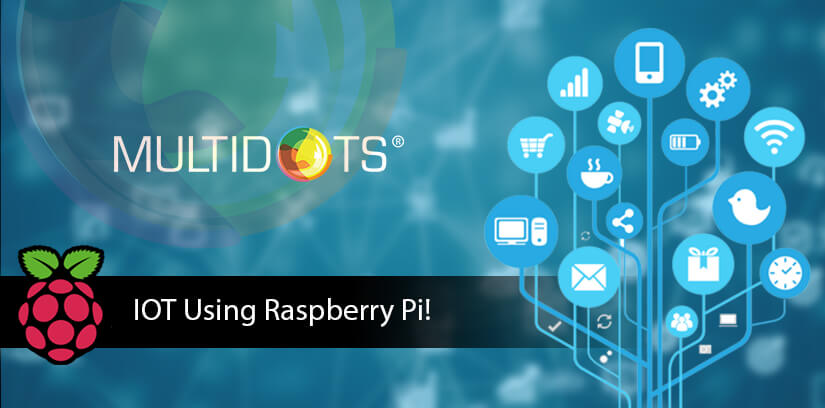 Raspberry Pi, an intriguing fruity offering though comes across as ordinary, emerges as a vital part of the Internet of Things ecosystem.
IoT puts to use interesting devices & sensors to connect things around home, at work, inside the vehicles through the internet or the Cloud, leveraging techniques like analytics, mobiles, smart wear, beacons, social media and more.
Connecting humans to technology through innovative approaches across diverse infrastructure putting to use a variety of trending tech, IoT integrates technology like never before!
It is estimated that there are 10 billion IoT devices present across the world and the number is expected to be 5 times by 2020. IoT gains incredible popularity in the recent years inspite of the challenges it faces.
Getting to Know the Raspberry Pi
The Raspberry Pi is a small single board credit-card sized computer designed by the Raspberry Pi Foundation in the United Kingdom.
Developed with the intention to promote the understanding of programming & simple hardware skills amongst pre-university level students, its small size & an affordable price tag drove its popularity in applications requiring more than a mere microcontroller.
For IoT, Raspberry Pi is more than a simple choice…
The latest Raspberry Pi supports a quad core ARM cortex processor with integrated wireless LAN and Bluetooth, USB and HDMI ports. The General-purpose input output (GPIO) opens the system to a host of add-ons.
In July 2017 the total sales of Raspberry Pi since its inception almost reached 15 million units
Raspberry Pi, Blending in into IoT
Discreet devices like the beacons fit in seamlessly into the IoT ecosystem, value adding to data exchange processes like none other. Raspberry Pi on the other hand has a lot to offer too, making it one of the most favorable IoT devices.
Raspberry Pi provides 8 digital I/O pins enabling easy interaction with other devices

Most of the Raspberry Pi boards come with built-in ethernet connector along with USB ports that make connecting Wi-Fi dongle quite easily done

It also directly interfaces with help of one-wire protocol to sensor based devices along with a good library support

USB interface enables to connect wide array of devices increasing the scope of this board to compete with a full fledge computer

The touch screen capability interface makes it easy to use the Raspberry Pi for applications involving human interaction

The support for easy configuration making it suitable for researchers to help them develop quick prototypes

Engineers find it a good option helping them with quick deployment of IoT solutions
Though newer boards are making entry into the market due to the increased demand of IoT based application, but devices like Raspberry Pi keep themselves updated with the latest needs and demands to keep up with the competition.
Putting Raspberry Pi to Use for IoT
Right from home automation, arcade systems, industrial automation & monitoring, internet radio, controlling robots, tracking heavenly bodies, vending machines and many such applications Raspberry Pi based boards find varied applications.
"There is an increasing number of enterprises taking advantage of the Raspberry Pi ecology to develop end products creating components that have applications ranging from a household washing machine to underwater exploration vehicles"  
Another application is to track temperature in research institutes & factories where temperature plays a vital role for smooth functioning. Building simple IoT solutions require fair amount of knowledge of handling sensors with Raspberry Pi and some network protocols.
Raspbery Pi also acts as a central controller which helps to collect and report changes and conditions of the database in the data center.
Raspberry Pi enabled system BitBarista is coffee machine which accepts bitcoins to dispense coffee. It also pays users to restock the supplies and can make a call to the technician in case of a fault.
Integration of Raspberry Pi with Leading Technologies
Seamless integrations with varied technology drives the success of IoT enabled devices. Raspberry Pi Wins because of this approach.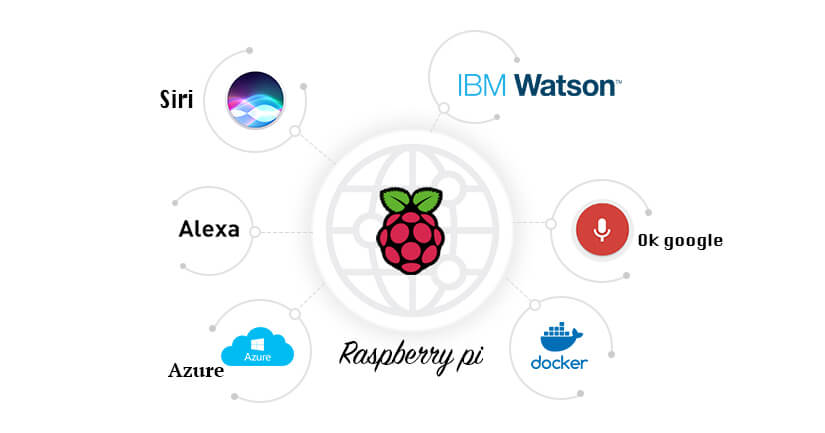 IBM Watson IoT Platform
Raspberry Pi is easily connected to the IBM Watson IoT Platform that helps to analyze and visualize the data that is received by Raspberry Pi system in the Watson IoT dashboard.
Docker on the Raspberry
Many enterprise applications are moving towards containerizing using Docker that helps to improve the development, testing and deployment. Ongoing improvements in Docker with continuous releases enables easy use of Docker on a Raspberry Pi application.
Azure IoT hub
The Cloud based Azure IoT hub by Microsoft helps to seamlessly connect various IoT based devices, to this hub that is created the Raspberry Pi system interacts to change the status or collect data or monitor the devices.
Raspberry Pi collects temperature and humidity data from BME280 sensor and send back the sensor data to the IoT hub
Screenless Interactions Using the Voice
Various voice command systems are easily integrated with Raspberry Pi applications to offer a completely different kind of user interface with screenless user interactions.
Digital assistants accept voice commands and also enable control over additional devices through a proxy server connecting to the digital services.
Siri can be used to open or close the garage door with the help of Raspberry Pi that is hooked to the garage automatic door system
Raspberry Pi Based IoT Solutions from MultiDots
At Multidots we recognize the growing importance of the IoT and inclusion of diverse technologies to make our IoT solutions increasingly comprehensive. We offer smart homes solutions using Raspberry Pi to control the operations of devices around the home as well as the offices using smartphone interfaces.
Integrating the Raspberry Pi with the ZigBee IoT protocol we offer mobile interfaced solutions to control servers & WiFi modules like the modems.
"With Raspberry Pi, Multidots likes to be acknowledged in the same way, it is for its services into Consulting, Custom Application Development, Enterprise Mobility, UI/UX Development, QA and Software Testing, and Hire Dedicated Developers,"  – Aslam Multani, COO, Multidots