Building relationships with customers and keeping them happy is key to the success of any business. Multidots believe strongly in this philosophy and so we decided on our 5th anniversary to gather a comprehensive feedback from our customer for all the services and solutions that we have provided to them all these years. In order to undertake this task of assessment from our customer we prepared a survey and asked them to rate us on a scale from poor to excellent for various parameters. We also asked some question to know their likes and dislikes about Multidots and our processes. Along with this question was a suggestions column wherein we invited valuable suggestion from our customer which will help us in being better.
Based on the feedback, here is a chart to showcase our performance. It shows the rating of our customers and we are glad to know that none of our customer have rated us poor in any of the parameters set by us and 80 % of our clients have rated us as excellent or good in what we do.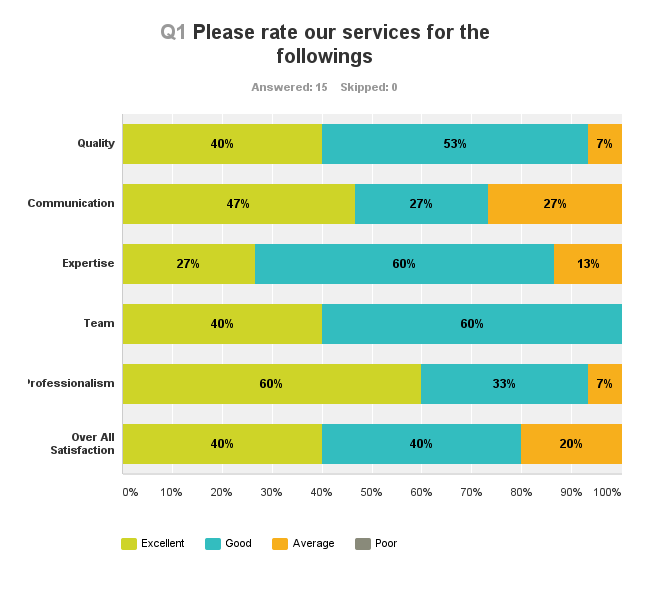 Customer feedback can spur everything from short programs and initiatives to business transformation. The chore is not in the listening, but in the implementation and follow-up. This is what our honorable CEO believes in and so based on the feedback received from 15 of our esteemed client a long series of meeting of different teams who worked on different projects was undertaken and a strategy was planned in order to attend to the valuable feedback. Different ways were planned to overcome the short coming and walk on the path of becoming the best in the business.
Lastly all of this would not have been possible if we wouldn't have received the feedback. We would like to express our deepest gratitude to all the esteemed clients who have took out time from there busy schedule for us and we look back to all this customer to help us with their insights in the future as well.