WordPress is the world's most popular Content Management System(CMS), and despite the emergence of more user-friendly CMSs that require little to no coding, WordPress remains the most popular one that powers everything from small one-page websites to massive websites for big enterprises.
We can attribute this to the fact that WordPress comes with a unique set of perks. When developed the right way, WordPress websites can beat other CMS in factors such as robustness, security, performance, scalability, and flexibility. You can refer to this detailed comparison of WordPress with other popular CMS in the market.
| | | | | | |
| --- | --- | --- | --- | --- | --- |
| | WordPress | Drupal | Joomla | Squarespace | Wix |
| Cost | Free | Free | Free | Free | Free |
| Difficulty | Easy | Intermediate | Easy | Easy | Easy |
| Free Themes | 3000+ | 2000+ | 1000+ | Limited | Limited |
| Free Plugins | 44k | 26k | 5k | Limited | Limited |
| Number Of Websites | 75m | 1.3m | 2.8m | 1m | 1.2m |
| Hosting | Self-hosted | Self-hosted | Self-hosted | Hosted | Hosted |
| Multilingual supports | Yes | Yes | Yes | Yes | Yes |
These perks might have led you to gravitate towards using WordPress as your CMS. If you're contemplating hiring WordPress developers to work on your website, but confused about whether to do so or not, then you've landed at the right place.
In this extensive guide on hiring WordPress developers, we'll cover everything from the pros and cons of doing so, reliable sources where you can find experienced developers, and the steps to do so. By the end of this guide, you'll be able to decide on whether you need a WordPress developer and how you can go about hiring one.
What is a WordPress Developer?
A WordPress developer is a professional who can help you visualize, design, and create a custom WordPress website.
A WordPress developer should be able to navigate through the different features and plugins of the CMS and customize them to suit your needs, fix any errors, integrate with third-party applications, and improve the performance of your WordPress website.
Whether you should be hiring WordPress developers depends on your business needs and budget. WordPress CMS is fairly easy to work with, and with a reasonable learning curve, you can get a lot done without any help.
However, if you have the budget to spare and want a powerful website with custom features that fits your growing business needs, then hiring help makes a lot of sense.
Advantages and Disadvantages of Hiring WordPress Developers
If you're in a fix about hiring WordPress developers for your website, then this section would be of great help. Let's dive deep into the various pros and cons of hiring WordPress developers. This will help you make a more informed decision about the entire process.
Advantages of Hiring WordPress Developers
You can build a custom, highly functional WordPress website with features that exactly match your business requirements instead of ready-to-use themes where you'd have little space to play around with the website functionalities.
Hiring WordPress developers to build custom websites ensures that your website will be unique and attractive instead of seeming to be one amongst the hundreds of other WordPress websites.
Delegating WordPress development to professionals will help you save lots of time fixing bugs and working on minor enhancements as these professionals have years of experience in doing the same.
Working with WordPress developers will help you build a business website that is highly secure and built for speed. Working with out-of-the-box themes and plugins may not give you such security and performance-based benefits.
As your business grows, you'll find yourself struggling to handle the increasing traffic and working on the new requirements of your website. However, with professional help, you can rest assured as the website will be built with scalability in mind, and any growing needs can be accommodated with ease.
Search Engine Optimization (SEO) is one of the major factors that contribute to the success of any business by bringing in free traffic from search engines. Unfortunately, with out-of-the-box WordPress themes and plugins, the SEO capabilities are limited to on-page optimization. However, with the help of WordPress developers, you can implement advanced technical SEO strategies on your website. This can bring about significant improvements to your website rankings and conversions.
Finally, when you hire WordPress developers, you can breathe a sigh of relief knowing that you can always approach them for any feature changes, technical issues, bug fixes, minor enhancements, third-party integrations, etc. If you go solo with WordPress development, these things might be a constant hurdle, distracting you from other important business tasks.
Disadvantages of Hiring WordPress Developers
Hiring WordPress developers might be an expensive affair based on the requirements of your business. Hiring WordPress developers with basic knowledge of the platform and a grasp of platform internals might be relatively cheaper. But hiring more experienced WordPress developers who help you build custom plugins and features can be a costly affair.
When you handle WordPress development on your own, you'll be less reliant on external help for getting things done. However, with professional support, you will have to depend on the WordPress developers' availability for every small change or bug fix.
Hiring WordPress developers is not a straightforward process. You might have to go through multiple sources and several developers before finding the right fit for your business needs and goals. This extensive guide on hiring WordPress developers will help you overcome this con by leading you in the right direction.
So all things considered, hiring WordPress developers is a great idea if you have fairly complex business requirements and some budget set aside to meet those requirements.
What to Expect With the Right WordPress Developers in Your Team
Let's have a look at what you can expect when you have the right WordPress developers in your team. Understanding these expectations will help you make better decisions and allocate the right budget for the development process.
1. Usability
There is no doubt about the fact that WordPress and the top accompanying themes come with some great user-friendly features out of the box. However, when you have specific business requirements and feature needs, you should consider hiring professional WordPress developers.
WordPress developers can help you tweak the existing features or your WordPress theme or plugins to enhance the usability of your website.
These can be minor changes to the website navigation or even some significant upgrades to the performance or structure of your website. Either way, improving the usability of your website is highly beneficial to conversions and overall business profitability.
2. Security
If you're considering giving up on the idea of hiring WordPress developers due to minor budget constraints, then you should think twice. Today, cybersecurity is a significant issue faced by most businesses, as cybercrime has gone up by 600% after the outbreak of the COVID-19 pandemic.
A cyberattack on your precious and secure customer data may cause significant monetary and reputation losses. Hence, it is vital to tread carefully and work on your site's security to avoid a security nightmare later on.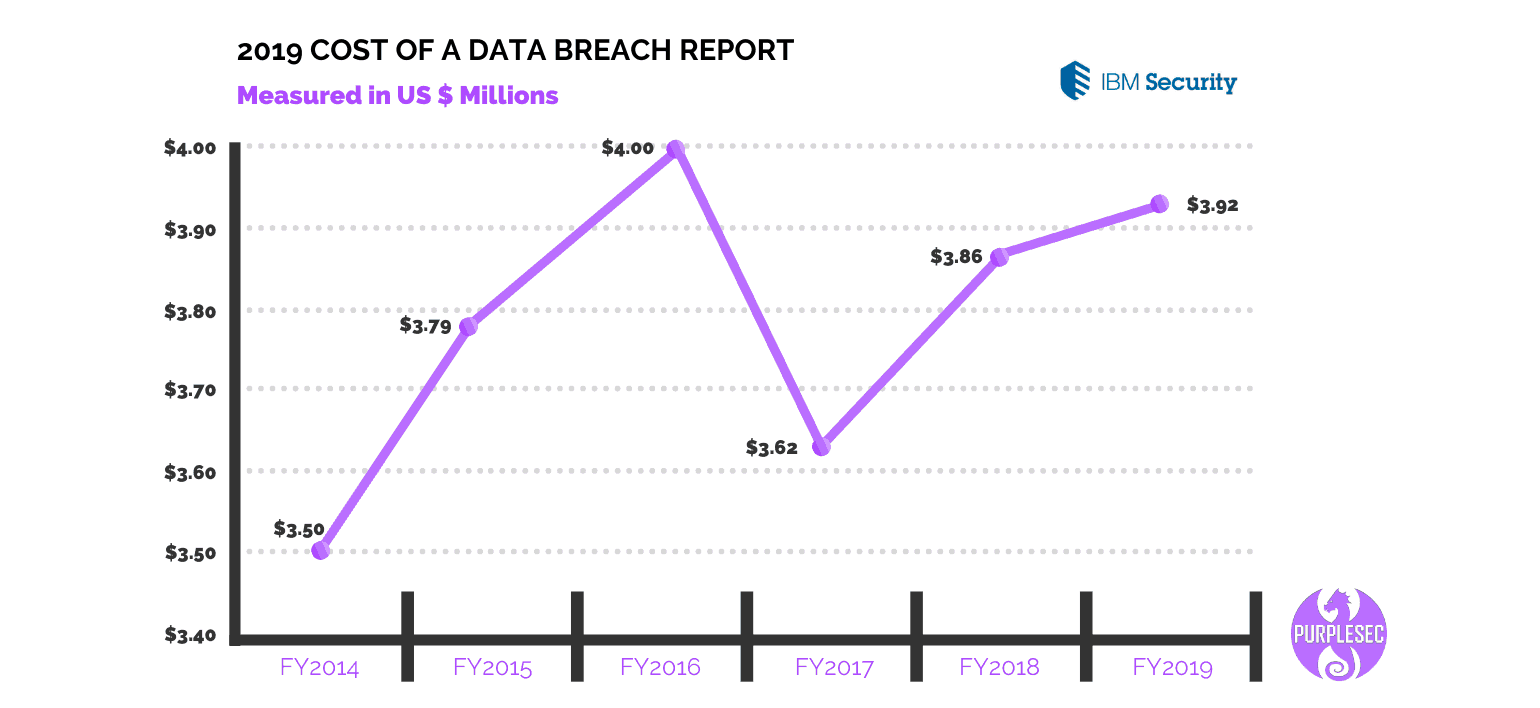 Experienced WordPress developers can be of great help in ensuring the security of your website. Their expertise lets them understand any loopholes or vulnerabilities in your website's code through which cybercriminals can gain access to your private data.
Your limited experience and expertise with handling WordPress code can leave such vulnerabilities open.
3. Speed
If you know anything about SEO, you'd know that website speed plays a key role in determining your website's organic rankings on search engines. Page speed is a direct ranking factor used in Google's search engine algorithm.
Today, the competition to rank on the top few places of Google is huge, and even a seemingly trivial difference of one second can bring about considerable changes in your website ranking and traffic.
Speed is also a key issue that determines the User Experience (UX) of your website. If your site takes its sweet time to load, then it is highly likely that your website visitors will turn impatient and abandon your site to move on to the next result.
WordPress does come with themes and plugins that are optimized for higher website speed and performance. However, you can only do so much with these capabilities. Various technical aspects can impact your site speed. You need a professional's eyes to identify such issues and fix them for optimal speed.
4. Scalability
As a small business website, you might not feel the need to think about the scalability of your website in the initial stages of website development. However, inculcating scalability as a part of website development and ensuring that the website can handle your business's growing needs can be of immense help in the long run.
For example, when you start seeing an increased number of website visitors, building a custom website from scratch that can handle the performance and usability can be a painstaking and expensive affair.
Instead, visualizing your future business needs and including these in your WordPress site development from the start will save you the time and money when your business starts scaling.
In addition, hiring WordPress developers and explaining to them your scalability needs beforehand will help you prepare for everything right from the start—something that may not be possible if you work on your WordPress site yourself.
5. SEO
SEO is one of the best sources of conversions for most top businesses as the traffic from search engines is free and of high quality. However, SEO takes a significant amount of time and expertise to show results. Focusing on SEO from the beginning stages of website development can prove to be more beneficial in the long run.
WordPress SEO plugins such as Yoast and Rank Math can help you implement on-page optimization with ease. However, these plugins are of limited help beyond the basics.
Hiring WordPress developers can help you with the implementation of technical SEO on your website. These may include tweaking the site architecture, speed, performance, etc., which is otherwise not possible without professional help.
Such SEO implementations might be the key differentiating factors that help you rank higher up on Google, ultimately bringing you significant monetary and visibility benefits.
Reliable Sources to Find and Hire WordPress Developers
Now that you understand the advantages of hiring WordPress developers and the kind of results you can expect from the process, you might be wondering about the places where you should look for developers.
Freelance marketplaces such as Fiverr, Upwork, etc., might be the first ones you might go looking for WordPress developers. You may find WordPress developers as cheap as $5 an hour. However, such developers usually lack experience and wouldn't be able to help you out much.
Moreover, such marketplaces often do not have a vetting process, and you have to rely solely on ratings/reviews to find experienced developers. This might turn out to be a rather painstaking process leading to lower returns for your business.
As promised, in this guide, we'll share with you some reliable sources where you can find developers with adept expertise in developing WordPress sites and are the right fit for your business needs.
1. Multidots
If you're in search of highly competent WordPress experts who can take care of WordPress development, migrations, custom integrations, theme design, security, and performance optimization, then look no further than Multidots.
Multidots is an official WordPress VIP Gold Agency Partner and we host a team of handpicked WordPress specialists who are self-driven and great with client communication. In fact, we have worked with 100+ global clientele and 87% of our customers are repeat customers—which says a lot about our agency.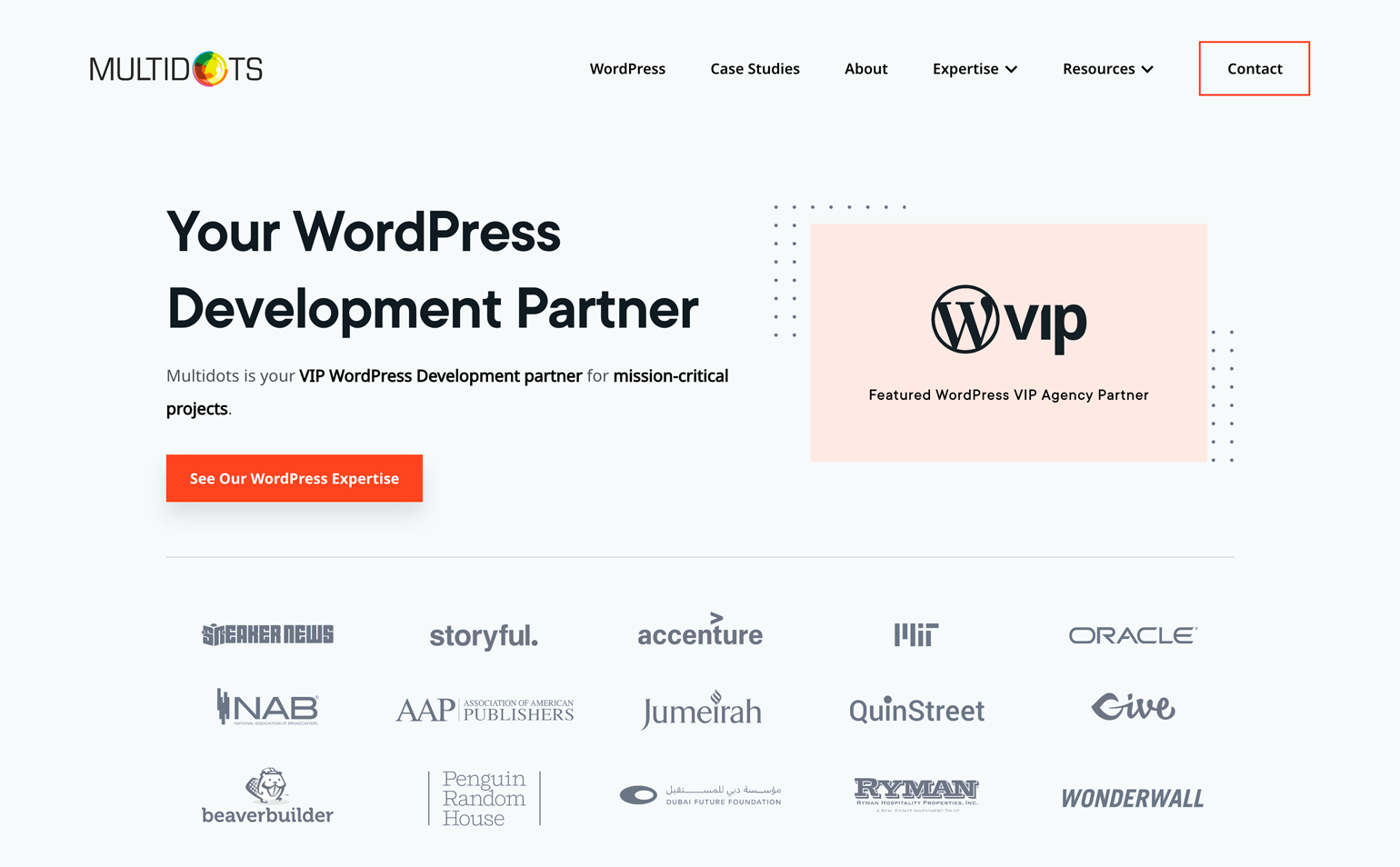 Here's a brief overview of how you can hire WordPress developers through Multidots:
Someone from our team will get in touch with you to understand your requirements, short-term and long-term goals.
Our tech team will draft a clear tech roadmap that will help you achieve your WordPress development goals.
We'll sift through our team and find talent that best matches your requirements. You can interview these candidates and see if they are a good fit for your WordPress development needs.
Next, you can begin onboarding your extended WordPress development team and kick off the project.
We don't mean to brag but when it comes to WordPress, Multidots is about as good as it gets!
2. Codeable.io
Codeable is one of the best WordPress-only freelancer platforms that boasts of a massive clientele of 20,000+ businesses. You can look for experienced WordPress developers who offer a wide array of services ranging from theme development, plugin development, eCommerce development, API development, security, performance, and similar more.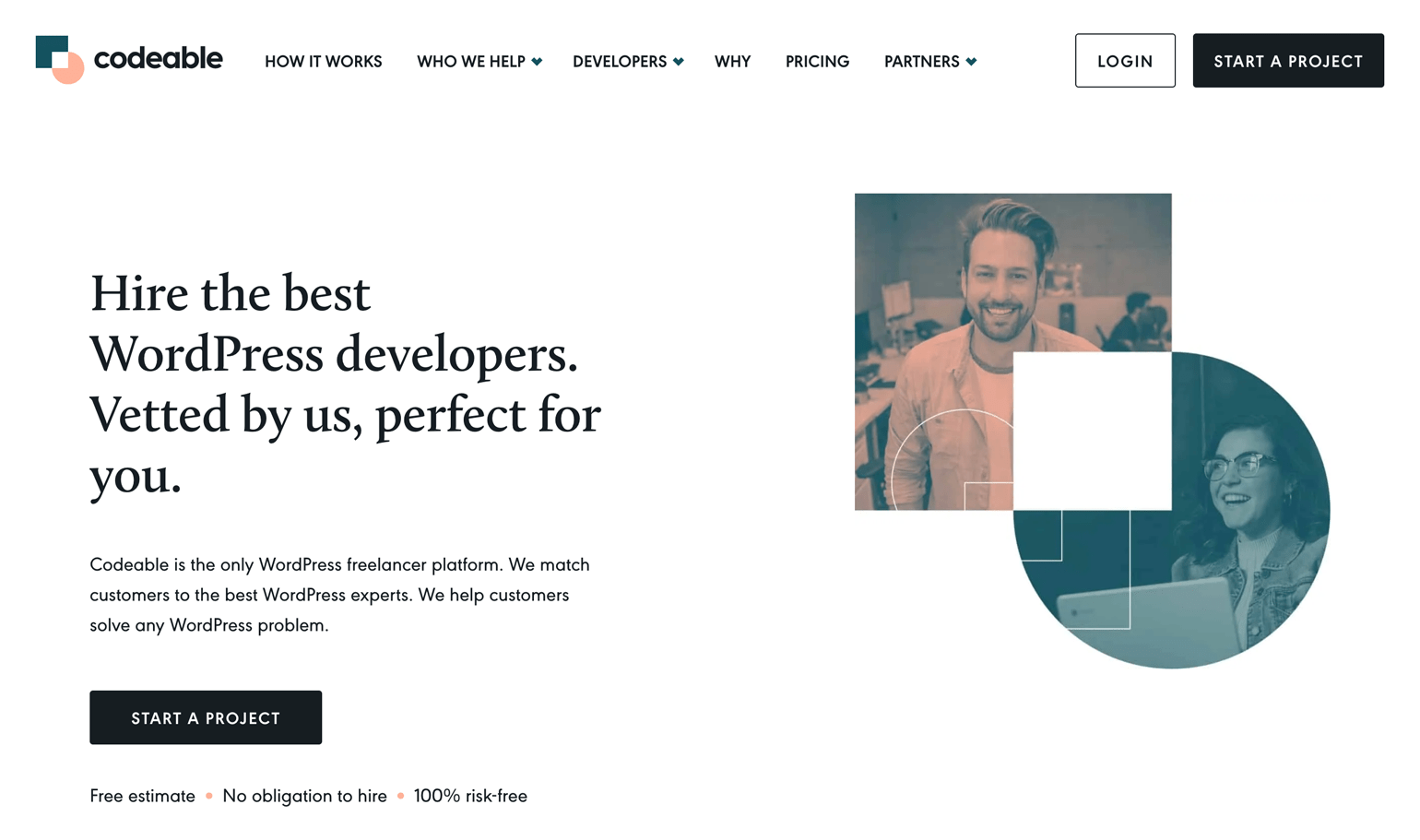 The best part about Codeable is that it is no place for novice developers. In fact, 97% of their developers have 6+ years of professional WordPress experience. Codeable's WordPress developers undergo a complicated screening process that consists of professional reviews, technical exams, behavioral reviews, followed by a 45-day trial period.
The process of hiring WordPress developers through Codeable is pretty straightforward. If you've well-defined objectives for your project, then you can start by submitting your project and getting a free estimate for the same. If you are unclear about the project's objectives, then you can have a paid consultation call with experts to understand the same and move forward.
3. WordPress Jobs
WordPress Jobs is the official job listing offered by WordPress. All WordPress-related job listings undergo a 24 to 36-hour moderation before the moderators approve them. After that, these listings remain active for 21 days.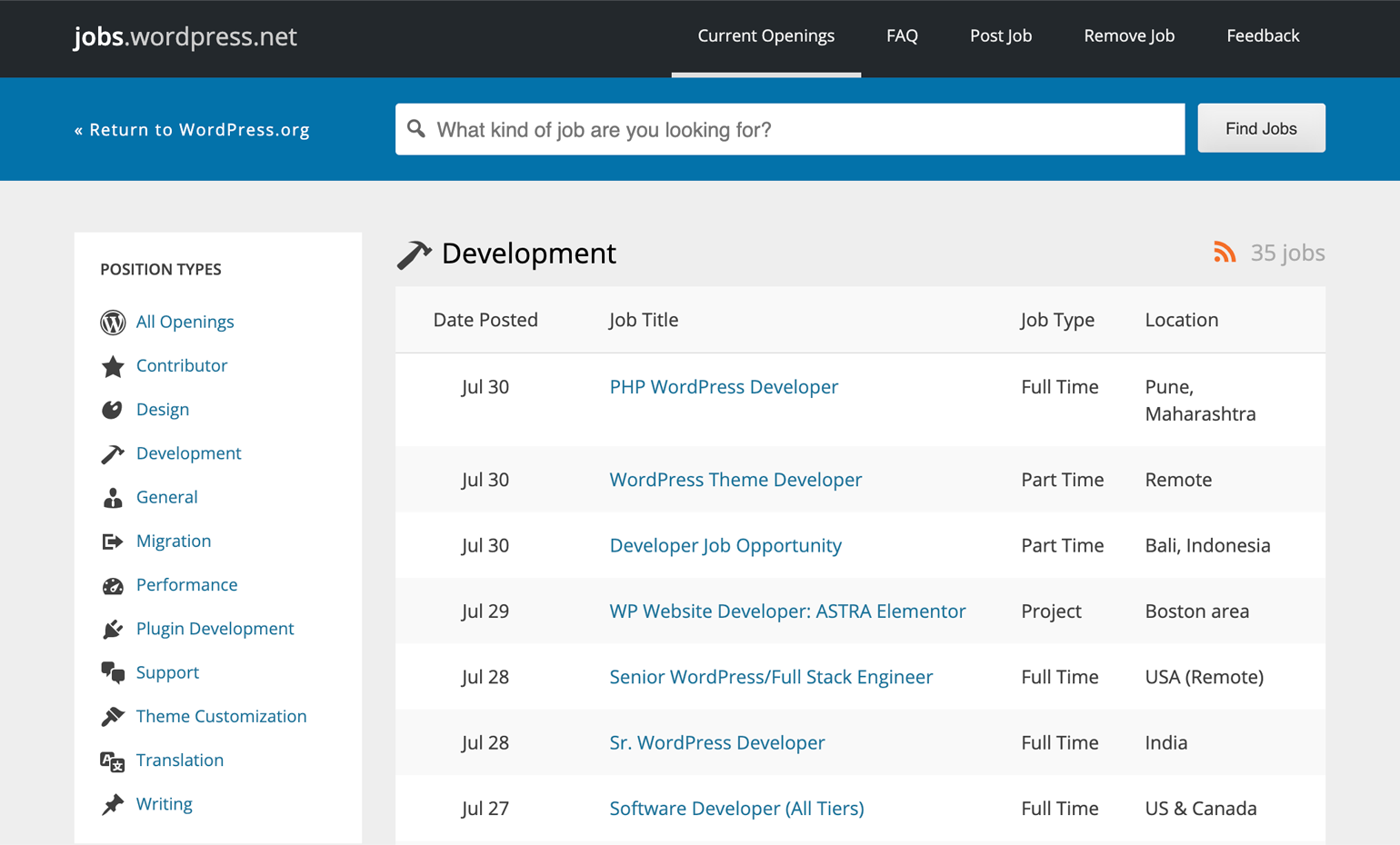 On WordPress jobs, you can find developers for design, performance optimization, plugin customization, theme customization, CMS migration, etc. You can post part-time, full-time, or project-based job openings.
Many experienced developers use this official WordPress listing for finding relevant jobs. Hence, this can be a great place for you to find experienced developers who will be the best fit for your website and business requirements.
4. Smashing Jobs
Smashing Magazine is one of the most popular web development publications, and they run a job board called Smashing Jobs. The quality of Smashing Jobs listings is pretty high because you have to pay for the listings. Listings for salaried positions cost $225 for 60 days while freelance job listings cost $75 for the same 60 days.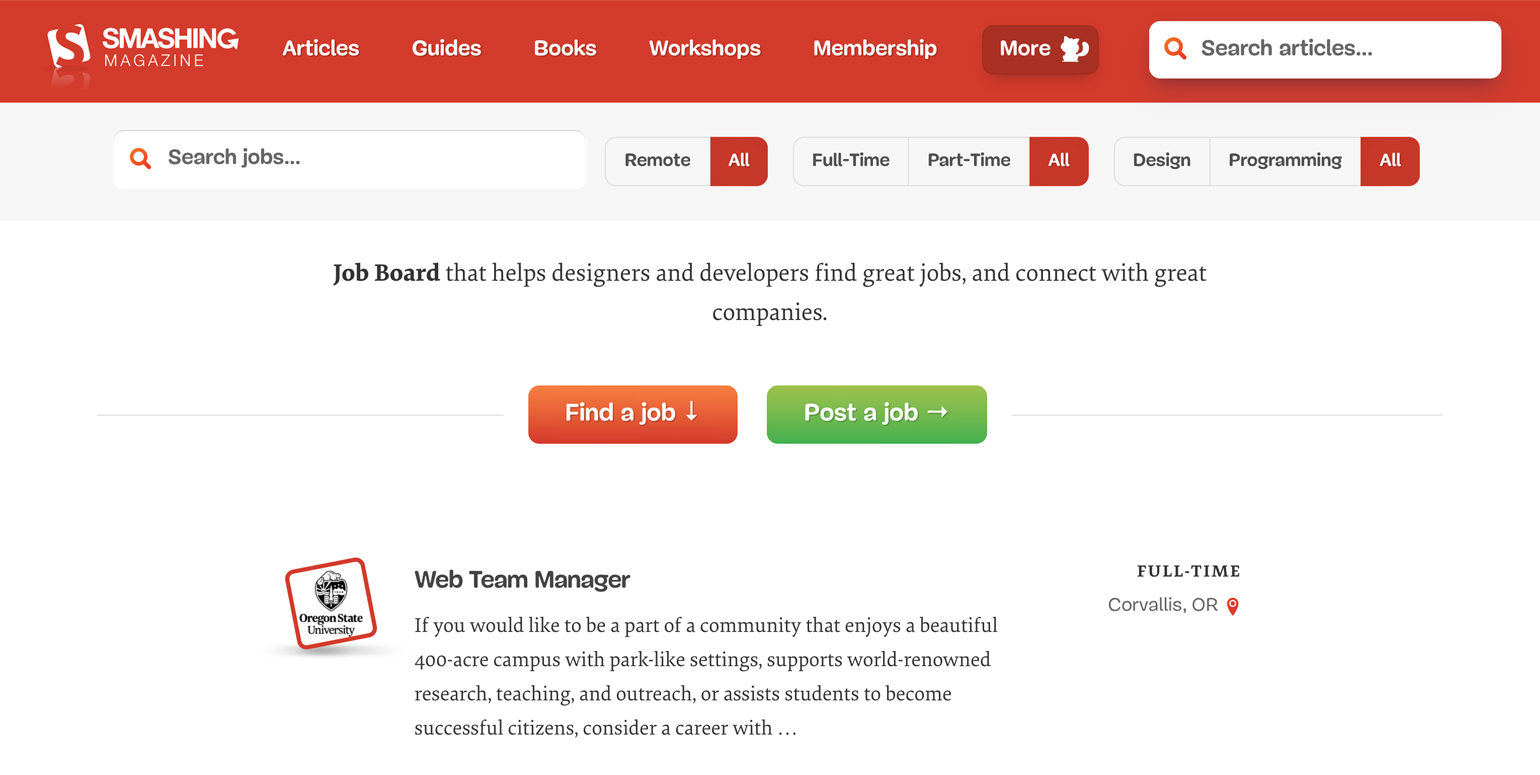 Several huge tech names such as Tesla and Amazon have found developers using the Smashing Jobs platform. Hence, the platform is worth trying if you're looking for expert WordPress talent who have years of experience.
5. Toptal
Toptal is another great freelancer marketplace that claims to host the top 3% of the world's freelance talent. The USP of the platform lies in the fact that you can hire experienced WordPress developers within a span of 0 to 3 weeks at reasonable rates.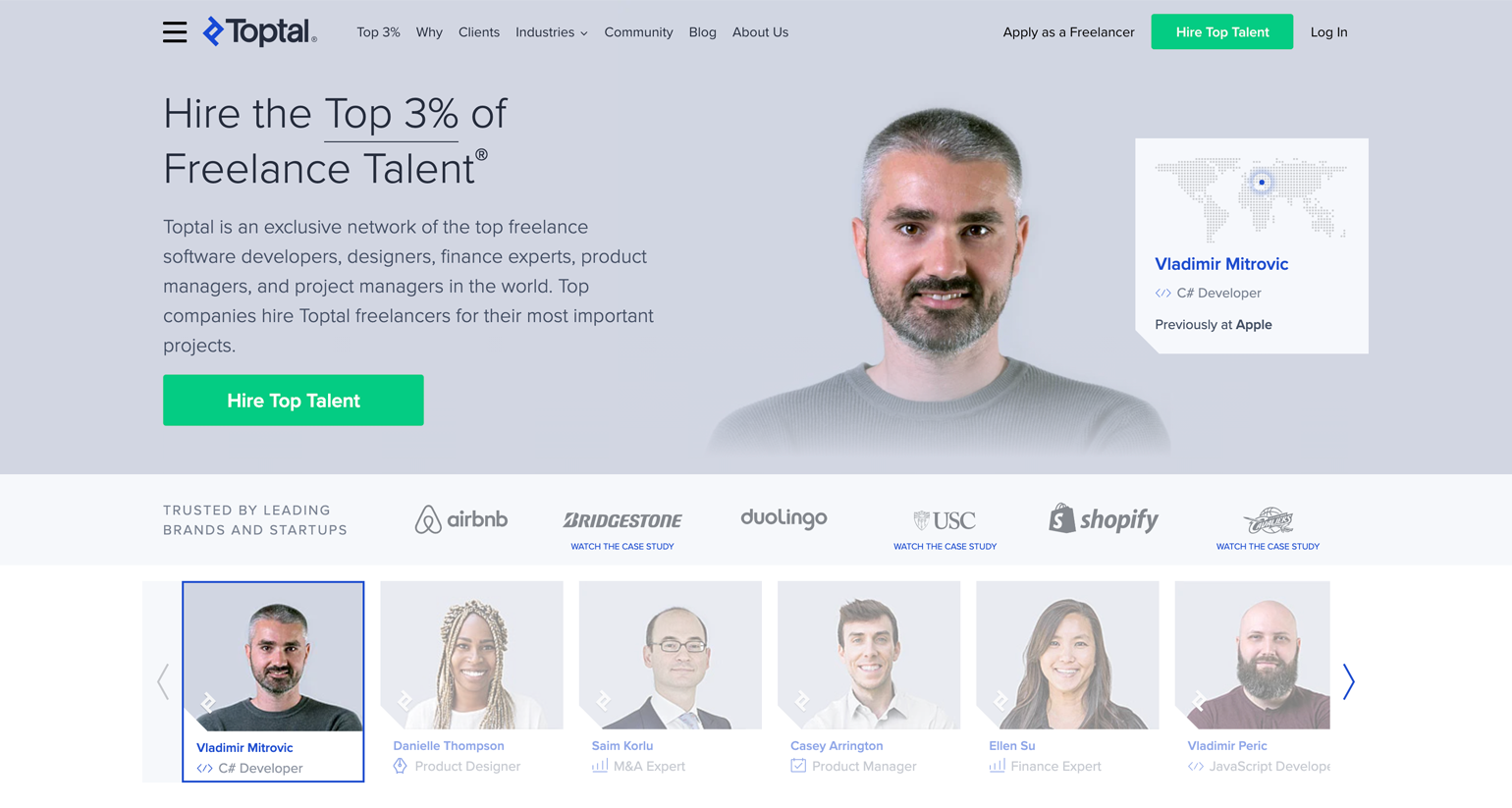 Toptal, again, has a rigorous screening process to vet top freelancers so you can rest assured that your WordPress site needs to lie in the right hands. In addition, the platform offers role-specific quality, which means the platform will match you with developers who have expertise in your exact needs.
Toptal also offers a risk-free trial period with freelancers, which can be an added plus when you're skeptical of outsourcing your site development needs. The process is quite simple as well—you submit a job, Toptal will notify you when they find the perfect match for your project, and finally, you'll get to work with the WordPress developers on a freelance basis.
Therefore, if you're looking to hire expert WordPress developers with a no-obligation risk-free trial basis and at reasonable rates, then you should consider using Toptal to hire WordPress developers.
6. Stack Overflow Jobs
It is no news that Stack Overflow is one of the most popular tech communities with over 100 million+ site visitors each month. The community helps developers find answers to their technical questions and share their expertise to help other developers.
Since Stack Overflow is one of the biggest tech communities worldwide, it naturally is a place where you can go looking for premium WordPress talent. Stack Overflow hosts a job portal where you'll find some amazing talent who can help you with WordPress development, design, customizations, performance enhancements, and migrations.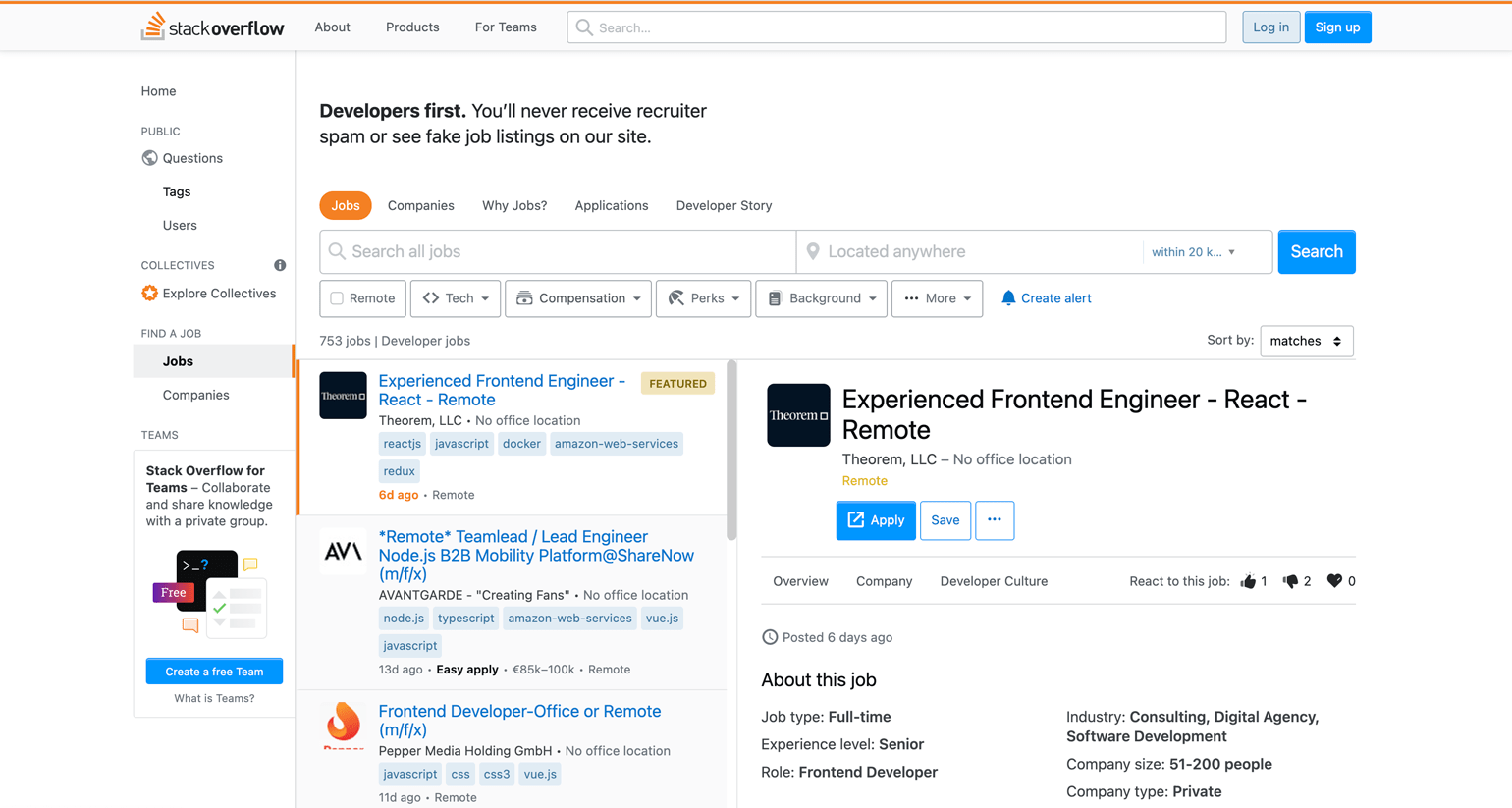 7. WPhired
WPhired is, again, a WordPress-only job board that helps businesses like you reach out to a pool of 1000+ talented WordPress developers. The WPhired job posting is free, and you can find help with WordPress migration, performance, plugin development, theme development, etc.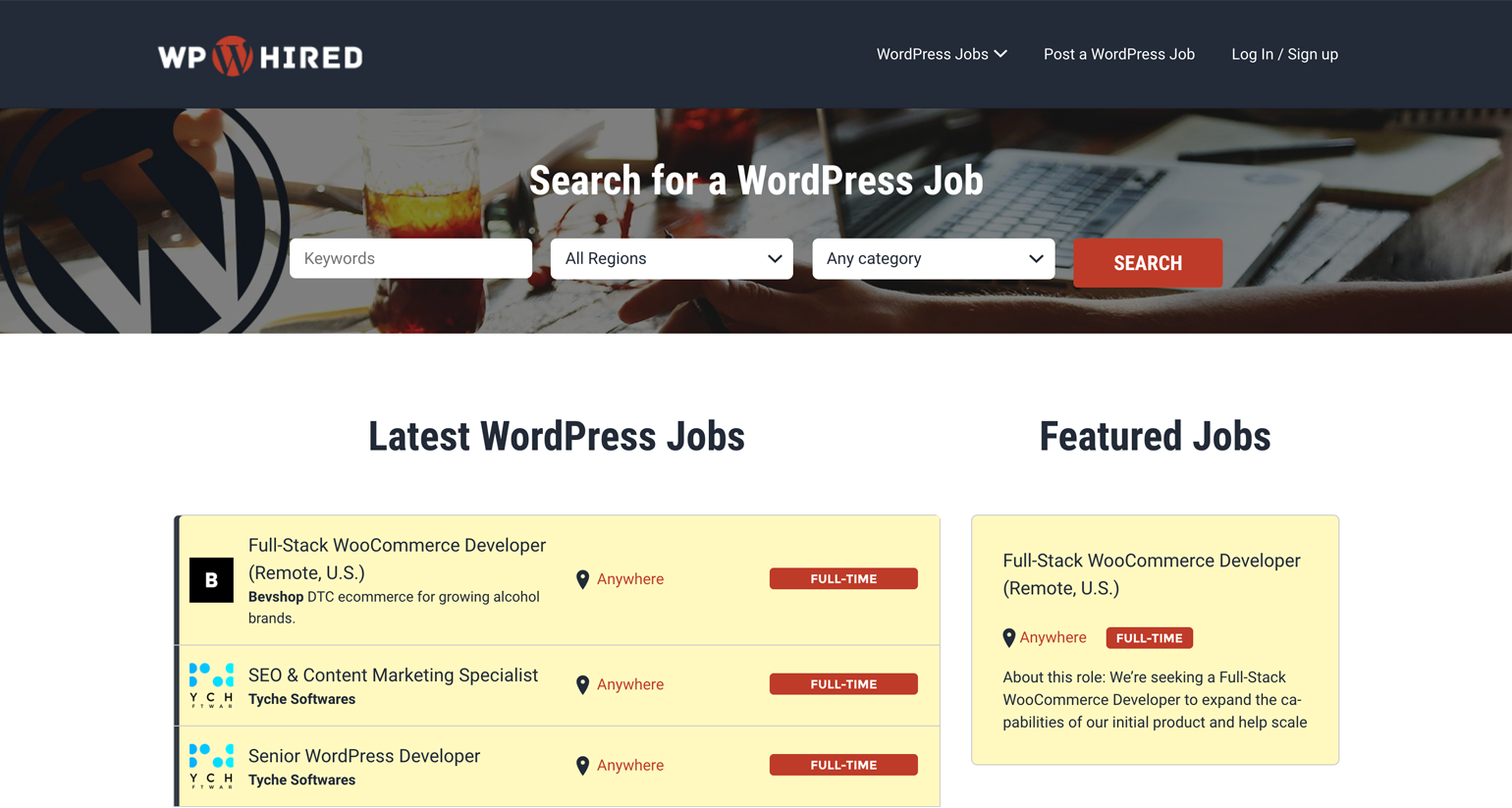 Posting a job on WPhired is extremely simple. First, you have to fill up a form with your company details and some information about your job listing. You can expect to review applications from tons of WordPress developers across the community and eventually find the best fit for your business needs.
Steps to Hire WordPress Developers
Sifting through different job boards and listings can be a painstaking process that takes up a lot of your time. But, it is important to dedicate time to the hiring process so that you avoid tons of rework later on and have your website built efficiently.
So the right talent for your WordPress development needs will prove beneficial in the long run, and it is important to take a systematic approach to reduce the risks involved in the process.
In this section, we'll have a look at a step-by-step approach that you can follow to find the best WordPress developers who are aligned with your business goals, fit in your budget, and are a delight to work with.
1. Establish Your Requirements
The first step to hiring WordPress developers for your business website is to assess your requirements. It's okay not to have a crystal clear plan chalked out. However, you should have certainty on the goals you're trying to achieve through the entire process.
For example, your requirements from a WordPress developer may be one or many of these:
You are not happy with the themes available in the WordPress marketplace, and you'd like to create your own custom theme or make changes to an existing one.
You want to implement some specific third-party integrations on your website.
You are not happy with the design and usability of your WordPress site and would like a developer to make customizations based on your requirements.
You're not happy with the speed and performance of your website and would like an expert to implement technical SEO to improve your site rankings.
You are working with eCommerce plugins such as WooCommerce and adding more customizations based on your brand identity and goals.
You have an existing WordPress site with considerable traffic. You would like to hire a remote WordPress team to make changes to improve performance, SEO, scalability, usability, etc., based on the growing needs of your business.
So your requirements for hiring WordPress developers may vary significantly, and you should have a clear understanding of the same before you begin looking for developers.
2. Know What to Look For in Potential Hires
Once you have a fair idea of the project requirements, you can start searching for WordPress developers on any of the reliable sources that we have mentioned in the previous section.
Though these marketplaces have their process of vetting developers, you must sift through the list and pick the best ones that fit your specific requirements. Here are a few vital things to consider:
Ratings, Reviews, and Testimonials
Ratings and reviews are some of the first things you must look for while hiring WordPress developers from job portals and marketplaces. You should also check for any testimonials they have on the same platform. Any red flags here will stop you from wasting any further time on the candidate.
Portfolio and Past Work Experience
If you're happy with ratings, reviews, and testimonials, you must also look for their work portfolio. You should go through any WordPress websites, themes, or plugins that they have created/customized.
You should also go through the developers' past work experience as this will help you vet them based on your requirements (as discussed in the previous point.) For example, if you're looking for WordPress developers with experience in eCommerce sites, then any experience in the eCommerce space is an added plus.
The Tools They Use
You may make the process a step further by understanding the kind of technologies and tools that they have experience with. For example, WordPress developers must be adept with platform internals such as PHP, MYSQL, and NGINX.
You may also look for relevant experience in version control systems such as GitHub, GitLab, Bitbucket, etc.
3. Prepare a Project Brief
As much as you'd expect your WordPress developers to exude professionalism, you need to prepare yourself on the same front. Top WordPress developers will expect a project brief during your first meeting.
A project brief consists of brief documentation of everything you're looking for in the WordPress development project. This may include:
A brief description of your business
Scope of the project
Business goals that you hope to achieve
Site structure/roadmap
Brand identity and design assets
Third-party integration requirements
Having a project brief ready will not just look professional but will also help you set the right expectations before you begin. This will help you and the developer get started on the right note.
4. Demand Smooth and Quick Communication
Communication is one of the key factors that will help you determine the course of your project. Therefore, the WordPress developers you hire must be able to effectively communicate their thoughts and are also able to understand your business requirements.
Hence, before beginning work on the project, set the right expectations regarding availability and TATs. If your developer is from a different timezone, then setting such expectations becomes even more critical.
5. Try a Paid Test Project
The WordPress developers you are considering may or may not be ready to work on free sample projects. Either way, you should consider having a trial period with a paid test project.
You may spend additional money on such paid sample projects. However, consider these as a way to avoid significant monetary losses in the future. Through a paid sample project, you will be able to offer an incentive to the developer to code on a sample project.
This will give you an idea about how your actual project work will look like. In addition, during the paid trial period, you can assess key aspects such as technical capabilities, knowledge of platforms and tools, communication skills, integrity, work ethics, punctuality, and similar more aspects.
6. Set Clear Expectations Regarding the Scope of the Project on Paper
After you hire WordPress developers, you must also ensure that everyone's on the same page regarding the scope of work. Any gaps in the scope of work may lead to unfinished work, extended deadlines, or even monetary losses.
An official contract and/or scope of work signed by all the concerned parties can be a great way to begin the project. This will ensure that there are no slip-ups in the process, and you or your developers will not have any surprises later on.
Wrapping Up
So, there you have it! Everything you need to know about the process of hiring WordPress developers.
The process of searching for developers, choosing the right ones, and bringing them onboard may seem time-consuming and daunting. And you must weigh the pros and cons of the entire process and make an informed decision and how you'd like to go about it. But that's where this comprehensive guide of hiring WordPress developers will be of great help.