Almost a decade after its launch in January 2011, Drupal 7 is slated to take its final bow in November 2022. So if you haven't already, it's time to either upgrade your Drupal version or migrate to an alternative CMS.

Now, Drupal 9 may seem like a logical way forward as you can retain the same ecosystem. But let us warn you: the journey is going to be a long and expensive one.

That's because Drupal 8 was a major upgrade from Drupal 7, with over 200 new features and improvements, and required users to build new websites. Improvements included a new object-oriented approach, deprecation of many Drupal 7 modules, and third-party libraries for important functions instead of custom codes.

So while moving from Drupal 8 to 9 isn't as complicated, upgrading from Drupal 7 to 9 is a big undertaking owing to the functional differences.

In comparison, WordPress is a proven contender in cost-effectively handling high-traffic enterprise websites, while also having an easy interface for non-technical teams. What's more, with WordPress, you are essentially future-proofing your business since the CMS evolves and grows with your needs. Once you migrate to WordPress, you won't have to worry about another CMS migration for years to come.

Keep reading to understand the step-by-step process of migrating from Drupal 7 to WordPress.
Note: This guide is for enterprise-grade websites and not personal or small-scale websites.
Table of Contents
Section-1:
High-Level Strategy
Enterprises must consider the costs, benefits, and long-term implications before initiating a CMS migration process. Besides that, here are a few other major aspects to consider while strategizing the migration process:
Think About the Timeline
Owing to the extent of preparation and number of activities involved, the process of CMS migration is undoubtedly time-consuming. The transition requires you to prepare your existing website, modules, and content for the migration, in addition to the features that you want in your new WordPress CMS.
Migrating from Drupal 7 to WordPress can take a few weeks or in some cases, even a couple of months to accomplish. The timeline for the entire migration process largely relies on the volume of content and modules that you are shifting to the CMS. Smaller websites with lower content volumes can wrap up the migration process within a couple of weeks, but most mid-sized and large enterprises take longer.
Since the process of CMS migration can also prove disruptive for other business activities, it should be conducted at a time when your enterprise can afford some slack time. If you are working on a time crunch — consider contacting an expert who can significantly expedite the migration process for you.
Consider a Redesign
Once your timeline is ready, it is time to ask yourself some pertinent questions about the look and feel of your website. Migrating from Drupal 7 to WordPress will often require you to completely redesign your existing website.
You can use all the lessons that you have learned from your existing website to redesign the user interface and experience in WordPress. To understand what will work best for your enterprise, conduct market research and analyze other large-scale websites in your industry. You should note that doing this will require you to add more time and cost to the migration process.
The next thing you should consider is your modules. The modules you may have implemented in your website perform certain functionalities and useful functions for you. Check if the same or similar modules are provided by WordPress (most likely they will be). As such WordPress has a more robust ecosystem and a larger community of developers who regularly create plugins and SaaS services that can amplify your website experience and functionality.
Know Which Drupal Features You Need
CMS migration also allows you to re-evaluate the features and functionalities that you have added to your website. Are you using all of them? Are there any features that you can give up in the migration process? Does WordPress have the necessary features that you need in your CMS?
Here is a table that you can use to figure out the primary features of your Drupal 7 website that you are likely to need, going forward:
| | |
| --- | --- |
| Features | Check if Needed |
| Personalization | |
| eCommerce | |
| Multisite | |
| User Roles and Permissions | |
| Headless Architecture | |
| Multilingual and Localization | |
| Automation | |
| Audit Trail | |
| Forms | |
| A/B and Multivariate Testing | |
| Accessibility | |
| Drush | |
Know Which Third-Party Drupal Integrations You Need
When you are re-evaluating the features you want to retain, you also need to consider the third-party integrations that you want to inherit in your WordPress CMS. At this point, it is important to consider that WordPress has a wider variety of third-party integrations compared to any other CMS, including Drupal.
Moreover, third-party integrations associated with WordPress seamlessly integrate within your website — regardless of how customized and personalized it is.
| | | |
| --- | --- | --- |
| Third-Party Integrations | Drupal 7 | WordPress |
| Salesforce | | |
| HubSpot | | |
| Google Analytics | | |
| Picasa | | |
| Slack | | |
| Cloudflare | | |
| Getty Images | | |
Remember: it is easy to get carried away with the number of integrations available in WordPress. Choose only the necessary ones that would help deliver a superior experience to your customers.
Choose Your Hosting Infrastructure
Your hosting infrastructure is crucial to the growth and continued efficiency of your website, which is why it should be the next major consideration in your migration strategy.
Choosing the right hosting provider is not a simple process, as there are plenty of options you can choose from such as Nestify, BlueHost, and SiteGround, among others. Since you already have a hosting account associated with your Drupal website, it might be more beneficial for you to find hosting providers who specialize in WordPress.
Your web hosting solution can make or break your website performance, so it is important to prioritize quality above costing for enterprise-level websites. Choosing a hosting provider such as WordPress VIP can significantly help you in getting the support you need, automated backups, and various other premium benefits that you would otherwise miss out on.
Pick Your Migration Team
Migration processes are quite complicated and encompass many technical and non-technical steps. While some enterprises might prefer and benefit from creating an in-house project for the migration process, it is perfectly reasonable to seek an expert's help in navigating the process.
Finding the right team to handle the migration from Drupal 7 to WordPress can seem daunting, but you want to go for someone who has enough experience and expertise working on Drupal as well as WordPress.
An in-house solution may not be the right way to handle a migration process successfully as it can often lead to loss of data or irreparable errors. With a hybrid approach (manual + automated) to migration, our team can help you navigate the entire process with minimal downtime and maximum accuracy.
Section-2:
Content Preparation and Pre-Migration Checklist
Once your high-level migration strategy is ready, you can start focusing your efforts on preparing your content for migration. Along with this, you should consider the following pre-migration checklist that includes steps that you should take before the actual migration takes place.
Backup your Drupal website
To avoid any kind of data loss, it is important to back up your website before initiating the migration process. Doing this might also help keep your data safe in case you run into any issues during the process.
Take inventory of your content
Cataloging and managing organized databases is a great habit to have when you are planning a CMS migration. Maintain a list of all your URLs and content so that you can prevent any data loss when you are actually shifting your content to the new website. It will also help you identify any outdated or unnecessary content that you wish to leave behind.
Set a clear goal and plan
A well-defined roadmap should be at the top of your pre-migration checklist, no matter the scale. Draw up the requirements that you have from the new website. What do you wish to improve on? Do you feel the need for a new UI or any other advanced features?
A clear plan can help you understand your requirements and the core features of consideration in a much better manner. Make a list of the aspects that you want to improve on in the new website, and the features that you think you can forgo when you leave your Drupal 7 website.
Ensure SEO preservation
A CMS migration is no excuse for your online rankings to drop, even though it is a well-known temporary side effect of the process. You can take proactive steps to maintain your rankings even during a migration process with the help of a few easy fixes such as:

Creating redirect links for the ones that are likely to change in the WordPress site
Ensuring on-page optimization for highly valuable pages
Choosing an SEO-friendly theme for your WordPress site
Have your SEO team or analyst draw up insights on the current site's architecture and potential areas for improvement. Create a spreadsheet of the results and implement it in the new website to avoid any major negative impacts on its SEO performance.
Database and Taxonomies
As a prerequisite to migration, you must ensure that all your taxonomies and databases are correctly labeled and organized.
The next step is to maintain another spreadsheet with all the necessary information for shifting your content from your Drupal 7 to the new WordPress website. Here, you should list down all the content, visuals, SEO attributes, custom fields, users, redirects, and URLs — so that everything is seamlessly integrated into your new WordPress website. These records will also be useful in the post-migration testing phase.
Section-3:
Set Up WordPress Environment and Development
Once you have prepared your content and Drupal 7 website for the migration, you are all set for the new WordPress environment and everything else that the migration will entail. You will need to download and install WordPress, which is a fairly straightforward process.
If you go for a managed hosting solution for your new website (which is highly recommended), your WordPress environment will already be set up for you. The installation process and database integrations are taken care of by the hosting solution as well, making this stage of transition easier for you.
Next, you would need to go through several considerations for your new WordPress website based on your requirements.
WordPress Single Site or Multisite
Just like Drupal 7, WordPress offers a multisite option that helps you run multiple websites from a single installation. These websites share the same set of codebase, resources, and elements but they can also be managed independently. However, WordPress multisite allows you to designate a SuperAdmin — a superior user level that has administrative rights across all websites encapsulated within the network.
So if your enterprise requires multiple subsites, then WordPress multisite is a great addition for your business. However, if such an architecture is not a fit for your business, or if you do not want to share databases with other subsites, then WordPress single site is a great option too.
If you were utilizing the Drupal 7 Multisite feature, then WordPress multisite is a good alternative to explore and implement for your enterprise.
User Roles and Permissions
Your existing Drupal 7 website offers three major user roles for you to assign: Master Administrator, LoggedIn, and Anonymous.
On the other hand, there are five types of user roles associated with WordPress, which are:
Administrators: Users who have the administrative rights to the entire website, similar to Master Administrators in Drupal 7
Editors: Users who can publish and manage their own posts, comments, and those of other users.
Authors: Users who can publish and manage their own posts
Contributors: Users who can create and manage their posts, but do not have publishing rights
Subscribers: Users who manage their own profile
Owing to the major differences in the user roles of both CMSes, you would need to assign new user roles carefully when you migrate from Drupal 7 to WordPress. The additional user roles offered by WordPress are an upgrade over your existing user role database since you have more options to secure your data.
Here is a table that can help you map the existing user roles of Drupal 7 with the new user roles in WordPress:
| | |
| --- | --- |
| Drupal | WordPress |
| Administrator | Administrator |
| Authenticated | Subscriber |
| Anonymous | Custom Role |
Page Template Creation
While Drupal 7 supports 2500+ themes, WordPress supports 5000+ free themes, along with thousands of premium themes.
With Drupal 7, page template creation is as inaccessible as several other features are for you unless you are a developer or have hired one. Right off the bat, you can figure out that Drupal 7 did not provide as many user-friendly options for custom page templates or theme design creation, as WordPress.
A page template is defined as a specific template file that can be applied to a single page, a set of pages, or an individual page section. Page templates characterize the look and feel of your website by allowing you to differentiate all the pages from one another.
While Drupal 7 required you to create custom codes that would eventually translate into a personalized design for your website, WordPress offers a simple drag and drop option, making it easier for non-technical users to create and manage page templates. These page templates help you display the dynamic content elements such as calendar events, posts, images, etc.
The default theme will load automatically when you install WordPress, which you can change easily from your Dashboard by selecting Appearance, under that Theme and then selecting Add New.
Consider using a theme like Underscores that can help you minimize the development time while setting up a new theme, as it is completely performance-driven.
From here on, you can go crazy with your imagination as WordPress offers plugins for almost every kind of website under the sun. You can also design your page manually, or with the help of a developer if you want to create a new element that does not already exist.
Content Block Creation with Gutenberg
As a Drupal 7 user, you must already be aware of the extensive coding that goes behind displaying your content currently.
In this regard, WordPress substantially simplifies things for you in the form of its new editor — Gutenberg. The editor allows you to create custom content blocks on your page template while allowing you to check how it will look on the front-end. Thus, saving you tons of time and effort, and empowering your content team to handle the publishing.
Every piece of content that you add to a page in WordPress, creates its own content block. These blocks can be modified as per your preferences in terms of their look and feel and rearranged easily without disrupting the rest of the page elements. All of this without the need for coding or any extra technical know-how.
You can learn how to create content blocks on Gutenberg using the Block Editor Handbook by WordPress.
Mapping Features with WordPress Plugins
We have already discussed the importance of filtering the Drupal features that you want in your WordPress website. However, to implement it seamlessly, you must match these features with their respective WordPress plugins.
While custom coding is always an option, WordPress plugins can be more time-efficient. More importantly, they are user-friendly and allow technical as well as non-technical users to add advanced features to their websites.
Here are some of the popular WordPress plugins that can replicate the features that you had integrated into your website:
For other plugins, you can also browse the WordPress Plugins Directory where you can find a plugin for almost any feature that you want in your website. In the rare event that you are not able to find the right plugin for your requirements, you always have the option to custom code it.
Mapping Drupal Integrations with WordPress Plugins
Similar to Drupal 7 features, every Drupal 7 integration that you want in your new website can be supported and facilitated using a WordPress plugin. While we have already discussed some of the popular Drupal 7 integrations and their WordPress counterparts, here are a few popular Drupal 7 integrations and their WordPress plugins.
And of course, if you are unable to find the right WordPress plugin, you will need to custom code the solution.
Section-4:
Switch & Deployment
By now, you should be done preparing your Drupal 7 website for migration, and setting up your WordPress environment and features. At this stage, the next step would be to carry out the actual switch for your content from Drupal 7 to WordPress.

Here is a step-by-step process that you can follow to migrate from Drupal 7 to WordPress:
Step 1: Installing the FG Drupal to WordPress Plugin
The first step you need to take when you are making the actual switch is installing the FG Drupal to WordPress plugin, within your new WordPress website. The plugin migrates all your content including images, videos, articles, categories, images, and even tags.
The plugin seamlessly integrates with multisite installations and is equally effective with all Drupal versions available in the market so far. While the plugin is free, the premium version is more suitable for larger websites as it includes the migration of more elements and additional add-ons.
Once the plugin has been installed, select the 'Import' option to kickstart the migration process.
Once you are on the screen below, ensure that your content is organized and arranged properly.
If you have attempted to migrate some of the content previously or have some content on WordPress that you do not want to include in the migration, you might want to erase it when prompted as below:
If not, you can proceed with the migration, till you are prompted to insert the URL of your existing Drupal 7 website, from which the content needs to be fetched. You will also be able to choose how to go about downloading your media files.
Step 2: Exporting Data from your Drupal 7 Website
The next step is to fetch all the necessary data and content from your Drupal 7 website. Choose the FTP option, so that you can select and transfer files as per your liking.
Navigate to the folder in which Drupal has been installed. Go to Sites > Default, and then select settings.php to open it.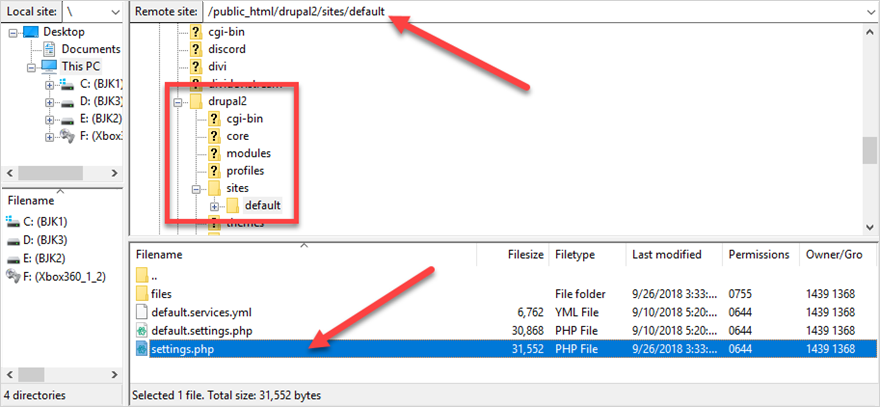 The content of the files will look something like this: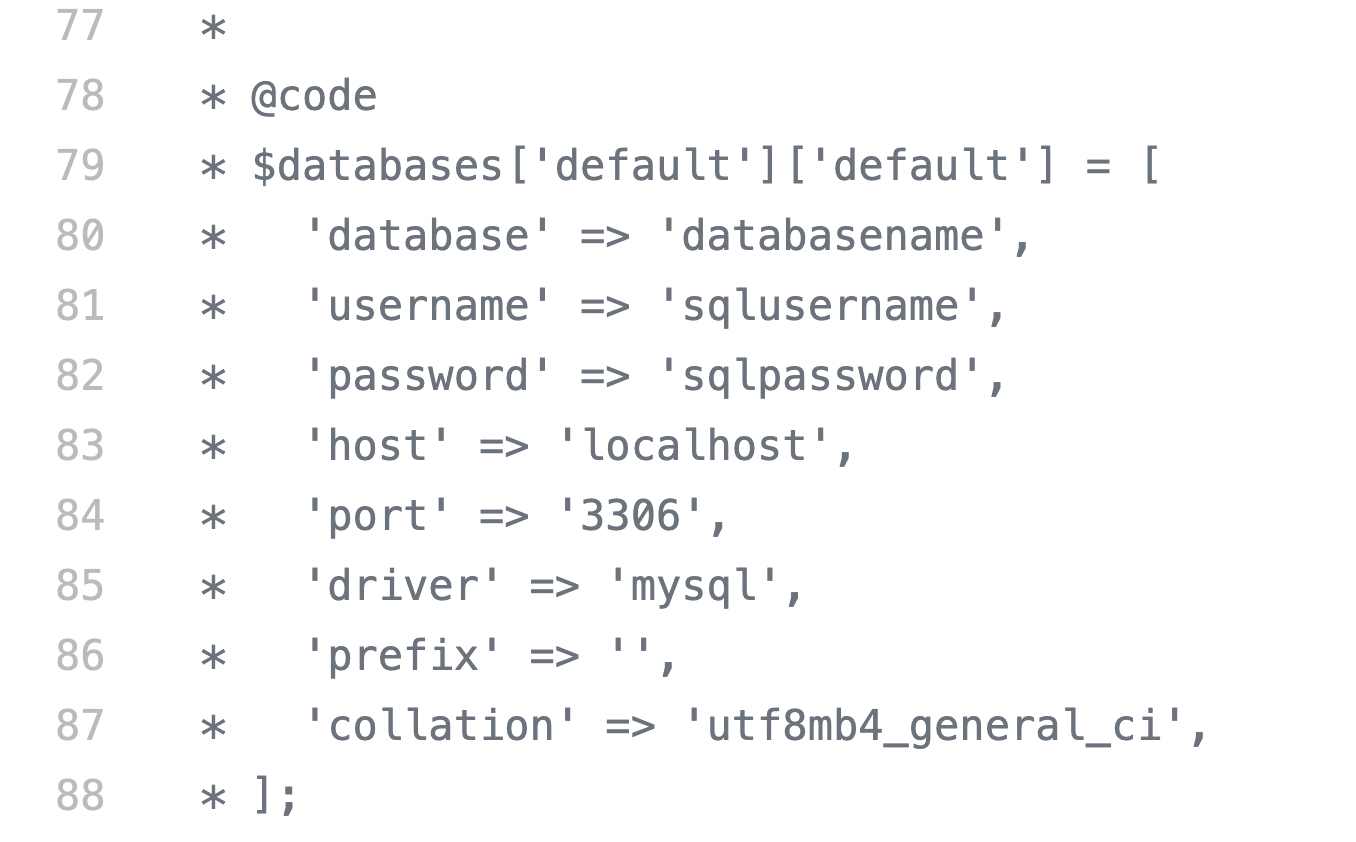 Once you can view the credentials of your Drupal website as above, you need to copy and paste them into the associated fields as prompted by the FG Drupal to WordPress plugin.
After all the fields are filled with their respective values, click the Test the database connection button, after which you should be able to see a confirmation message in green.
Note: If you add a prefix in the field Drupal Table Prefix, make sure to follow it up with an underscore as postfix.
Step 3: Migrating from Drupal 7 to WordPress
Once you are done with all the previous steps, the next step in the migration process is to set the behavioral preferences. The Behavior section is all about your preferences, and the options you would like in the installation process. After inputting your preferences and selecting desired options, click the Start/Resume the Import button.
The import process will start and will finish on its own after all the content has been transferred to your WordPress website.
Step 4: Updating Internal Links (Optional)
After you finish the migration process as per the step-by-step process detailed here, it is time to look at an important aspect of post-migration. If a lot of articles are interconnected through links that you would need to modify and update the internal links before finishing the migration process.
By the time you are done with this step, your WordPress website should now be ready to use.
Important Considerations Before Final Deployment
Before you go ahead with the final step and deploy the CMS migration process, take time to figure out the following considerations.

Take a hard look at your sitemap one last time to ensure that you have a clear idea of the pages that need to be retained or removed. Ask yourself: do you want to restructure the sitemap in any way? Does it need more work before deployment?
Prepare Your Integrations List

Reevaluate the list of integrations that you have planned to retain from Drupal 7 to WordPress. Can they be replaced by other WordPress plugins?
When it comes to Marketing and CRM functions, WordPress has a lot more to offer than Drupal 7. It has a wide range of plugins to support almost any kind of MarTech process, and the tech stack scales up as your business grows.
Since you would be creating a new WordPress website anyway, it makes sense to choose individual and specialized WordPress plugins for your marketing and CRM requirements. What's more, you can easily use the combination of your existing integrations with the new ones for stepping up your website and marketing performance.
The actual export of data from Drupal 7 to WordPress for enterprise-scale websites can take a few days, especially if it is a content-focused website. As suggested earlier, this migration should take place on days where your company has a planned downtime or when the workload is considerably low.
Maybe, consider doing it on a long weekend or festive times when the team is inactive so that potential lags caused due to the migration can be prevented.
Freeze Mode During Content Migration
As mentioned before, it takes quite a bit of time for your content to be exported from Drupal 7 into your new WordPress website. During this process, if you or your team keeps updating new content on your Drupal 7 website, the timeline and the efforts required are only going to increase.
What's more, it can lead to a lot of confusion between the content that has been moved already and what is, yet to be shifted. To avoid such a scenario, let your Drupal 7 website go on a freeze mode after you are done exporting content and other important data.
Doing this essentially means that you should not allow any of your content managers or publishers to upload new content on the Drupal 7 website after the content has been exported.

The next thing you need to consider prior to the deployment is pointing the new DNS domain to the new hosting provider.
Hosting providers like WordPress VIP can help you set up the DNS entries in a way that replicates your current system. The setup can take a while but once it is done, you can switch to their servers. Once done, the same WordPress DNS instance can help you manage multiple websites.

While content will undoubtedly be on the top of your priority list while deploying your migration process, make sure to take into consideration the other media assets. Remember that assets such as images, videos, PDF documents, and audio files should be migrated from your Drupal 7 website to WordPress before other content.
Caching is certainly one of the main things you can do for improving the performance and speed of your WordPress website.
A caching plugin will convert your WordPress pages and posts into static files which are then served to the customers. Doing this substantially reduces the processing load on the server and loads faster than dynamic database queries.
Popular caching plugins such as Cache Enabler and WP SuperCache are some of your best bets when it comes to your WordPress website.
Testing Your New WordPress Website
Once your WordPress website and some of the above considerations are sorted out, you should run extensive tests to ensure that your website is meeting the required performance standards. Check for any potential issues in terms of SEO, design, or usability. More importantly, check whether there is a data loss in the migration process.
Since an extensive migration process can often impact the SEO performance of the website, check for adverse effects on traffic and rankings. Also, update your permalink structure so that all the page URLs are neat and SEO-friendly.
This is also a good time to conduct load tests so that you can identify potential bottlenecks in performance. Once you have checked these aspects, there are three crucial areas that you should be diverting your attention to, especially if you are a first-time WordPress user:
Security
Ensuring that the security protocols that you had in place in your Drupal 7 website are also functional in WordPress is an important step to consider before you proceed with the deployment of your new website. Some of the parameters that you might want to consider include:
Updating your login URL
Creating strong passwords
Limiting Login attempts
Updating plugins frequently
Getting an SSL certificate
Restricting access by assigning the right user roles
SEO
The marriage of WordPress and SEO comes together beautifully. Even then, you must consider a few things to ensure that you can consistently maintain your website's SEO performance:
Updating your SEO-specific plugins
Creating robots.txt file with an updated structure
Creating a new sitemap file and submitting it to Google
Ensuring that all the on-site SEO elements are in place
Third-Party Analytics Tools
Once you have everything else in order, you need a third-party analytics tool to monitor and manage the website performance. Ensure that the tool you choose is linked correctly with your WordPress website. It can help you identify potential issues, monitor website traffic, and better manage your SEO efforts.
Section-5:
Train Your Team
By now, your WordPress website must be all set and ready for use.
You are probably gearing up to get your team to log in and experience the new CMS and website. But since the leap from Drupal 7 to WordPress is a big one, you must facilitate training to your teams so that they can start using it seamlessly.
WordPress is a fairly intuitive CMS to explore and learn due to the clean user interface and helpful documentation. But for your teams to perform just as well as they did on Drupal 7, conducting formal training and introducing them to features that would make their job easier is required.
For instance, your content team can benefit from getting to know about the editorial and publishing tools that they will be using. WordPress has a rich repository of knowledge-sharing materials and tutorials that you can use to expedite the process. Some of the primary ones that you can explore for this purpose are:

While these topics can help your team learn the basics of operating a WordPress website, for more detailed tutorials on virtually anything WordPress, you can visit the WordPress Learning Center.
Wrapping Up
The process of migrating from Drupal 7 to WordPress is a big leap and can demand a lot out of your team. But with the right support on your side, this process can be simplified and managed effortlessly. Taking an organized approach to the process will help you complete it without any major operational hiccups or disruptions.
If you find yourself getting confused about any aspect, you can always refer back to this migration guide to get through the process. And if you need a WordPress migration expert who has experience dealing with enterprise-scale website migration by your side, get in touch with us! We will help you navigate the process with our hassle-free approach.