Augmented Reality is an emerging technology and has surprised most of us with its unbelievable capabilities. It uses computer generated images with content to create an interactive environment. This consequently enhances the user's perception of reality by combining physical elements with the virtual ones.
Most of the businesses nowadays have gone digital and every customer has become a digital customer. Reciprocating to the rise in the digitalization and more customers getting engaged in online activities, retailers are looking for ways to leverage the digital presence. This would help them drive new levels of customer engagement. One area that prominently holds significance and promises sure success is augmented reality.
With the abundant usage of social media and mobile apps, customers have access to more information and opinions than before. This information is giving a completely new shape to their choices for products and services as well as their expectations for personalized retail experiences.
Well, with the maturing AR technology, retailers can give their customers a unique shopping experience, simultaneously enhancing their brand or product popularity.
According to Global Market Insights report, by 2024 the global market of AR in retail industry will surpass $8 billion.
As augmented reality is gradually diminishing the line between computer generated and reality, the main focus is shifting on the user experience covering sight, sound, touch and smell.
Let us explore how AR can have great impact on bridging the gap between the online and offline worlds in retail industry, and improve customer experience through all stages of the funnel.

1. Awareness
During this stage, AR can easily help in grabbing the attention of the online users and bringing them closer to store visit. AR products can entice the customers by tempting them try out in-store products.
Retail Perceptions has found that 61% of shoppers prefer to shop from stores offering AR technology over the ones that do not.
With the help of in-store action apps, retailers can improve the shopping experience. Retail stores can even offer AR-powered kiosks that can bring products to life using 3D technology.
2. Engagement
After awareness, comes the goal of engaging the new visitors. One of the ways to engage the new visitors is to blend the AR technology into fun experiences.
Retail Perceptions have found that 55% of shoppers are happy with the stores that use AR technology in their stores.
The idea of engaging the customers is to increase their time spent in the store, allowing them to have a memorable experience. This helps in building a connection between the store visitors and the brand. This technique is considered as successful, even without gaining an immediate conversion, if it compels people to come back to either enjoy the in-store experience or refer a friend.
3. Conversion
The most significant thing for the retailers is to increase sales. As of now, it has become a well-known fact that stores offering unique AR experiences attract more number of visitors.
According to Retail Perceptions 40% shoppers willingly pay more for a product if they were able to test it on AR.
This directly indicates that by offering AR technology to the customers' in-store experiences, the retailers have got more chances to enhance their sales. Most of the time these experiences facilitates the customers in making their purchase decision easier, blend engagement, thereby increasing the sales.
4. Loyalty
After conversion, retailers want their visitors to become their loyal customers. It is usually a challenge for the retailers to maintain customer loyalty. But with the help of existing engagement through AR, they can keep the customers interested in the brand and let them experience uniqueness in the offerings by the retailers.
A personalized experience allows the customers to feel that they are important. Also, if customers spend more time in-store, they help the store owners in collecting more data about them (customers). Store owners can then provide more personalized experience to their customers in their next visits.
As the AR technologies matures, customer loyalty can become further targeted and more engaging.
Applications of Augmented Reality in Retail
Retailers across different industries have incorporated AR technology into their stores to provide best experience to their customers.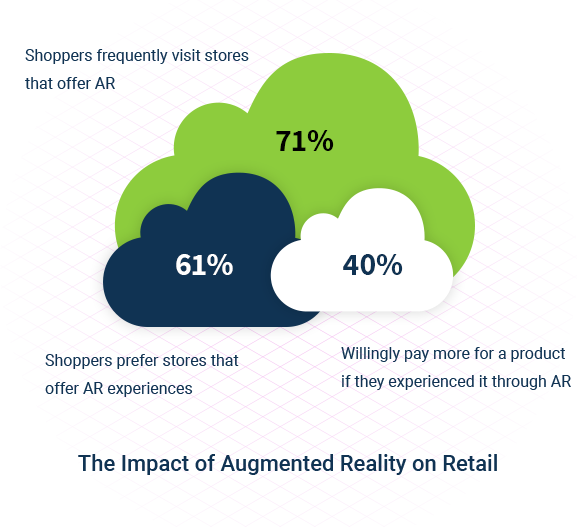 Some of the areas where augmented reality is enhancing consumer experience:
1. Apparel Stores:
Retail store owners are using mobile apps to make the customer experience reality with the help of their smartphones. For instance, apparel store owner can create AR experiences with windows displays, in store signage and various promotional postcards; where a shopper is required to open the application and scan the picture of signage. The app will automatically fetch the product details with color variants, pricing and customer reviews.
2. In store mirrors
Another way of implementing AR is in the store mirrors. Retailers can deploy AR enabled mirrors in their stores, where customers visiting the store can sit in front of the mirror. The mirror uses AR to scan images of the customers and within no time all the available options of the product gets displayed as customer wearing those products.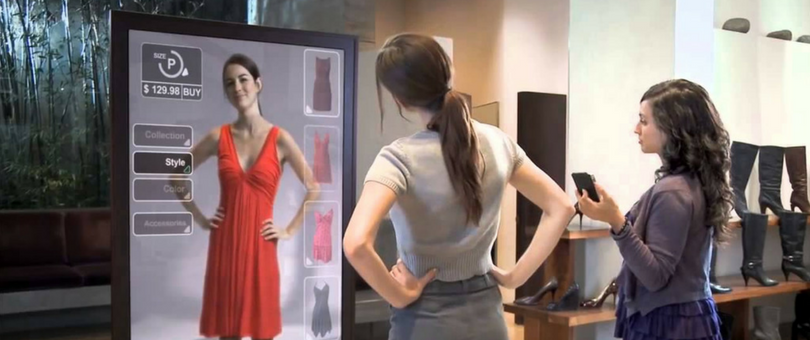 3. Virtual Fitting Rooms
AR mirrors can be used by the retailers to create virtual fitting rooms, where a customer can try any number of products without physically wearing them.
One of the retailers used the fitting room as one of the main window displays, which helped them drive more foot traffic to their stores.
4. Products View
AR has effectively brought the in-store experience of different décor products to home. One of the very popular usages of AR is in the furniture industry. The customers are not required to visit the furniture store; rather, they can experience how their products look like in their homes, with the help of augmented reality.
For instance, Magnolia market, a home and lifestyle brand has partnered with Shopify's AR team to create an app implementing Apple's ARKit in it.
Another app created by Anthropologie has given users a detailed view of furniture including the fabric type, vivid colors and shapes; it also gave details about how the furniture will look like when viewed from different angles and under different light & shadows.
5. Cosmetics industry
AR can benefit the cosmetic and beauty industry in a way that shoppers can upload their image and can virtually put makeup on it. It woks similar to the real life experiences, where the user is allowed to blend or mix various products to create their desired look with the help of different cosmetic products.
6. Others
Retailers have also used augmented reality in the toy store, where they created a digital playground through an app. This app can be downloaded on mobile where users can unlock AR-enabled activities and experience them accordingly.
Further, some retailers have used AR in kids drawing book, whereby children would color on paper; and that paper drawing, when viewed on tablet would come to life. This will make the users experience some unique features of AR technology.
Conclusion:
There is a lot more to explore in the field of Augmented Reality. Businesses are constantly working to find out ways of using augmented reality to augment their business operations and generate maximum revenue. The fun, interaction and engagement offered by augmented reality products have given a complete transformation of the in-store experience. It has turned out to be something very unique, unparalleled – luring people to go back to brick-and- mortar stores. This doesn't imply that retail industry is moving away from ecommerce; rather it is providing huge opportunity to blend online and offline experiences for the customers.
At Multidots, our team of experts help augment your businesses by providing AR based solutions according to your niche market.
If you have some other ways where augmented reality is beneficial for the retailers, comment below.