Multidots celebrated its 9th anniversary with delight. It was fun filled, packed with day-long activities with the purpose to strengthen team bonding and an excursion for stress removal. Our day started with the prayer followed by a very motivational speech & insightful presentation jointly given by company CEO Anil Gupta & COO, Aslam Multani.
Anil & Aslam started with a thank you note to our customers and valued employees, who contributed to the 9 successful years of Multidots journey. It was a fantastic opportunity for all the newbies who joined the organization in the near past and for the existing ones to cherish the journey of Multidots till date. This gave everyone an opportunity to understand closely, the company's culture, values, employee engagement and customer focus, with the commitment towards the best service deliveries.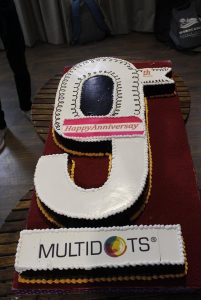 Management also presented the goals for the coming year and was welcomed by each one with a loud applause. It was a motivation speech powered by showcasing company's achievements and the contribution of employees at various stages to the growth of the organization.
Dots had fun time with huge cake cutting and being part of all fun activities. The day concluded with a discotheque to make it more enthralling.
We have welcomed this New Year with a warm heart and we are willing to expand our global reach with a vision to serve the customers with zeal and passion.