Launched in 2001, Sitecore is an integrated .NET Framework-based CMS platform used by enterprise-level websites to deliver personalized, multi-channel customer experiences.
Sitecore goes beyond traditional CMS features like web content management with advanced features like personalization, marketing automation, eCommerce, and customer analytics — all under one roof to position itself as an all-in-one digital experience platform.
Sounds impressive, yes. But with a battle-tested, remarkably cost-effective, and ultra agile alternative available that's more than capable of fulfilling your enterprise needs, is Sitecore worth the extra expense and hassle?
Because contrary to conventional wisdom, WordPress is an enterprise-competent CMS and you can get all of Sitecore's built-in enterprise features on WordPress at a fraction of the cost.
In this guide, you'll learn everything you need to know about moving from Sitecore to WordPress, starting with the initial strategy phase and content preparation to the final deployment and training. Let's dive in.
Table of Contents
Section-1:
High-Level Strategy
Before you proceed with the actual migration from Sitecore to WordPress, it's a good idea to take a look at the big picture first.
So if you're leading the charge as the Director of Technology or CIO, here are a few aspects you need to consider when moving away from Sitecore.
Think About the Timeline
Enterprise-grade website migration is a time-consuming process. Depending on the size of your website, the amount of content, and functional complexities, the migration process can take a considerable amount of time — a few weeks or more.
So one of the first things you need to think about is the timeline of your migration. Say, your current annual Sitecore license renewal is due in six months, so maybe now is a good time to start planning your migration.
Essentially, you want to make sure you are planning and conducting the migration during a non-busy time of the year for your business. Also, your focus should be to avoid a last-minute rush and renewal payment — if you think you have a critical timeline for your migration, contact us as we are experts in time-sensitive WordPress migrations.
Decide on the New CMS
Once you have decided on your migration timeline, the next point to consider is which CMS is right for your enterprise website.
If you're reading this guide, then you already know the answer. While there are multiple different open-source CMSs available, your best bet is indeed WordPress.
So a quick recap — why WordPress?
Launched in 2003, WordPress is an open-source CMS built on PHP and MySQL. Its popularity obviously needs no introduction — we're talking multi-million dollar enterprise-grade websites like Salesforce, Spotify, Yelp, Etsy, Capgemini, Microsoft, Facebook, and more — all running on the WordPress platform.
As you can imagine, there are plenty of reasons why all these enterprise giants use WordPress instead of Sitecore.
In essence — it's fast, flexible, intuitive, cost-effective, secure, SEO-friendly, and scalable. It integrates seamlessly with just about any external solution you wish to use, doesn't require you to purchase a paid license, boasts a vast and growing ecosystem and developer/design community, and so much more.
| | | |
| --- | --- | --- |
| Facet | WordPress | Sitecore |
| Type of software | Open-source | Closed-source |
| Licensing | Owned | Leased |
| Technology | PHP | C# |
| Customization | Highly customizable | Limited options |
| Ease of Use | Extremely user-friendly | Requires some technical expertise |
| Advanced Features | External plugins and extensions are available | Built-in (analytics, A/B testing, CRM, personalization, etc.) |
| Cost-Effectiveness | Extremely cost-effective | Huge ongoing licensing fees |
If you want to learn all the countless reasons why WordPress is the best choice for your enterprise-grade website, check out this page.
Consider a Redesign
A major point of consideration for our clients who wanted to migrate from Sitecore to WordPress was whether to:
Keep the existing design they have on Sitecore
Opt for a redesign during the migration process
When migrating to WordPress, we usually recommend a redesign of your website if its interface is old or not up to the mark considering the modern web design standards.
Of course, redesigning an enterprise-level website will add more time and cost to the whole migration process.
But if you're already investing the time and effort in making the switch to the best, then why not go the extra mile to ensure your new website's design exceeds the modern user's expectations and utterly delights them?
Know Which Sitecore Features You Need
As you know, Sitecore offers different features for different plans that are custom-made for each enterprise.
It is likely that you have some features going unused on your current subscription, and so it makes sense to discard them during the migration process as extra features only contribute to software bloat.
Use the table below to consider the Sitecore features your enterprise website is currently having and then select which ones are actually needed on your new WordPress website.
| | |
| --- | --- |
| Feature | Check if Needed |
| Headless Architecture | |
| Personalization | |
| Multisite | |
| Multilingual and Localization | |
| Automation | |
| eCommerce | |
| Experience Analytics | |
| A/B and Multivariate Testing | |
| Audit Trails and Workflows | |
| User Roles and Permissions | |
| Campaign Creator | |
| Forms | |
| Media Library | |
| Experience Editor | |
| Cortex | |
Know Which Third-Party Integrations You Need
Another decision that you need to make before the migration is what kind of third-party integrations your current website has, and if they're needed on your new WordPress website.
Both Sitecore and WordPress have several third-party integrations available, with some of the major ones listed below. That being said, WordPress has a much wider variety of third-party integrations than Sitecore, and it integrates well with just about any external solution you wish to use.
| | | |
| --- | --- | --- |
| Third-Party Integrations | Sitecore | WordPress |
| HubSpot | | |
| Slack | | |
| Salesforce | | |
| Parse.ly | | |
| Piano | | |
| Clicktale | | |
| Cloudflare | | |
| Getty Images | | |
| Google Analytics | | |
| Optimizely | | |
As there are many integrations available, use this list as a template and think about all the additional integrations your website is using in order to decide which ones can be left out in your new website.
Choose Your Hosting Infrastructure
Optimized hosting and infrastructure are essential to ensuring safe, scalable, and smooth running enterprise-grade websites.
So the next thing you need to decide is the right hosting partner. For enterprise-grade websites, it's best to go for managed hosting. And with WordPress, you have some great managed hosting platform options, such as WP Engine, Pagely, and WordPress VIP, that are specifically designed for large WordPress websites.
And here are a few more reputed WordPress hosting platforms.
When you contact a hosting provider, they'll ask for information like your anticipated monthly page view traffic, the number of applications, and various other analytics factors.
A high-end managed hosting provider — like WordPress VIP — can definitely be worth the investment as you get superior support and security, automatic backups, the best possible performance with CDN, among a ton of other premium benefits you don't get elsewhere.
Pick Your Migration Team
Once you have figured out the above aspects, you also need to decide who will be your migration team.
While you can do it in-house if you have a development team, it's a good idea to hire experts who have years of experience and a proven track record in Sitecore to WordPress migration, and know the ins and outs of WordPress.
The DIY route almost always leads to data loss or unexpected inaccuracies.

To avoid that and have a seamless migration, you can contact our team to help you with your migration. We use a hybrid (manual + automated) migration approach with the most advanced techniques to ensure your migration happens with 100% accuracy and zero downtime.
Section-2:
Content Preparation and Pre-Migration Checklist
With a high-level migration strategy in place, now there are certain things you need to take care of to ensure your migration goes smoothly. Here's a checklist to keep in mind before you migrate:
Backup your website
Make sure to take a complete backup of your Sitecore website before you start the migration. Not backing up your site could result in data loss should you run into any issues along the way.
Take inventory of your content
Review your website and make a spreadsheet of all your current URLs and content. You may find that a lot of content is outdated or duplicate and can be left behind.
Have a clear goal and plan
This comes under your high-level migration strategy. Establish the specific outcomes you wish to accomplish with the migration process. Do you want to revamp your design? Do you wish to improve the URL and site structure?
List down specifics like domain name, design, site architecture, content, hosting, etc. that you want to alter. With a clear plan laid out, you'll be better organized to ensure a smooth migration process.
Ensure SEO preservation
Website migrations often lead to a minor drop in rankings. While a temporary drop is expected, to ensure your Sitecore website's SEO remains intact and your search engine rankings won't be impacted for the long run, you must prepare for SEO preservation:
Make a complete list of all the URLs, their associated title, and meta description.
Create a 301 redirects list for old URLs to point them to the new ones, so you can pass all the SEO juice.
Use a tool like Screaming Frog's SEO Spider to understand your current site's architecture and SEO data like broken links, redirects, duplicate content, etc., and export it to a spreadsheet.
Taxonomies
Before going from Sitecore to WordPress, also make sure that your Sitecore taxonomies are correctly labeled.
Make sure to follow this checklist before proceeding with the migration.
Now, you must ensure all content — including all pages, posts, links, visuals, sections, categories, tags, users, user groups, comments, custom fields, menu items, taxonomies, SEO metadata, and URLs and redirects — on the current Sitecore website will be migrated correctly to WordPress. For that, prepare all this data in a spreadsheet which will be helpful during the migration process and post-migration testing.
For manual migration, you'll have to run scripts and SQL queries to migrate your Sitecore database to WordPress. You'll need Sitecore and WordPress Administrator and FTP access.
Section-3:
Set Up WordPress Environment and Development
Once your content is organized, now you can dive deeper into the WordPress migration process and structure your WordPress environment for the eventual switch.
To learn how to download and install WordPress, and configure your database, check out this detailed article by WordPress.
As you're likely going to partner up with a managed hosting provider (such as WordPress VIP), your WordPress environment will already be set up and you don't have to worry about the installation and database configuration process.
Now, with your WordPress environment set up, there are few things you need to consider before making the final switch.
WordPress Single Site or Multisite
You need to first decide if your new CMS is going to be a WordPress single site or multisite.
WordPress multisite is a feature that enables you to run a network of subsites from the same WordPress installation. It lets you create as many websites as you want with just one WordPress installation, allowing for connections between those sites, sharing of data and users, and plugins and themes.
The sites with the WordPress multisite network can have their own domain or URL and are recognized by search engines as individual, full-fledged websites. They share the same database, but every site has its own subset of database tables. Also, multisite introduces a new user-level — Super Admin — that has access to every site within the network.
So if you wish to have a centralized approach to site management and if your subsites need similar functionality, WordPress multisite could be ideal for you.
But sometimes, a single site WordPress installation might be the better choice. Maybe you don't want to share a database of users with other sites. Maybe your site has become much larger than the other subsites in the network and you want to separate it out. Or maybe you want a different hosting environment for your main website.
In these cases, you can opt for a single site.
User Roles and Permissions
User roles and permissions are a bit different in WordPress than what you have on your Sitecore website.
In WordPress, there are five types of default user roles:
Administrators: Individuals who have access to all the administration features within a single site. So they can add new posts, edit any posts by any users on the site, install and delete plugins and themes, manage users, and more.
Editors: Individuals who can publish and manage posts including the posts of other users. An editor can moderate, edit, and delete comments as well.
Authors: Individuals who can publish and manage their own posts.
Contributors: Individuals who can write and manage their own posts but cannot publish them.
Subscribers: Individuals who can only manage their profile.
And as mentioned previously, in WordPress multisite, there's a Super Admin who has access to the site network administration features and all other features. Learn more about WordPress user roles and capabilities here.
In Sitecore — being a comprehensive digital experience platform — you have a wide range of predefined roles that you can use to manage user authorization on items and functionality.
So when you migrate from Sitecore to WordPress, you need to structure your user roles and permissions in a way that makes user adoption of your CMS easier and keeps data more secure.
For that, you can set up a least privilege protocol in which you lock the CMS to give individual users access only to what they need to do their jobs. So you have a press team that only needs to publish and edit press releases, then you can create their user roles so that they only have access to those areas of the CMS.
Here's a quick user role mapping table to help you structure your user roles and permissions when moving from Sitecore to WordPress.
| | |
| --- | --- |
| Sitecore User role | WordPress User role |
| SitecoreAuthor | Author |
| SitecoreDesigner | Custom Role |
| SitecoreDeveloper | Custom Role |
| Sitecore Client Account Managing | Administrator OR Custom Role |
| Sitecore Client Authoring | Author OR Custom Role |
| Sitecore Client Configuring | Custom Role |
| Sitecore Client Designing | Custom Role |
| Sitecore Client Developing | Custom Role |
| Sitecore Client Maintaining | Custom Role |
| Sitecore Client Publishing | Author OR Custom Role |
| Sitecore Client Securing | Custom Role |
| Sitecore Client Translating | Custom Role |
| Sitecore Client Users | Subscriber OR Custom Role |
| Sitecore Limited Content Editor | Editor OR Custom Role |
| Sitecore Limited Page Editor | Editor OR Custom Role |
| Sitecore Local Administrators | Administrator OR Custom Role |
| Sitecore Minimal Page Editor | Editor OR Custom Role |
Page Template Creation
In Sitecore, the way you create page templates is different than in WordPress.
That's because WordPress works on a theme-based architecture. Each theme has different pages, and each page will have different blocks (discussed in the next section).
So once you've installed WordPress, you'll be running the default theme which is currently Twenty Twenty-One. It's easy to install a theme right from your dashboard, under Appearance → Theme → Add New.
Consider using the Underscores theme. Underscores is a performance-tuned starter theme (not a theme framework) designed to cut down hours of development time when setting up a new custom theme.
Customize the theme according to your brand's design guidelines or add your own custom theme using the Hosting Panel. With your choice of theme in place, you can then set up your navigation menus.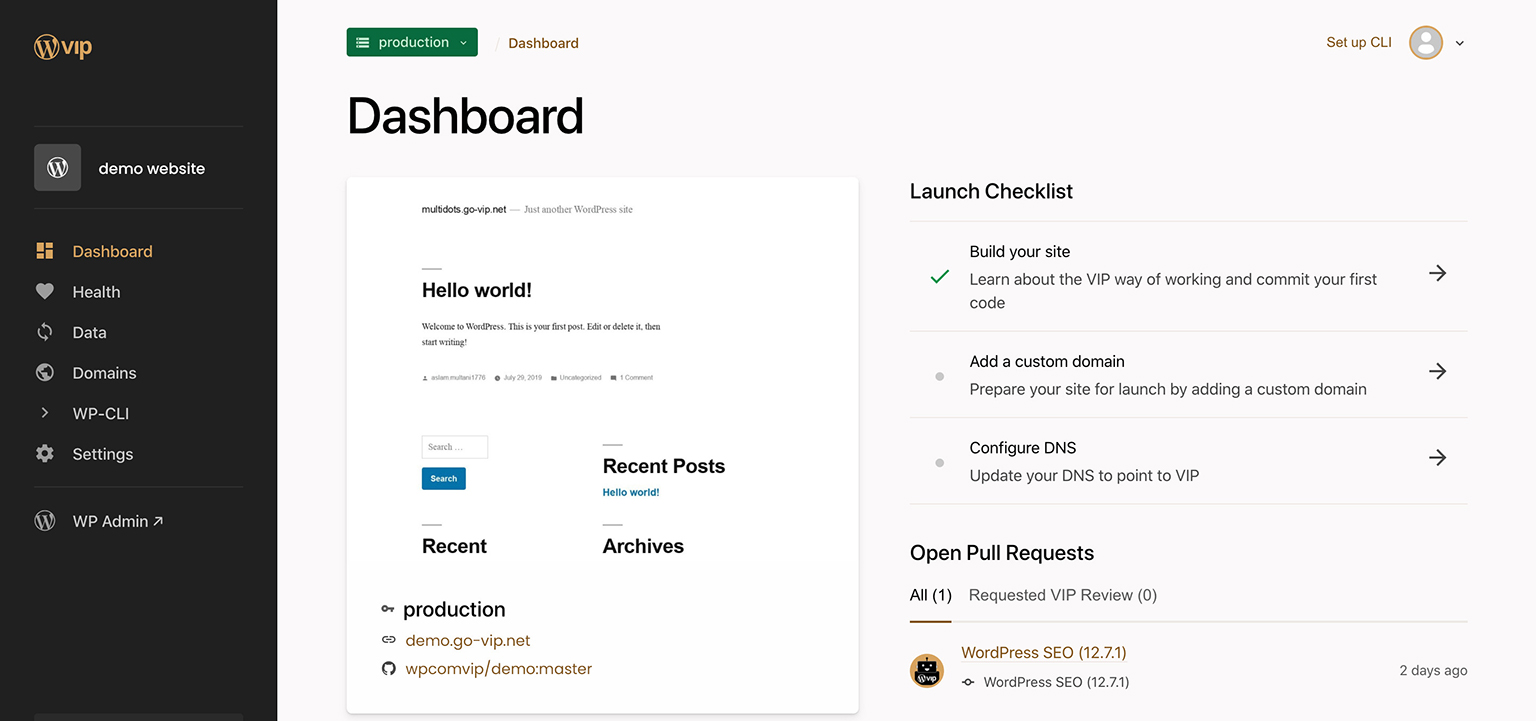 Furthermore, widgets are blocks of content that you can add to your site's sidebars, footers, and other areas. They can be added, removed, and rearranged on the Theme Customizer or Appearance → Widgets in the WordPress Admin screen.
Now, page templates are essentially a specific type of template file that can be applied to a specific page or groups of pages. They can be applied to a single page, a page section, or a class of pages.
Page templates display your site's dynamic content like posts, calendar events, images, etc. on a page. You can have your homepage look a certain way, different from other parts of your website. Or, you may want to showcase a featured image that links to a post or use a custom navigation — all of which can be achieved using page templates.
To create page templates in WordPress, you can use plugins with simple drag and drop functionality. Or, if you have an expert developer team at your disposal, you can go for manual page template creation. Learn more about both ways here.
Content Block Creation with Gutenberg
In WordPress, you can create individual content blocks using a new page editor named Gutenberg.
It allows your team of marketers and creators a modular and flexible "block" based system for managing content, so you can move away from the locked-down nature of Sitecore fields and also have the ability to preview how content will look on the front-end from within the CMS.
So each piece of content in the editor, from a paragraph to an image gallery to a headline, is its own block. And just like physical blocks, WordPress blocks can be added, styled, arranged, and rearranged, enabling your users to create media-rich pages in a visually intuitive way — and without workarounds like shortcodes, custom HTML, or technical knowledge.
WordPress's very own Block Editor Handbook has a great tutorial on content block creation with Gutenberg.
Mapping Features with WordPress Plugins
Consider the feature list that we talked about in the first section of this guide.
All the features that you've decided you need on your new WordPress website will need to be matched with their corresponding WordPress plugins.
Why plugins and not custom hardwired code? Because WordPress plugins are user-friendly and accommodate the technical prowess of users of all levels. So your marketing team can easily work with your CMS without needing frequent help from developers.
Thus, you need to find matching WordPress plugins for your feature set. Below is a list of popular WordPress plugins for some of the top features you have on Sitecore.
For other features, you can head over to the WordPress plugins directory, search for the features you want, and you're almost sure to find corresponding plugins you can install.
All that being said, the features for which you can't find a direct plugin that exactly meets your requirements, you'll have to build a custom plugin.
Mapping Sitecore Integrations with WordPress Plugins
Likewise, for popular Sitecore integrations, there are equivalent WordPress plugins available. We've already listed a few major integrations common to both CMSs in the first section of this guide, and below are some more Sitecore integrations with their WordPress plugin counterpart.
Again, for integrations that you can't find in WordPress (which is extremely unlikely), you'll have to build a custom WordPress plugin.
Section-4:
Switch & Deployment
So now your WordPress structure and environment are ready. Here's how to prepare and export your content and configurations from Sitecore.
Prepare and Export Content XML in Sitecore
Here's how to export your Sitecore content XML:
Step 1: Log into the CMS as admin.
Step 2: Navigate to Control Panel → Localization → Export Languages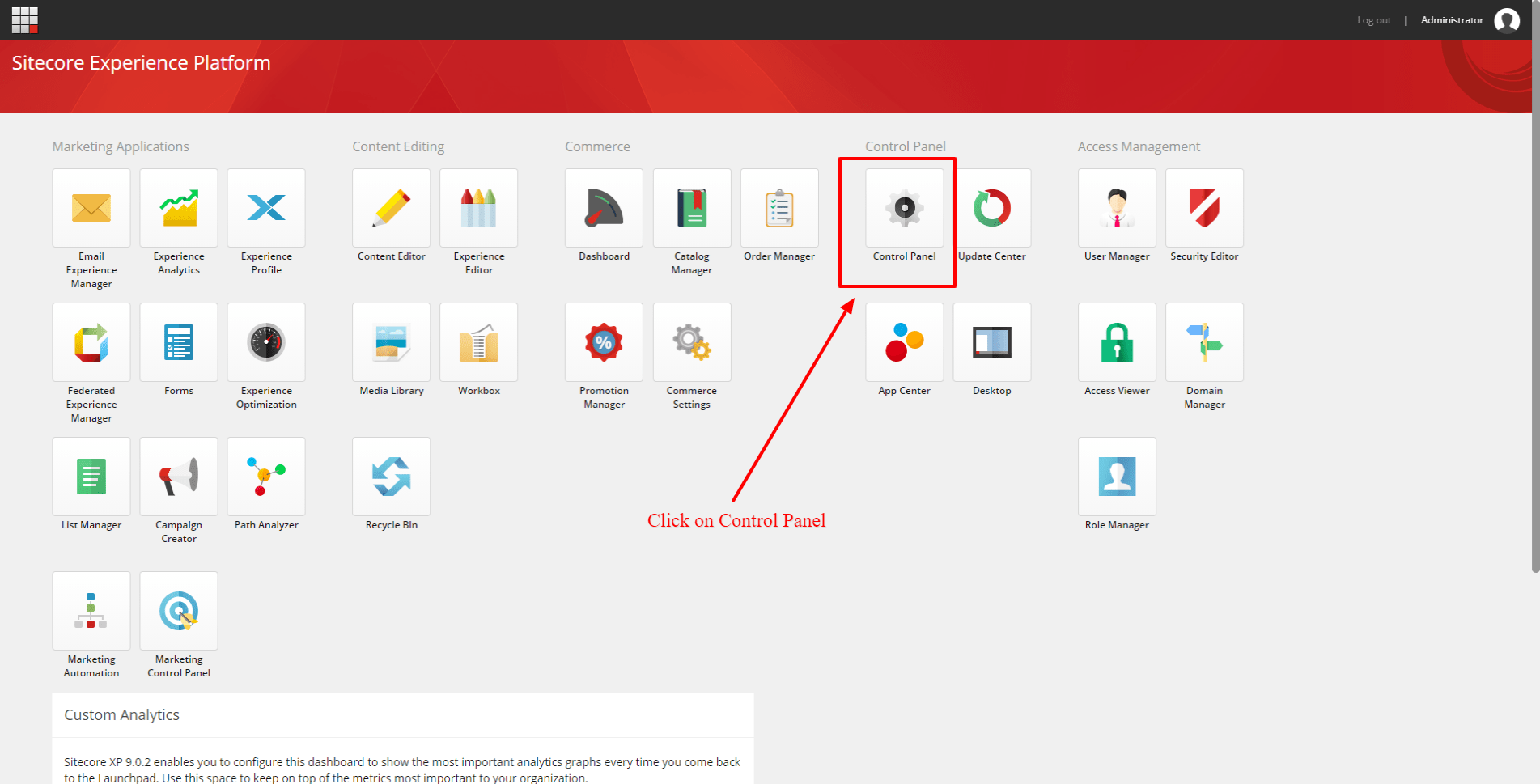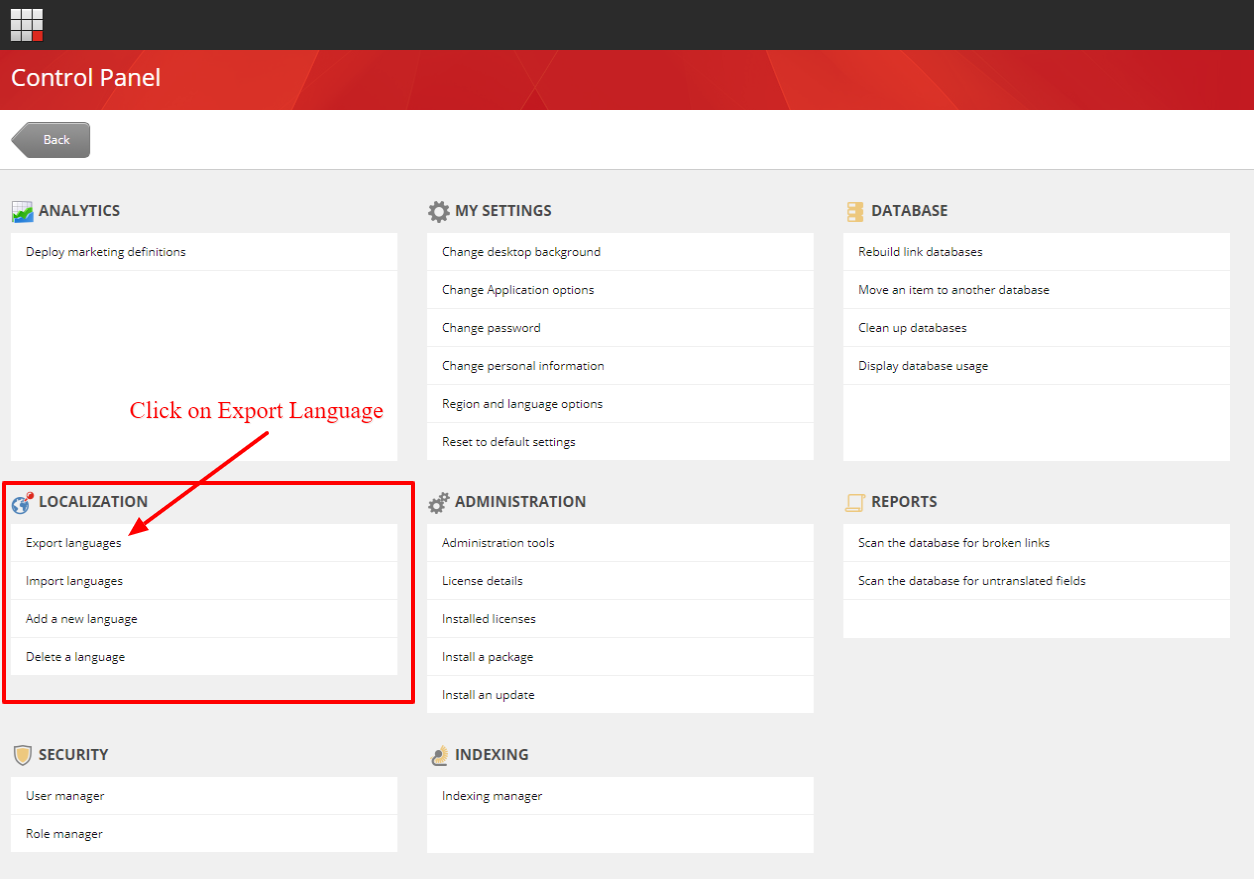 Step 3: Select a language and select a top-level Sitecore item that will serve as a 'root' element for your export. Then click 'Next', and once the export completes, you should be able to get the full XML file.
Step 4: Select the Sitecore item Content that you want to export. Follow the same process for exporting your configuration.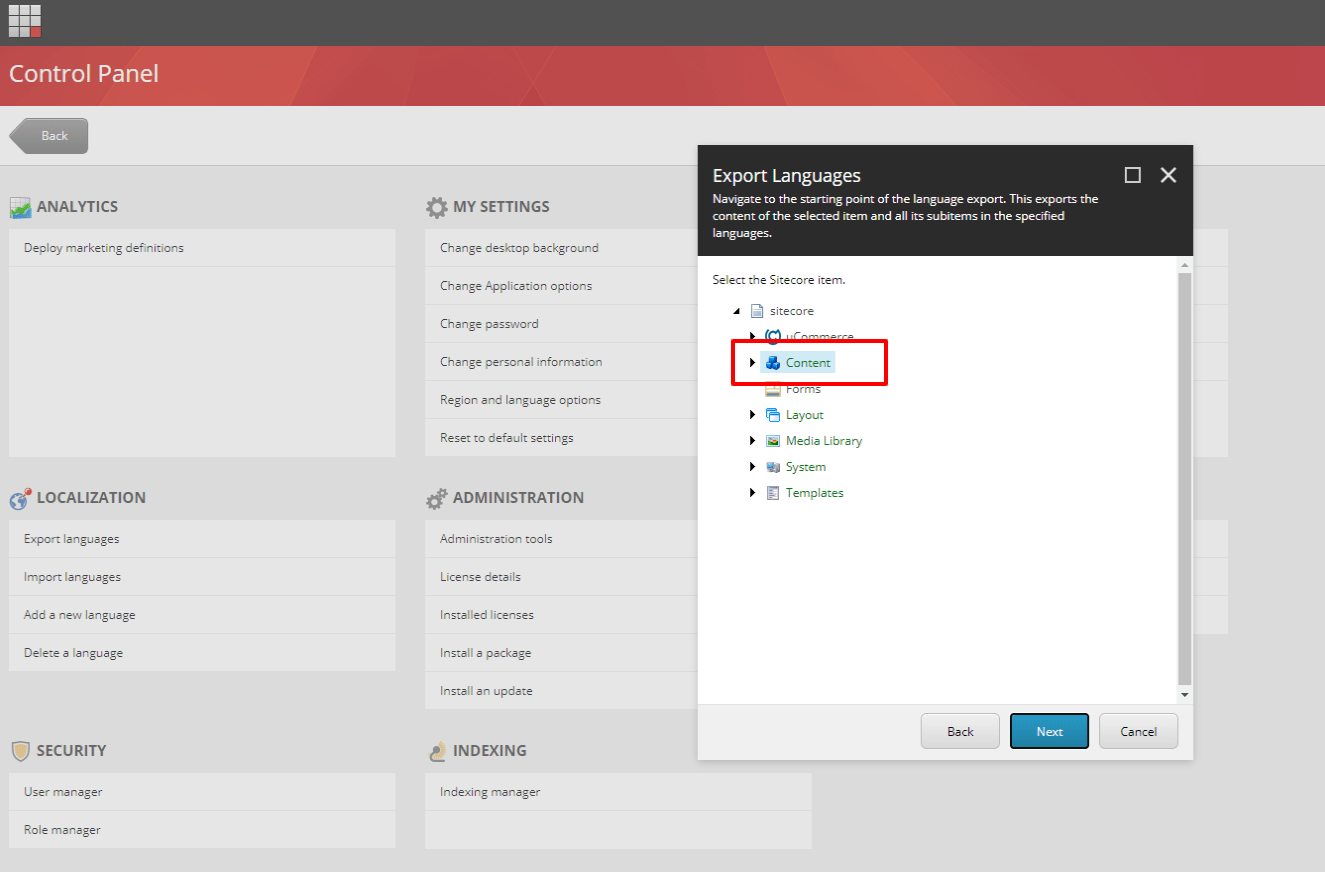 Step 5: Select the path in which you want to store the XML database in your server.
Step 6: Click on the 'Download' button to store the content database XML in your local system.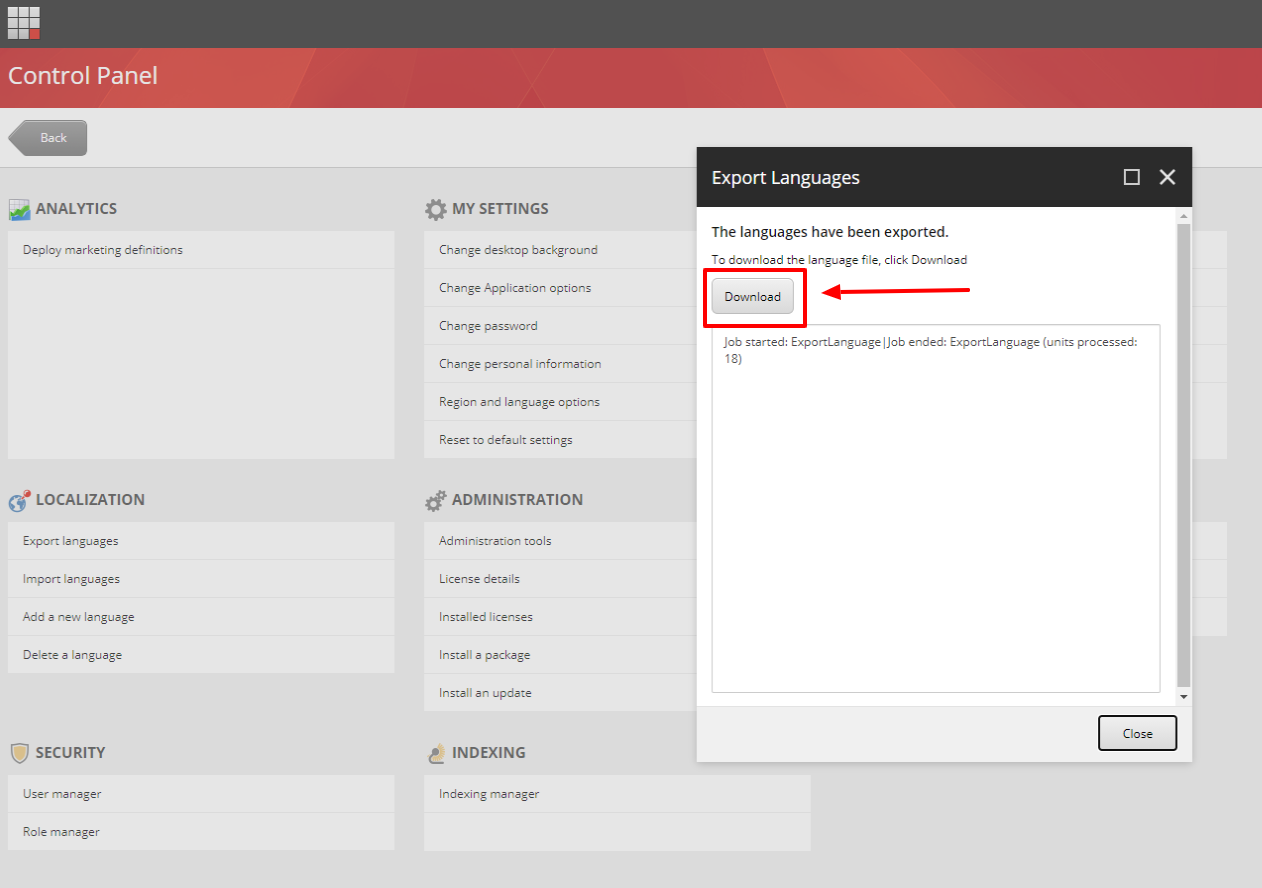 Step 7: Here is the Sitecore XML format database. Please see the below screenshot with all details of the item in XML format of Sitecore.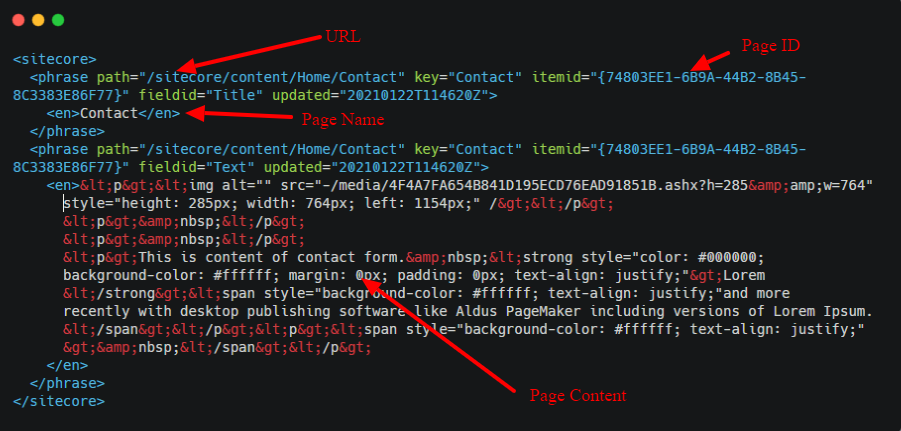 Step 8: Build custom scripts to convert Sitecore .xml file to WordPress compatibility .xml file (contact us if you need any help). If you wish to self-launch a site with WordPress VIP, check out this resource.
Prepare Your Media Assets
Your website is using various media assets like images, videos, audio files, PDF documents, etc. These could be hosted on Sitecore or your CDN.
Accordingly, here's how to prepare your media assets for migration:
Step 1: Follow the first three steps from the above section on exporting your content XML in Sitecore.
Step 2: Select the Sitecore Media Library which you want to export. Follow the same process for exporting your configuration.
Step 3: Follow steps five and six from the above section on exporting your content XML in Sitecore.
Step 4: Here is the Sitecore XML format database. Please see the below screenshot with all details of the item in XML format of Sitecore.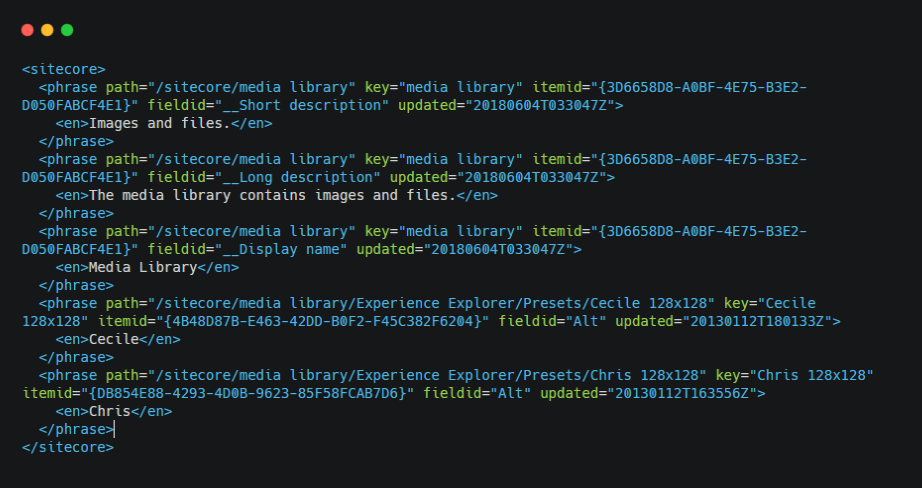 Step 5: Build custom scripts to convert Sitecore .xml file to WordPress compatibility .xml file (contact us if you need any help). If you wish to self-launch a site with WordPress VIP, check out this resource.
Important Considerations Before Final Deployment
Now, before the final deployment, here are a few important things to keep in mind when making the switch.
Prepare Your Sitemap
Think about your sitemap — do you wish to change anything in the new sitemap structure?
You may want to add any new pages or remove old pages from your sitemap. Now's the time to prepare those changes in your sitemap.
Prepare Your Integrations List
Are you planning to integrate additional software into your new WordPress website? What about your existing Sitecore integrations — are you going to use the same ones?
Sitecore has a strong built-in MarTech stack (from personalization to automation), but there are a wide variety of integrations available that empower WordPress to surpass Sitecore in terms of marketing and CRM prowess.
Besides, if you think about it, it makes sense to use specialized, individual MarTech solutions that aren't just more cost-effective but also deemed as the best at what they offer. Also, with WordPress, you have the flexibility you need to scale and modify your tech stack as your enterprise grows.
For instance, you can opt for Pardot or Sailthru for marketing automation, Salesforce as a CRM, Google Optimize for multivariate testing, and several other integrations to supercharge your WordPress marketing tech stack.
So, as already touched upon earlier, make a list of your existing integrations along with the new ones that you plan to use on your new WordPress website post-migration.
Plan the Timeline
In the first section, we talked about planning your migration to occur during a non-busy time of the year for your business. This could be on some particular long weekend when your entire team is also out of the office.
Essentially, you want to ensure that you execute the migration plan during a time period when there's relatively less traffic on your website.
Freeze Mode During Content Migration
You or your team are continuously updating your live Sitecore website with fresh content to better serve your visitors and customers. This can cause a hiccup during the content migration.
That's because if you exported your content six weeks ago, and after six weeks the entire migration process is complete with the new website ready, then you have to export your content again in order to bring the latest content from your Sitecore website.
Thus, during the content preparation and export phase (section-2), you need to establish the date when all of your content was exported and make sure that your Sitecore site is frozen so no editorial team is updating/adding new content and consequently there's no loss of data during migration.
Our technical team can help you with this as we've always ensured that our clients' data in its entirety is migrated to the new WordPress website and the content integrity is maintained.
DNS Switching
Next, you need to point the DNS domain to your new hosting provider.
For example, if you plan on hosting your DNS with a managed cloud hosting provider like WordPress VIP, then you can contact them via a support ticket and they will set up DNS management for you wherein you can self-service create DNS entries to replicate your current setup.
Once the setup is complete, you can verify and switch to their nameservers. This should be done at least a week before launch. You can manage DNS for multiple websites within the same WordPress.com DNS management instance.
Migrating Media Assets
The various media assets like images, videos, audio files, PDF documents, etc. hosted on your Sitecore CMS or CDN need to be migrated before you migrate the content.
Caching
WordPress caching is one of the fastest ways to improve your site's performance.
Plugins like W3 Total Cache, WP Super Cache, and Cache Enabler can be easily installed and will cache your WordPress posts and pages as static files. These static files are then served to users, reducing the processing load on the server. This can improve performance several hundred times over for fairly static pages.
If your posts/pages have a lot of dynamic content configuring caching can be more complex. Search for "WordPress cache plugin" for more info.
Testing Your New WordPress Website
Before going live, make sure to test your WordPress website from the design, SEO, and usability perspective. Ensure that everything on the interface works smoothly (on both desktop and mobile), as per expectations, and that there is no data loss on the new website.
Ensure all the existing SEO points are taken care of during deployment. Create a new sitemap and Robots.txt files with a new structure.
After the migration, monitor the performance of the website to make sure there's no significant loss of traffic and rankings. Review all the key SEO aspects such as internal links, broken links, redirects, and so on.
Update your permalink structure — the URL for each page should be clean and SEO-friendly. Check and fix your internal links as they are crucial for both SEO and on-site user experience. Make sure the links on all the pages are intact.
You can also undertake load testing and deep dive into potential performance bottlenecks by using tools such as Application Performance Monitoring alongside WordPress.
Once your migration is complete, you need to take care of a few things on your new WordPress website, particularly if you're using WordPress for the first time. Here's a quick checklist to keep in mind:
Security
While it's crucial to choose a secure WordPress host that offers additional features to protect your site, there are some best practices to further tighten your website's security, including but not limited to:
Changing your login URL
Creating a strong password
Implementing a firewall solution such as Cloudflare or Sucuri
Enabling multi-factor authentication
Limiting login attempts
Restricting CMS access with user permissions
Updating all plugins frequently
Using an SSL certificate
SEO
As mentioned earlier, WordPress is superb for SEO straight out of the box. However, just like with any platform, there are some things you must do to help your site maintain and improve its rankings, such as:
Picking a tried and tested SEO plugin, like Yoast
Creating a sitemap file and submitting it to Google
Double-checking your robots.txt file
Ensuring all onsite SEO (titles, URLs, links, images, etc.) is done correctly
Third-Party Analytics Tools
Link your third-party analytics tool of choice to your new WordPress site. This enables you to monitor your site's stats (like traffic, sources, and conversions), measure online performance, and analyze the behavior of your visitors.
Section-5:
Train Your Team
Your content is migrated and your new WordPress website is ready to rumble.
You are ready to cancel your expensive Sitecore license subscription and your teams can now log into WordPress to explore and learn all about their new CMS.
However, your workforce has been using Sitecore all this time and now they suddenly have to switch to WordPress for all their routine work. There's a huge difference in how they update and create content and pages in WordPress.
While WordPress is a super intuitive CMS with a clean and simple user interface, if you want your staff to continue working at peak efficiency, it's a good idea to provide some initial training once the migration is complete.
For example, your editorial team can benefit from training on how publishing workflow works in WordPress, your webmasters can benefit from learning how multisite and user roles and permissions works in WordPress, and so on.
Now, WordPress already has a rich repository of learning material in the form of workshops, courses, and lesson plans. Below are a few workshops that we think would be useful for your teams' initial training so they can quickly get up to speed on the basics of WordPress.
These are just a few fundamental topics that enable your staff to quickly get started with WordPress. For swift training and learning resources on more advanced topics, feel free to browse around the WordPress learning center.
Summary
Migrating from Sitecore to WordPress is not a straightforward task by any means, and there's no defined path to perform a flawless migration. It comes down to your individual website's complexity, functionality, and content volume.
That being said, it's definitely worth the time and monetary investment as you'll have much greater control of your data, save big bucks on licensing, and be able to scale your site however you want.
We hope this comprehensive migration guide comes in handy if you're looking to make the switch to WordPress and also understand the why behind it.
PS: If you need someone seasoned in enterprise-scale website migrations to take things off your plate, and impeccably execute your Sitecore to WordPress migration from start to finish, then you're at the right place.