I love this original default setting: Connecting with Others (In my case, it's always on 24x7x365)! June 10, 2017, it was around 5:40 pm and I took my seat, in waiting for a flight at 6:50 pm from Logan International Airport, Boston, to Paris. While a middle-aged man with a stylish summer dressing was juggling in accessing Wi-Fi, just next to me, came to my notice. With his permission, I connected his MacBook Air to the Wi-Fi. And that's it. Our interactions started in five minutes (this is the part I enjoy most during traveling). It took off when I said, 'As the CEO and MD of Multidots, I'm going to attend WordCamp Europe 2017 in Paris.' 'WordCamp, what's that?' He asked eagerly. In response, I: 'are you interested in knowing a 2-minute version of it or you want me to narrate a bit detailed version of it?' Being a scientist, he chose the later one. And it started! From sharing the Matt Mullenweg's motto of democratizing publishing to describing why it is worth investment for me to travel 12,429 Km (7,723 miles) from Ahmedabad, the largest city in the state of Gujarat, in western India, to Washington DC. And now from here (Boston) to Paris (3,435 miles), when he asked me about my level of commitment to attend WordCamp. It aroused more curiosity in him to know more.
So I also went with few statistics as well. I said, "in a scenario, where there are more than 500k conferences are placing across the globe annually according to Conference Hound, 53,000 tech conferences and meet-ups in Europe according to Startup Sesame; choosing 'the most relevant' conference to attend is surely one of the great challenges of the age for those in the industry. However, for the people from WordPress community, choosing the right conference to attend is as easy as pie. In simple words, WordPress is a free and open-source content management system (CMS). This open-source website creation tool, in my opinion, is like 'Aladdin's magic lamp.' Because it fuels the launching of 50,000 sites daily, powers more than 75 million websites, means more than 27% of the world's entire internet sites, which in turn produce 17 posts every second or 70 million new posts per month." With such ubiquity of the WordPress, who would miss the opportunity to get their brand in front of attendees (this time, WordCamp Europe 2017 has published 2479 tickets, 12.6% more than last year's 2200)? More than that, for me, it's an excellent way to give back to the WordPress project in a meaningful way. And that's what Multidots has been kept doing in the last four WordCamps we have attended in the same year, that is in 2017. After coming back to Ahmedabad, I have also shared the details about what Multidots has learned from WordCamp Mumbai 2017 with that scientist. Would you please accept the apology for not declaring the name of that scientist here due to confidential reasons? Thank you!
Coming back to my WordCamp Europe 2017 journey. I landed at the Charles de Gaulle Airport on June 11 (Sunday). In four days, we (me and my wife, Sonali Gupta, who was also an attendee at WCEU 2017) indeed breathe the air of art, fashion, culture, gastronomy, and above all, the air of romance. Finally, the waiting was over. The day arrived. June 15! Up at 5 am. Did some business communications. Left the hotel and reached to Dock Pullman by 8 am where after completing registration, we walked 100 meters down the road to Business Center of "Les Docks de Paris". I was both – excited and nervous.
As I seen the position of sponsors in the center, I felt like, "the organizers got it right!" Because IMO, the sponsors deserve a treatment like this where attendees can check out what they do and can even connect with them. I would like to express special thanks to sponsors because of whom we could able to enjoy the events of this matchless caliber.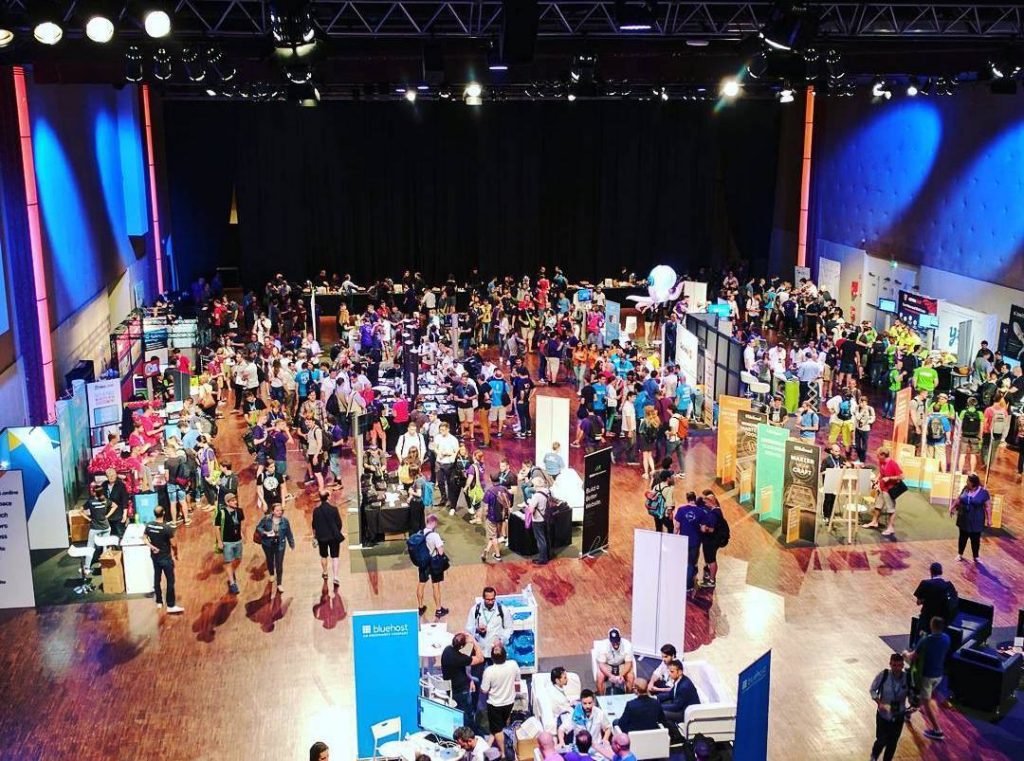 Sponsors were strategically positioned in the middle.
Briefly, the assessment of both the location and the organization cannot be more positive.
Contributor Day. I would say, "A Different Contributor Day!"
A different! Firstly, because it had taken place before the event, rather than after the conference as it used to in previous WordCamps. Having witnessed the overwhelming step-up wave from contributors in contributing and having seen how people were energized and full of pith and vinegar, I would call this step a 'good move.' Secondly, it was a different contributor day, because, for the first time, WordCamp has included talks and workshops. Overall, the calendar change and the addition of talks and workshops allowed the day to thrive.
Seeing nobody was feeling shy was the real beauty on Contributor's Day. Registrants came from every part of the WordPress rainbow – from beginners to advanced developer, designer, blogger, or marketer – to evolve from ignorance to bliss; or in the words of the WP REST API project co-lead Ryan McCue to evolve from "I know nothing" to "I know this stuff".
Whether it is about giving access to my trusted network to clients and employees as well, or it is about regularly updating clients on project progress, or about sharing valuable skills with colleagues – maintaining healthy relationships has always been a Multidots' top priority from 2009 to till now. With that high preference of practicing 'maintaining healthy relationships' in every action, when it came to choosing a topic in Marketing Channel – "Agency and Partner relationship with WordPress" came as an inadvertent choice for me.
With @guptaanilg at @WCEurope #WCEU #ContributorDay Looking at Ways to Market #WPAgencySurvey pic.twitter.com/l01B5CU4rw— Andi Wilkinson (@andonette) June 15, 2017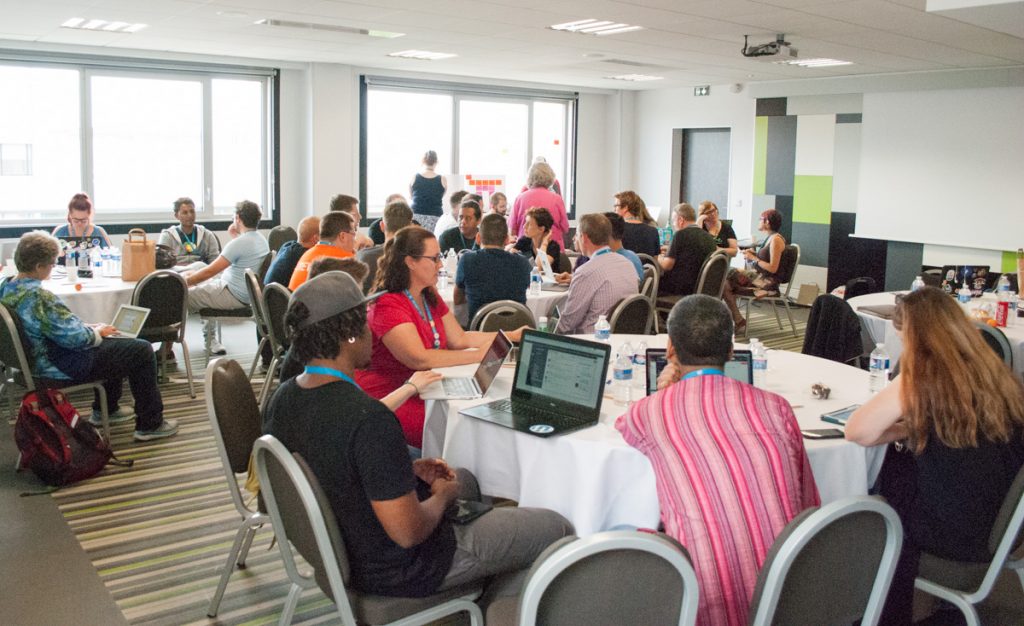 WordCamp Europe 2017 Contributors   |   Image Credit: Mark Smallman
As I have given few suggestions and ideas to contact agencies, a round table of few people asked me to lead the team. We strategically employed the questionnaire in creating a database of companies which are utilizing WordPress platform. The objective was to prepare detailed case studies of agencies to promote the use of WordPress at an unprecedented rate. The best thing is we as a team still contacting agencies, and I love it.
The day was followed by an exclusive boat-hosted dinner, fortunately, on the River Seine, for volunteers, speakers, and sponsors. Rather than a delicious meal, I enjoyed more a serene sundown.
When I went to bed, I knew this was the last night of peace for brave souls (I'm also one of those volunteers) before the bedlam to follow.
Yes I do!! #WCEU pic.twitter.com/FNGgRo8Arb— Anil Gupta (@guptaanilg) June 15, 2017
Conferences. I would say, "Attendees-friendly WordCamp Format!"
When I read, "two tracks instead of three," instantly smile appeared on my face. Further as I read, "each talk has slotted a time of an hour," I immediately fell in love with that. Because in this format, talks lasted for 40 minutes (30 minutes talk, followed by a 10 minute Q&A), so attendees had 20 minutes to change tracks, talk to other attendees and visit sponsors booths. In the earlier editions of WordCamps, practically everyone would be attending the talks during the day, and the only networking that would happen would be in the evenings only at the social events. But that has changed this time! With those "20 minutes" after each talk, there were tons of people in this WordCamp Europe 2017 in the hallways, which means there was always something interesting to talk to. That's why I felt like it is truly an 'attendees-friendly WordCamp format.
There was still the third track, Sponsors Track, scheduled. But it wasn't as formal as the regular ones. It was more like a discussion where the sponsors of the event hosted 30-minute workshops about various topics or product demos and where the attendees could easily talk to them. This was a remarkable opportunity for establishing a business partnership.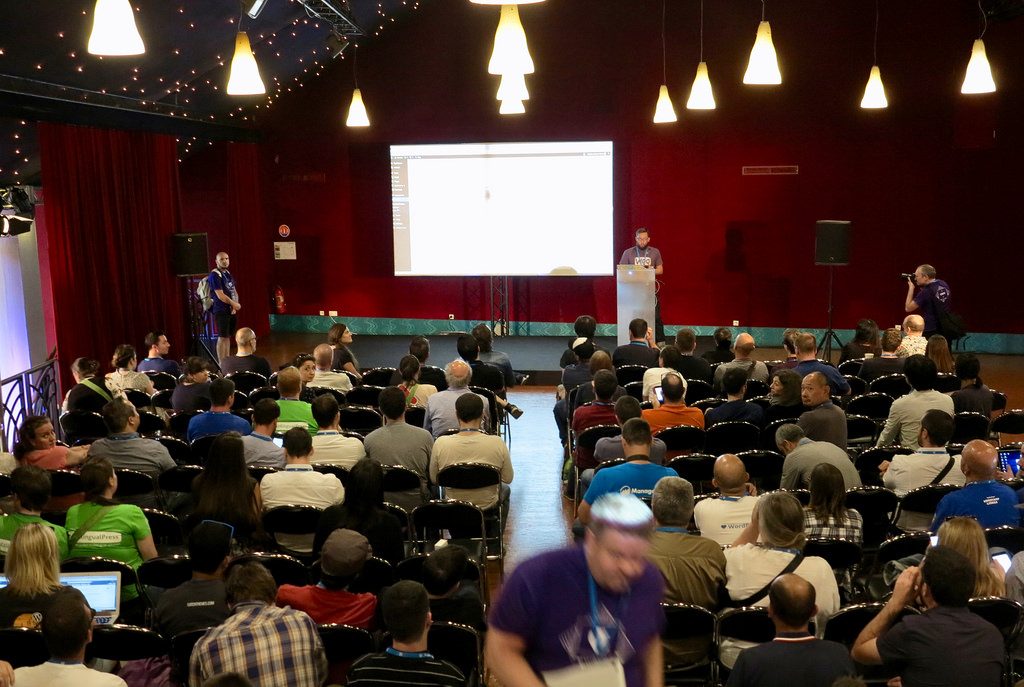 Two large presentation halls, each accommodating 1500 people.   |   Image Credit: Olivier Gobet
The event's 45 organizers (split into nine teams) made the presentations more accessible to speakers of different languages with live captioning and real-time audio translation.
Kudos go to #WCEU live captioning team. They are doing an amazing job to make the event as inclusive and accessible as possible. pic.twitter.com/JG1rqoVaNq— WordCamp Europe (@WCEurope) June 16, 2017
Being 'a volunteer' was, of course, making me feel exciting, but because of that I couldn't be able to check out any of the talks apart from Matt's Q&A session with Ohm Malik, so I can't really comment on the quality of talks from a first-hand perspective.

The room filled up before the annual Q&A with Matt Mullenweg, where he was joined by Om Malik, founder of GigaOM to discuss The Gutenberg Editor, the open web, and beyond.
One positive thing I heard over and over again was that some of the talks offered a very fresh perspective on things and shed light on topics that we would not have usually thought about in our day to day work with WordPress. For example, the description of the concept of "lipstick on a pig" by John Maeda and a dialogue views about how design can be leveraged best in the WordPress community by him were captivating. Walking with Morten Rand-Hendriksen in understanding how CSS Grid changes everything about web layouts was amazing.
With last year's discussion of WordPress as the future OS of the internet, I was confident that there would be some new announcement from Matt. And not only Matt showed a demo of the new WordPress visual editor called Gutenberg editor but also announced its availability as a plugin on WordPress.org.
Gutenberg Editor launched as Plugin @WCEurope. Looks really very promising! pic.twitter.com/pFz6DR7Z2W— Anil Gupta (@guptaanilg) June 17, 2017
By the time the talk was over, there were 100 installs. I was so much taken by it, that Multidots has written a blog over why Gutenberg, a revolutionary WordPress editor, will change everything?
No doubt, these two days were pretty exhausting, but what I can yet talk excitedly, even at the 101st time, is my meeting with Matt Mullenweg. Not because I met him and got a chance to introduce my agency, interact with him and thanked him for developing the free and open source web software WordPress for which half of more than 120+ are employed; But because, although, his car arrived he was not rushing to it. He rather did engaging interactions with me. And that's the quality of him I keep talking about to people with such exhilaration as if I'm talking very first time.
Oh! And how can I not mention about Tribe Meetups and Speed Networking? Providing an opportunity to meet people who share same interests is the goal of Tribe Meetups. Though these are optional, unstructured, and unmoderated; these are essential for finding people with similar interests. Out of ten different Tribe Meetups, I joined "Agencies" at 4 pm on Day 1 of WCEU. I would say those were the "lucky 45 minutes" as I established connections with five agencies from around the world. Moreover, although there were three Speed Networking sessions to grow our network, unfortunately, I couldn't be able to take a benefit of it. (Tribe Meetup photo)
In the end, the final talk was at 5 pm on Day 2 of WCEU, and then there were closing remarks. This included getting all the volunteers on stage and also announcing where next year's WordCamp Europe will be…Belgrade, Serbia.
Thanks @wptavern for featuring and showcasing my wapuu tweet!! So nice of you ?https://t.co/t3eMWgjupj— Anil Gupta (@guptaanilg) June 23, 2017
A moment of Proud and Honor to be considered as one of the 221 volunteers of WCEU 2017.
Overall, volunteering is an incredible experience.
After-party.
As I said in the very first line, I love my natural default setting. And what could be better placed than a party for socializing? The after-party was held at the Pavillon d'Armenonville, a green oasis in the middle of the city with enough charm and capacity for all the attendees. "The 30s in Paris" was a theme for a party. However, since the music was loud, I was unable to have conversations. Although the hour-long queues to access the food were not welcomed by attendees, this social event was perfect fun with lots of familiar faces.

Talk. Dance. Eat. and Connect. – Yayyy!!! Afterparty Rocks!
The Conversations.
Yes, I'm wired to social. So it is always a pleasure for me to meet and chat with people who come from far away to WCEU. I spent quite wonderful time in chatting with our clientele and new friends as well. We also discussed about the young WordPress entrepreneurs and latest developments shaping around our community to watch out for. I can still breathe that air of positivity and energy when we talked about the need for a WordPress business conference. We believe there would be a lot of demand for it, what do you guys think?
And of course, how can I not be grateful to WP Tavern for featuring a fun, family, and Wappu (Courtesy: PixelRockstar) moment? Special thanks to them!
The fun, family and Wapuu moment @WCEurope! #getwapuu #WCEU #wceu2017 pic.twitter.com/eykTMyuiC8— Anil Gupta (@guptaanilg) June 17, 2017
A big thank you to Matt Mullenweg for a comfortable welcome to get the selfie as well.
Me (The Fan) and @photomatt (The Founder) of the WordPress! What an honour and pleasure! ?#WCEU pic.twitter.com/mv9BxQSus0— Anil Gupta (@guptaanilg) June 17, 2017
I am yet unable to come out of the beautiful memories, the WCEU 2017 has given me. That's why I am sharing this video:

Surely, WordPress may be on its way to global, and even kind, dominance. So till we meet in Belgrade, in 2018, let's
WordCamps are all about "Learn, Connect and Contribute" so meaningful!! #wceu pic.twitter.com/dn1f4IUfQm

— Anil Gupta (@guptaanilg) June 15, 2017