June 24, 2017 (Saturday), our CEO and Founding Director, Mr. Anil Gupta, has just arrived from Paris, France. Attending WordCamps is the "norm" for him. However, this time, he was impatient, restless. How much he was rushing for Monday was clearly reflected through his same-day midnight e-mail to all 120+ employees about the meeting. Monday morning, Mr. Anil Gupta: with 28.7% usage, WordPress is the most popular Content Management System. With the daily creation of 652 sites, WordPress is becoming the most preferred choice for website creation for web-savvy entrepreneurs. Days of availability of 40 translations of WordPress have gone, now it's available in more than 56 languages. Surely! The sky is the limit, the way WordPress is gaining popularity. The most impressive was it's whopping 13% keyword density, which means every tenth word typed in Google Keyword Planner is WordPress. He mentioned that the above-mentioned stats were taken from W3Techs – World Wide Web Technology Surveys. Well, but that's not what the most exciting thing is. The most exciting WordPress news in 2017 is Gutenberg – the brand-new editor which will ship with WordPress 5.0 as a public BETA plugin – according to Matt Mullenweg, the co-founder of WordPress.
Me (The Fan) and @photomatt (The Founder) of the WordPress! What an honour and pleasure! 🙏 #WCEU pic.twitter.com/mv9BxQSus0

Anil Gupta (@guptaanilg) June 17, 2017
"It aims to dramatically improve the user experience of WordPress and eliminate existing barriers to adoption by overhauling the WordPress editor experience", said Mullenweg in WordCamp Europe 2017. It was in that couple of hours we all had been introduced to the future of content in WordPress.
It aims to dramatically improve the user experience of WordPress and eliminate existing barriers to adoption by overhauling the WordPress editor experience, said Mullenweg in WordCamp Europe 2017.
Gutenberg will deliver the elegance of Medium but with far more power and flexibility of layouts and content types. Like every enterprise, WordPress also wants to manage less and do more. Do you want a distraction-free writing mode? Just click on "Post Settings" in the Gutenberg WordPress editor, and you're all set to have the accessibility to more screen space with the removal of the right-hand sidebar. A block-based approach works as "the identity" of The Gutenberg Editor. It allows users to drag and drop in different content types so, it generates a dynamic experience for authors. It sounds like a complete package for WordPress lovers.
It is available now as a free plugin on the WordPress.org plugin directory. Here is the plugin.

Nevertheless, if the aforementioned features have engaged you, who wouldn't be curious to know more features of The Gutenberg Editor? Let us share our excitement about this revolutionary editor of WordPress. Below are the seven features of The Gutenberg:
1) Insert option (with different blocks)
A very flexy and trendy interface to add the different blocks in contact. With the option of arranging several blocks/elements from different sections in one package, it will not only be easy but highly quick to manage our content design and elements.
COMMON BLOCKS
All frequently in use text formatting tools like Quote, Image, Heading, Cover Image are here and can be employed to make content-rich.
FORMATTING
The phenomenal block under FORMATTING is 'Code' and 'Custom HTML'. Insert your code and then see a preview from right within the block. It prevents us from having to switch back and forth between the visual editor and text editor modes. Now, what's more pretty cool than this?
LAYOUT BLOCKS
Looking for an easier way to add a call to actions to your blog posts? Use 'Button' from this.
WIDGETS
Add a list of Latest Posts to your blog from this section.
EMBED
You want to embed media content; whether it be from Flicker, Hulu, Scribd, TED, Vine, WordPress.tv, and many more; it's super easy.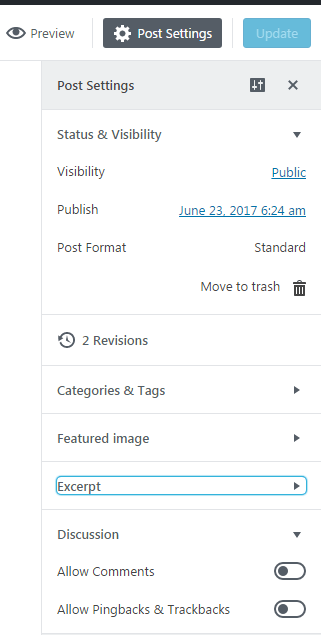 2) Post Settings
Done with your content in block structure! Now it's time to save or publish your post. You may look at the Status and Visibility of it. Not only that, but one can also assign categories and tags, and even Featured images to the post.
3) Visual Layout Selection / Editor
The standard visual editor has given us the ability to align left, right, and center. But assign no alignment. While with the Gutenberg WordPress editor, one can also align wide, and align full-width as well. Now, that's a very similar feeling to Medium.
4) Flexible drop-down interface
With this, one can easily rearrange the position of blocks as the publisher wants.
5) Preview Functionality
Excited! Wanna see the preview of a page on how it would look after publishing? If in case, you want to make any changes.
6) Mobile-Friendly
It works smoothly in a mobile context as well. So it just asks for your commitment.
7) Add Excerpt Content
You know you're the best! But in the age of patiencelessness and where the availability of information is just a fingertips away, 'lack of focus' is a quite common trait found amongst most human beings especially in millennials. So why not to first grab their interest? Though optional, it is worth to write an Excerpt.
In the end, I would like to share something which is still playing in my mind from that Monday morning (June 26, 2017). "Have you played with LEGO bricks ever?" Mr. Anil Gupta asked. Almost, we all nodded our head in positive. The Gutenberg Editor is exactly like that. Move your cursor and you'll notice the different blocks light up with outlines and arrows. Press the arrows to reposition blocks. Like LEGO bricks, the goal of The Gutenberg Editor is simple – add rich content to WordPress, the way you think, in a simple and enjoyable manner.