Sitecore to WordPress Migration Services
Sitecore is a robust .NET Framework-based CMS used by large-scale enterprises for delivering personalized, multi-channel experiences. It comes with marketing automation, eCommerce, and customer analytics.
But why stay with Sitecore when a flexible and cost-effective solution like WordPress is available?
As a Sitecore to WordPress Migration agency, we can assure that WordPress is not only enterprise-competent but also provides all of Sitecore's features at less than half the cost.
WordPress 6.1 is more affordable and offers greater flexibility and customization options. WordPress is also backed by a vibrant community, fostering innovation and support.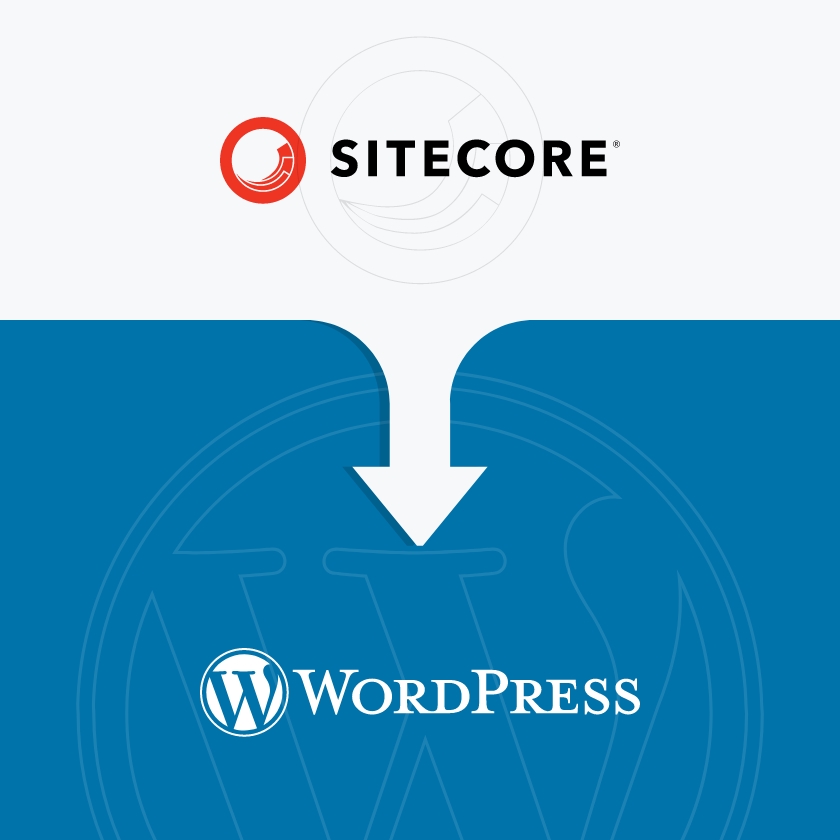 Why Migrate Sitecore to WordPress?
You might believe that as a large-scale enterprise, WordPress doesn't match Sitecore's built-in capabilities. But our Sitecore to WordPress Migration service knows that to be untrue. WordPress, with the right plugins, can surpass Sitecore in various areas, including marketing & CRM, custom workflows & user permissions, personalization & localization, and enterprise-grade security. Let's explore why Sitecore might not be your best option:
Costly
Sitecore's monthly licensing fee can be burdensome, depending on the support and features you opt for. On the other hand, WordPress is open-source, and by choosing content migration from Sitecore to WordPress, you can avoid paying for the CMS itself.
Complicated
Often considered complex, Sitecore requires technical expertise to fully utilize. WordPress is famous for its user-friendly interface, accommodating users of all levels. The Gutenberg Editor in WordPress further emphasizes this point, making it a compelling reason to partner with a leading Sitecore to WordPress Migration agency like ours and make the switch.
Inflexible
While Sitecore's bespoke design caters to individual business needs, it confines you to specific patterns. With WordPress, the architecture and design patterns are yours to choose from, offering endless customization options.
Difficult to Maintain
Maintaining a Sitecore website often feels like climbing a steep hill. From complex configurations to routine updates, it can be labor-intensive. Contrast that with WordPress, a CMS known for low maintenance, whose user-friendly nature allows you to spend less time on upkeep and more on what matters most to your business.
Poorly Documented
Sitecore's documentation leaves much to be desired, often making it a confusing journey for businesses. Conversely, WordPress users relish in its constantly updated and comprehensive documentation. The robust WordPress community ensures that information is always available.
Slow to Deploy
Sitecore's customized solutions can make deployment a slow process, taking time to get everything just right. WordPress speeds up this process dramatically. You can go live in under 30 minutes, yet still have a platform fully capable of scaling to meet your unique business needs. As a leading Sitecore to WordPress Migration company, we streamline this process, ensuring a swift and efficient launch that's tailored to your requirements.
Why WordPress is a True Enterprise-Grade CMS
While Sitecore may flaunt a multitude of enterprise features such as marketing automation, personalization, and localization, implementing them can be challenging. What if you could have all that and more, but at a fraction of the cost? Our Sitecore to WordPress Migration service will help you make the most out of these functionalities of the open-source CMS:
Personalization
On-site personalization is vital yet often overlooked. WordPress offers a wide array of personalization products that integrate well, similar to Sitecore's personalized components. From IP address to past behavior, you can personalize a WordPress site to enhance the user experience. Content migration from Sitecore to WordPress opens the door to simplified yet effective personalization.
Audit Trails & Workflows
WordPress has made significant strides to match enterprise-focused CMSs like Sitecore in setting up custom workflows and audit trails. Various plugins enable you to track user activity, providing necessary compliance information. Moreover, there are solutions specifically built for WordPress that equip the CMS with robust workflow and editorial review processes.
User Roles & Permissions
WordPress's ability to configure granular user permissions ensures compliance, security, and efficiency. Lock the CMS to provide individual access as needed, streamlining the adoption of your CMS while maintaining security.
Marketing and CRM Integrations
Sitecore's all-in-one marketing tech stack may seem appealing, but WordPress surpasses Sitecore with its abundance of specialized integrations. With our Sitecore to WordPress migration services, you can unlock more cost-effective and expert solutions like HubSpot for marketing automation, Salesforce for CRM, Google Tag Manager, and many more. Sitecore's limited options for external integrations simply can't match the flexibility and power offered by WordPress.
Multilingual & Localization
WordPress has evolved to master multilingual functionality and localized content, something it once struggled with. By choosing our Sitecore to WordPress Migration agency, you gain access to enterprise-ready options and plugins that will allow you to deploy a copy of your website into a new country or language in just hours. It's a part of our dedication as a leading Sitecore to WordPress Migration company to ensure you have the global reach you need.
Big Enterprise Brands Trust WordPress
Trust in WordPress isn't limited to small or medium-sized businesses. Major brands like Facebook, Microsoft, TechCrunch, Walt Disney, and many more have recognized the platform's capabilities.
As a top Sitecore to WordPress Migration company, we provide a seamless transition to a true enterprise-grade CMS that's not just cost-effective but also rich in features and flexibility.
Key Benefits of
Sitecore to WordPress Migration
You've got the facts, and now it's time to delve into why you should move to WordPress with the help of a Sitecore to WordPress migration company:
01.
Usability
WordPress is not just for the tech-savvy. Anyone can use it to its full potential, and those with more technical skills can customize it in remarkable ways. Moreover, our Sitecore to WordPress migration services will help you with the basics.
02.
Affordability
The WordPress CMS is free and open-source, meaning you can create attractive and functional websites within any budget. Costs are limited to hosting, customization, and maintenance, something our Sitecore to WordPress Migration agency focuses on minimizing for you.
03.
Flexibility
With WordPress, you can choose from over 58,000 plugins and 8,000+ themes to build a truly unique website that reflects your brand. Unlike Sitecore, which is often viewed as slow and restrictive, WordPress offers unlimited possibilities.
04.
Enterprise Scalability
Starting with a WordPress website is easy and scaling it up to meet the demands of a growing enterprise is just as simple. Our Sitecore to WordPress migration services ensure that you'll enjoy seamless growth, peak performance, and a robust platform capable of supporting your business's future.
05.
Security
While WordPress is sometimes perceived as less secure, in reality, breaches often stem from the owner's negligence, like weak passwords or outdated plugins. WordPress, when managed properly, is a super-secure CMS, and our SItecore to WordPress migration agency takes every precaution to ensure that your website is safe and secure.
06.
Hosting & Infrastructure
The right hosting and infrastructure is vital for a safe, scalable, and smoothly running CMS in enterprise environments. Our Sitecore to WordPress Migration company provides services that include features like automated daily backups, multiple staging environments, Git integration, and more, making your transition seamless.
07.
Community
One of the many perks of WordPress is its ever-growing community of developers and experts, always ready to lend a hand. As an experienced Sitecore to WordPress migration agency, we can guarantee you that this community fosters innovation, collaboration, and constant growth.
08.
SEO and Mobile-Friendliness
Get ahead with WordPress's renowned SEO and mobile-friendliness. The platform is fully responsive right out of the box, and there are fantastic plugins to help you reach the top spot on Google.
Sitecore vs. WordPress –
12-Month Cost Comparison
Deciding between Sitecore and WordPress for your next project? Understanding the cost differences over 12 months can make your decision clearer:
WordPress's "ready to go" elements reduce total development time compared to Sitecore, translating into cost savings.
Generally, a WordPress specialist agency, like our Sitecore to WordPress Migration agency, will cost less than a Sitecore specialist agency in terms of hourly/daily project rates.
Ongoing maintenance and support are typically more affordable for a WordPress site, allowing for greater flexibility and less reliance on an agency.
Unlike Sitecore, with its substantial bespoke licensing costs, WordPress as a CMS is entirely free – no license or update costs.

This cost-effective nature means that you can allocate more of your project budget to ROI-driven activities like user research, prototyping & testing, creating dynamic front-end user experiences, and so on.
Here's an approximate side-by-side cost comparison for a large-scale enterprise website over a 12-month period:
| Facet | WordPress | Sitecore |
| --- | --- | --- |
| License (Annually) | $0 | $50K+ |
| Design & Build | $50K-$100K | $200K+ |
| Patches & Updates | $0 | $10K+ |
| Hosting (8 months) | $16K+ | $0K (included in license) |
| Support & Maintenance (8 months) | $0 | $10K+ |
| Total 12-month Ownership Cost | $100K – $150K | $250K – $300K |
Note: Actual numbers may vary based on your enterprise's requirements. Prices are in USD.
Interested in a tailored quote? Our Sitecore Vs WordPress Cost Comparison Calculator can help you understand the approximate cost of developing and owning your enterprise-grade WordPress website.
Considering the quality and cost-efficiency, why haven't you explored our Sitecore to WordPress Migration service, which fulfills enterprise needs at a fraction of the cost, yet?
What You Should Consider Before the Migration
Migrating from Sitecore to WordPress is a significant step and it requires careful planning. Here are some essential considerations to keep in mind:
Choose a reputed hosting.
Take a complete backup of your website.
Make a list of your current URLs.
Leveraging professional Sitecore to WordPress Migration services from experienced agencies like Multidots can make this transition smooth and error-free.
Our Sitecore Migration Approach
At Multidots, we recognize the unique challenges and opportunities that come with migrating from Sitecore to WordPress. That's why we've developed a well-defined process to ensure a successful transition. Here's how our Sitecore to WordPress Migration service unfolds:
Consulting
Our team of experts will assess your current Sitecore setup, pinpointing any challenges you face. We'll help you understand the why and how of content migration from Sitecore to WordPress, aligning with your specific goals.
Planning
Here, we'll draft a comprehensive migration plan. Whether it's preserving existing features or staying within a particular budget, our Sitecore to WordPress Migration agency tailors the process to your needs.
Initiation
Trust and communication are vital. We'll collaborate with you to perfect the plan of action, ensuring that you're entirely satisfied before moving forward. A full data backup safeguards the transition from Sitecore to WordPress.
Delivery
Our pride as a Sitecore to WordPress Migration company shines in the delivery phase. Rigorous testing ensures your new WordPress site meets all expectations, and content is accurately migrated.
Support
Our partnership continues even after a successful migration. We'll oversee your website's ongoing maintenance, making certain that your new WordPress site maintains performance benchmarks and operates smoothly.
Why Choose Multidots as Your Sitecore to WordPress Migration Agency?
When it comes to the critical task of content migration from Sitecore to WordPress, you deserve a partner with a proven track record. Here's why choosing Multidots as your Sitecore to WordPress Migration service provider is a wise decision:
01.
Work with Experienced Specialists
Our experienced specialists are seasoned in Sitecore to WordPress migration services, ensuring that your Sitecore website is switched seamlessly to WordPress.
02.
Reliable Approach
Our Sitecore to WordPress Migration company adopts a thorough and battle-tested approach. We meticulously handle every detail to meet your expectations without compromise.
03.
Tailor-Made Service
Recognizing that every business and migration is unique, we tailor our services to match your specific requirements. We ensure your business remains on track even after leveraging our Sitecore to WordPress migration services.
04.
Maintain Website Continuity
Our zero-downtime approach ensures your website continues to function at full performance as we handle the backend data transition from Sitecore to WordPress on our servers.
05.
Data Security
Protecting your data is our top priority. Our strict security protocols guarantee the safety of your content and data throughout the Sitecore to WordPress migration process.
06.
Hassle-Free Migration
Our agile methodology means your Sitecore migration to WordPress is stress-free and transparent. You're always in the loop, while we take care of everything.
07.
Core SEO Focus
Your website's search rankings will remain intact. We ensure all pages — including content, links, visuals, menu items, SEO metadata, URLs, and redirects — are migrated correctly.
08.
Hybrid Migration
We're manual migration enthusiasts, combining advanced manual and automated techniques for 100% accuracy. Data integrity and perfection are our primary focus during your Sitecore to WordPress migration.
Multidots is more than just a Sitecore to WordPress Migration agency; we're your dedicated partner, committed to achieving your goals. Trust us to elevate your digital experience with unparalleled service and expertise. Let's make your migration journey smooth and successful!
Case Studies
1. Automotive seating industry leader
A leader in the automotive seating industry, operating in over 30 countries with 200+ manufacturing plants, faced challenges with their Sitecore website such as high licensing costs and technical dependencies for content updates. Our team seamlessly migrated 20 sites, encompassing 20,000 media assets, to a high-performance WordPress platform. Leveraging our Sitecore to WordPress migration services not only reduced the client's total cost of ownership by 35% but also streamlined their content publishing process.
2. Pillar Data Systems
Pillar Data Systems is a global leader in data solutions later acquired by Oracle that faced challenges with content management due to an outdated Sitecore-based website. Our Sitecore to WordPress agency proposed a transition to an Enterprise WordPress CMS, predominantly powered by AngularJS. This not only optimized Pillar Data Systems' content management and publication but also significantly improved their SEO and overall business growth.
Learn Step-by-Step
the Sitecore to WordPress
Migration Process
Are you looking to save your time and effort on CMS ownership and leverage the remarkable flexibility, scalability, and user-friendliness of WordPress?
Our Sitecore to WordPress Migration agency can guide you through every step of content migration from Sitecore to WordPress.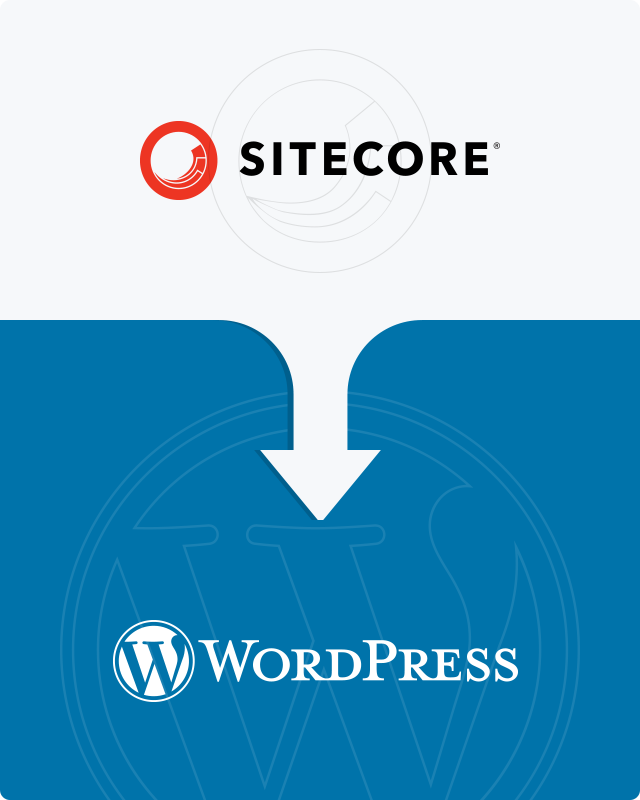 FAQs
If you think:

Your website's backend is too complex,
Many of the built-in features offered by your CMS are unused,
You're paying too much for your CMS,
The performance doesn't meet your requirements,

then it may be time to consider a CMS migration to WordPress. Our Sitecore to WordPress migration agency can evaluate your website's current state and suggest the right course of action for a smooth transition.

The timeline for content migration from Sitecore to WordPress depends on the size and complexity of your site, the amount of data, and the specific functional requirements. Our Sitecore to WordPress Migration agency can work closely with you to ensure a smooth and timely migration.

When transitioning to the same domain, your Sitecore website will be seamlessly replaced by the WordPress version.

It varies based on your current site's specifics. Our Sitecore to WordPress Migration company will conduct a comprehensive evaluation and audit to gather all necessary information, ensuring a successful migration tailored to your needs.

Costs can vary widely depending on factors like size and complexity. Once we understand your requirements, our Sitecore to WordPress Migration agency can provide a customized quote that aligns with your unique migration needs.

Sitecore to WordPress migration is a process where content and website features are transferred from the Sitecore CMS to WordPress.

To migrate from Sitecore to WordPress, you can consult our Sitecore to WordPress Migration agency. We offer specialized services to guide you through each step, ensuring all data and functionalities are correctly transferred.

Yes, migrating a Sitecore website to WordPress is possible and often beneficial. Our Sitecore to WordPress migration services provide the expertise to handle this process efficiently, considering all specific requirements and goals.

Migrating from Sitecore to WordPress can involve challenges like data integrity, SEO preservation, and functionality mapping. That's why relying on a Sitecore to WordPress Migration company like Multidots ensures that these challenges are addressed properly.

Choosing WordPress over Sitecore may offer advantages like ease of use, cost-effectiveness, and flexibility.

Migrating from Sitecore to WordPress offers benefits such as reduced costs, increased flexibility, and more control over content.

Exporting all content from Sitecore requires careful planning and execution. Utilizing our Sitecore to WordPress Migration agency's expertise ensures that all content is exported accurately and securely, without losing valuable data.

WordPress migration services involve the transfer of a website from one hosting environment or CMS to another, like from Sitecore to WordPress.

The best migration plugin for WordPress depends on your specific requirements. During content migration from Sitecore to WordPress, our team will select and utilize the plugin that aligns best with your needs, ensuring an efficient transition.
Let's talk about your dream project?