Drupal to WordPress Migration Services
You must be aware of Drupal's capability to create complex websites and feature-packed web applications. However, it might not be the most cost-effective or user-friendly choice in the long run, especially with the rise of versatile platforms like WordPress.Maybe you're on Drupal 7, set to reach its end in November 2023. Even if you've moved to the latest version, Drupal 9, and considering the anticipated shift to Drupal 10, it's time to weigh your options. Drupal 10's updates aim to improve the platform security and the content authoring experience which means that businesses have to adapt to the new workflows and updated systems. To save time and costs, many businesses are considering migrating to WordPress. This is where we, Multidots, a leading Drupal to WordPress migration agency, can assist you with this transition seamlessly.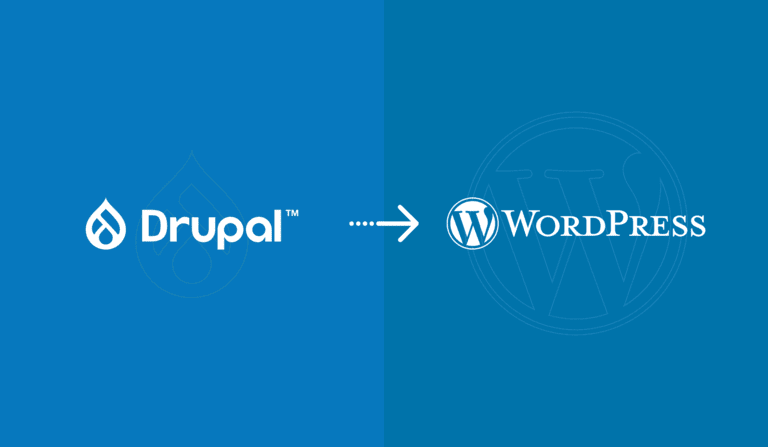 Why Migrate Drupal to WordPress?
At a glance, WordPress and Drupal seem similar. As open-source CMSs, both offer a plethora of modules, plugins, and themes for seamless content authoring. They're versatile, extensible, and backed by a vibrant community, providing freedom from vendor lock-in.
However, it's essential to delve deeper into these systems before making a decision. As a Drupal to WordPress migration company, we understand the nuances and practical challenges that come with these platforms. While WordPress isn't flawless, Drupal, especially with its upcoming changes in Drupal 10, presents significant challenges as an enterprise CMS. Here are three reasons why migrating from Drupal to WordPress could be advantageous for your business.
Complexity
Drupal's high customizability and robust content management features might appear attractive, but they come at the cost of user-friendliness and ease of use. The platform's backend is intricate, requiring substantial web development knowledge and technical proficiency to unlock its potential. This steep learning curve contradicts the fundamental purpose of a CMS: convenient and efficient content management.
Cost Implications
The setup and hosting costs of Drupal and WordPress may be similar, but the ongoing maintenance and upgrade expenses differ considerably. Drupal's complexity often necessitates expert assistance, translating into a significant investment of time and money. Moreover, the smaller Drupal community means that professional help is scarcer and typically more expensive. Also, time is a critical resource. Drupal development tends to be more time-consuming, which can extend your time-to-market and reduce your operational agility.
Performance Concerns
Website speed is a critical factor influencing Google rankings, user experience, and conversions. Drupal's reliance on a complex hook system to load modules can lead to additional memory resource consumption, thereby affecting performance. Although Drupal's inbuilt caching can counteract these issues, it can also result in unique bugs that are specific to Drupal websites.
Performance optimization for Drupal is a specialized field requiring in-depth knowledge and can take substantial time to diagnose and resolve issues.
Multidots' Drupal to WordPress Migration Services mitigates these concerns by facilitating a smooth transition to a more user-friendly, cost-effective, and performance-optimized platform.
How WordPress Excels Over Drupal
Not only does WordPress effectively counter Drupal's drawbacks, but it also asserts itself as a reliable CMS suitable for businesses of all sizes. As a leading Drupal to WordPress migration agency, we present the many advantages of converting your Drupal website to WordPress:
Enhanced Flexibility
While Drupal boasts advanced features like multilingual support out of the box, WordPress, with the right integrations and plugins, can match, and often surpass, Drupal's capabilities. Choose from over 58,000+ plugins and 8,000+ customizable themes to build a truly unique and scalable website aligned with your brand.
User-Friendliness
WordPress is widely acclaimed for its user-friendly interface. Designed with users of all skill levels in mind, even those with limited technical expertise can effectively utilize WordPress. The platform offers a straightforward content management process, and with a bit of learning, even non-coders can create and manage a website with relative ease.
Scalability for Enterprises
The vast repository of plugins and integrations on WordPress allows you to extend your website's capabilities without extensive custom development. As your enterprise expands, scaling your website to accommodate traffic growth and maintain optimal performance becomes an effortless task.
Robust Security
Security is often cited as a weakness of WordPress due to past exploits. However, this perception is often misconstrued. WordPress websites are not inherently insecure; the frequency of attacks is often a function of the platform's widespread use. With diligent security measures like strong passwords, reliable hosting, and updated plugins, WordPress is a secure CMS.
Hosting & Infrastructure
A safe, scalable, and smoothly running CMS is crucial for enterprise environments, and this is where WordPress excels. With WordPress, you can avail of several managed hosting solutions specifically optimized for the platform. These services offer beneficial features like automated daily backups, multiple staging environments, Git integration, enhanced security, technical support, and much more.
Active Community
The global developer community and ecosystem of WordPress are massive, making it easier to find solutions to potential issues. The platform boasts comprehensive documentation, support forums, user groups, and more, all managed by an active and welcoming community.
Cost-Efficiency
Despite both Drupal and WordPress being free and open-source, WordPress can be significantly more budget-friendly. With numerous out-of-the-box solutions and an abundance of affordable WordPress experts, you'll find the platform more cost-effective. Plus, as your WordPress website grows, you can incrementally add server power, keeping costs under control.
SEO and Mobile-Friendly
WordPress is SEO and mobile-friendly (fully responsive) right out of the box, and there are robust SEO plugins to help you reach and retain that top spot on Google. The former head of the Google webspam team, Matt Cutts, has publicly stated that Google loves WordPress. By leveraging WordPress, you can take care of 80-90% of SEO optimization, making it a future-proof platform.
Multidots, a premier Drupal to WordPress migration company, can help you reap these benefits by simplifying the transition from Drupal to WordPress.
Drupal vs. WordPress: The Numbers Speak
Since its inception as a modest blogging platform in 2003, WordPress has become the dominant force in the CMS market, powering over 40% of all websites and boasting a staggering 64.9% market share. In contrast, Drupal, even with its earlier launch, only powers 1.7% of all websites with a modest 3.0% share of the CMS market.
This popularity is evident in the myriad of top-tier enterprise-grade websites across diverse industry verticals that run on WordPress, such as:
Facebook
Microsoft
TechCrunch
Zillow
Salesforce
Toyota
PlayStation
Bloomberg
The New York Times
| | | |
| --- | --- | --- |
| | All Websites | CMS Market |
| WordPress | 40% | 64% |
| Drupal | 1.7% | 3.0% |
Though Drupal's numbers may not rival WordPress, it does power notable websites like:

Cisco
Tesla
NBC
The Economist
Dallas Cowboys
Our Drupal to WordPress migration agency is committed to aiding organizations to transition to the most popular CMS platform smoothly and efficiently.
How WordPress Meets
Drupal's Strengths Head-On
As we explore further, it becomes evident that WordPress overcomes Drupal's few advantages with ease, making it a clear choice in the CMS landscape. Drupal does bring certain strengths to the table, like robust access controls, adaptable taxonomies, core multilingual support, and custom content types.
However, from our experience as a Drupal to WordPress migration agency, the latter is far from ordinary in these aspects, thanks to its exceptional extensibility.
01.
Access Controls
While the single-site version of WordPress provides five basic user roles, Drupal's built-in access control system enables the creation of new roles with unique permissions. But don't let this mislead you. With reliable plugins like PublishPress Capabilities or Advanced Access Manager (AAM), you can define access controls and create custom user roles in WordPress effortlessly.
02.
Adaptable Taxonomies
Drupal's built-in taxonomy system is indeed commendable for handling complex content. However, WordPress isn't limited in this aspect. The default WordPress install provides two types of taxonomies – categories and tags – but with a plugin like Custom Post Type UI or Pods, or a bit of coding, you can easily create custom taxonomies.
03.
Core Multilingual Support
Although Drupal 8 incorporates multilingual capabilities in its core, WordPress users rely on third-party plugins. While this may seem less ideal, plugins like WPML and MultilingualPress offer an effective solution for multilingual functionality and content localization. This facilitates a scalable WordPress framework where launching a website copy in a new country or language can be accomplished within hours.
04.
Custom Content Types
WordPress provides several built-in content types by default, such as pages and posts. If you need more custom content types (like "books" or "whitepapers"), you can effortlessly create them using the same plugins mentioned above for creating custom taxonomies.
Pre-Migration Considerations
Before initiating the transition or partnering with a Drupal to WordPress migration company, you need to consider the following:
Choose a reputable hosting provider that suits your requirements.
Take a complete backup of your current website.
Compile a list of your existing URLs and content.
Our Approach to CMS Migration
Multidots' Drupal to WordPress migration services follow a systematic approach to ensure a smooth transition.
Consultation
Our team of CMS migration experts will analyze your objectives and the challenges posed by your current Drupal setup. We aim to clarify the rationale and process for transitioning from Drupal to WordPress.
Strategy Development
Upon understanding your migration needs, we devise a comprehensive plan that considers your existing website features, content, goals, budget, and timeline.
Implementation
We collaborate with you to refine the plan of action. With your approval, we safeguard your data with a full backup before commencing the Drupal to WordPress migration.
Execution
As CMS migration specialists, we undertake rigorous testing to ensure your new WordPress website meets all your expectations and that all content is accurately migrated.
Support
The conclusion of a successful Drupal to WordPress migration isn't the termination of our partnership. We commit to maintaining your new WordPress website, ensuring it consistently meets performance benchmarks and functions seamlessly.
Why Choose Multidots for
Your Drupal to WordPress Migration Service needs?
When it comes to Drupal to WordPress migration services, our experts come with a proven track record. Here's what you can expect when you opt for us as your Drupal to WordPress migration company.
Collaborate with Experienced Specialists
At Multidots, we house a team seasoned in WordPress website migration, ensuring a seamless transition of your Drupal website to WordPress.
Dependable Strategy
Our methodology is rigorous and battle-tested. We attend to every small detail to produce the exact results you envisage, providing a dependable Drupal to WordPress conversion experience.
Customized Migration Service
Understanding that each business has unique needs, we offer bespoke Drupal to WordPress migration services to cater to your specific requirements and ensure business continuity post-migration.
Continuous Website Functionality
Adopting a zero-downtime strategy, we allow your website to function seamlessly while we manage your data migration in the backend (on our servers), ensuring uninterrupted service throughout the Drupal to WordPress migration process.
Uncompromised Data Security
Your data security is our top priority. We maintain stringent security protocols to safeguard your content and data throughout the WordPress migration process.
Hassle-Free Migration Process
With our agile approach to Drupal to WordPress migration, we offer a stress-free migration experience, taking care of everything while keeping you informed at each step.
Retention of SEO Value
We ensure your website's search engine rankings remain unaffected. We meticulously migrate all pages — content, links, visuals, menu items, SEO metadata, and URLs and redirects — to retain your website's existing SEO value in the WordPress environment.
Hybrid Migration Approach
Relying solely on automation can lead to data inconsistencies or loss. Hence, our hybrid Drupal to WordPress migration services, combine manual and automated techniques for achieving 100% accuracy and ensuring data integrity.
FAQs
If you're grappling with a complicated CMS backend, underutilizing your CMS's built-in features, facing high CMS maintenance costs, or your current CMS isn't meeting your performance expectations, then it's probably time to consider a Drupal to WordPress migration.

If you're uncertain about the need for a transition, our Drupal to WordPress migration agency can conduct a comprehensive website audit to recommend the best course of action.

The duration of the Drupal to WordPress migration process largely depends on your website's size (including the volume of data and content) and its functional complexities. The more complex the site and the greater the amount of data to be transferred, the longer the migration will take.

Absolutely not. All your data will be meticulously migrated to your new WordPress website, ensuring nothing is lost in the transition.

Upon successful migration to the same domain, your Drupal website will be seamlessly replaced by the WordPress version. Notably, your current website will remain functional and live throughout the migration process.

The specifics can vary based on your existing website setup. To understand better, we'll conduct a detailed evaluation and audit of your Drupal website to gather all the necessary information for a successful Drupal to WordPress migration.

Since several factors contribute to the overall cost (like website size and complexity), it's hard to provide a fixed cost without understanding your specific requirements.

Migrating Drupal 7 to WordPress involves exporting data from Drupal, setting up your new WordPress site, and importing the Drupal data into WordPress. To ensure a smooth and error-free transition, we recommend you seek professional Drupal to WordPress migration services by partnering with an experienced agency.

Transferring a Drupal site to WordPress involves several steps, including setting up your new WordPress site, exporting data from your Drupal site, and importing that data into WordPress. It's advisable to seek professional assistance from a trusted migration service provider to manage this process seamlessly.

Yes, absolutely. Migrating a Drupal website to WordPress involves moving all your data, content, and functionalities to WordPress, which is a task our team at Multidots is well-equipped to handle.

Drupal to WordPress migration refers to the process of moving your website from the Drupal CMS to the WordPress CMS. It involves transferring all your data, content, and functionalities.

WordPress offers a more user-friendly interface, robust community support, a vast array of themes and plugins, and cost-effectiveness, making it a favored choice for many businesses over Drupal.

Exporting all content from Drupal requires technical knowledge of both Drupal and the target CMS. Content can be exported as XML or CSV files, but it's recommended to engage a Drupal to WordPress migration service provider to ensure the process is handled correctly.

WordPress migration services involve transferring a website from its current CMS (like Drupal) to the WordPress platform. This includes migrating all website data, content, and functionalities. At Multidots, we provide seamless, efficient, and secure WordPress migration services.

Importing a Drupal database to WordPress requires specialized tools or manual SQL queries which is crucial to map your Drupal content to corresponding WordPress fields. Consider hiring experts from reputed agencies like Multidots if it's a large-scale migration.

Yes, the process involves transferring your content, users, and design elements. It's a complex task but can be simplified by partnering with experienced Drupal to WordPress migration agencies like Multidots.
Other WordPress Migration Services
Proprietary CMS to WordPress
Blogger to
WordPress
Squarespace to
WordPress
WordPress to
WordPress Multisite
Let's talk about your dream project?