I am nomophobic. So even if it's a distant cat meowing, or my eldest dog whining in sleep, and I am in my kitchen, painfully away from my phone, doing some odd kitchen work, I feel, my phone is crying for my company (The truth is the opposite!).
Are you nomophobic? Are you like me? Well, even if you say you are not, I am not alone! Want a glee-data?
34% of mobile phone users in US answer their cell phones when they are sharing intimacy with their partners. 58% of a couple of thousand sampled people get anxious when their phones lose juice.
Blahhhh!!! Terrific!
Venom for one, elixir for another.
Elixir for you, if you are someone banging your head as to how to reach all these nomophobic people, the world over. Or no?
That depends, darling, on who your nomophobic target is. If it's someone like, me, who likes to keep my smartphone stuck to my bosom, so that I don't miss a message, well, you'd better get thinking twice. I hate promotion on a device that is so….oh so close to me, I literally sleep with it under my pillow.
But I have a friend, who gets really excited about offers and discounts and stuff — more so, when it is her favorite brands in question. Additionally, she keeps a check on which is the newest moon in the sky (she is not specifically loyal, eh?). Mobile applications are her way of doing things.
So she has her nose dug into her device, almost always. (She would sometime smile in her lone, and the smile would gradually spread into a grin….I would later on find out, it was about a new app that she discovered) Holy Braille!
Which of the two of us should you target? "She?"
A slight disclaimer here — I buy products on my mobile device more than she does. She uses it to keep herself informed.
Got the hint? Let's debug the entire puzzle for you, here.
What use is your app to you?
Am sure, you think this is crazy. Like boy! Didn't we say marketing already? Alright….enlightenment is round the corner.
There are different aspects of marketing — location-based promotion, promotions based on time of the day, the activity being done, subtle promotion through peripheral activities (an company selling air conditioners, makes an app that shows temperature forecasts in summer months in tropical countries), better yet, because I am an avid supporter of a healthy global ecosystem, (a solar panel seller making an app that talks about global warming). It might be a simple brand building effort too!
Coca Cola did it fine. Although I seriously have no idea why I would want to cocktail out my coke with Fanta or Sprite, I have seen young people giggling over theirs'. I guess it was fun!
Some like Bradesco do it so smartly, you really think they care about you, when they were caring about coaxing you into buying them. I found it plain clever. I mean who else creates an app, that is actually an ad for iOS targeted magazines? Dare flip the page where the ad is, the car in the ad would crash at the end of your page. It's shocking and then you suddenly realize, you did not get the new car insured!
Bradesco just got a customer!
All these cool brands knew exactly what they were expecting out of their apps. They didn't say we want to market our brand. They pointed out what, about their brand, would they want to market and how they were intending to do that.
Figuring that out, is sort of an art.
On to the art then!
Where and when would your customer find use of your app?
While going to a party?
While on a beach?
While lapping up calories of ice cream?
While utilizing the ample time that life has to offer, window shopping in a mall?
While preparing nervously for an engagement?
Honey, I can go on like this…..you see, we all do so many things throughout the day, from the moment we open our eyes to a sunny morning to the moment we close our eyes to a dreamy night. Each of these things that we do, is an opportunity to remind of something that we just missed, something that was important, but quite conveniently slipped out of our confused, poor brains.
As a brand marketer, it's your sole purpose of life (and a holy one, actually), to pluck out these opportunities for lives of your target people.
Unless your app is actually bringing a smile to your folks' faces, unless your app is reminding them of that little thing which they missed, trust me, you are not really making honest reap of mobile applications.
Take L'Oreal for an example. I have their Makeup Genius app on my phone. Never seen something like it! I don't need to ask any other makeup freak, how I am looking. I can just use the app and get an idea of how horrible i am looking. Most of the time it stays like that, because I am lazy, but they have done an awesome job. The app almost offers me a virtual assistant, who can tell me how dark my eyes shades should be.
The crux be, this particular application is helping me save a lot of time, and cuts down a lot of confusion, puffs up my confidence (and oh yes! it does show on my face) and most importantly, fuck! I am using their product! They know best which of their stuff would look best on me, and yeah, they care! That's why they brought such an app for people like me! I love L'Oreal!
Unless you have an app that is helping me do such a thing, or is informing me of something I would rather not miss, and is pushing up my self-esteem a bit more, nope, do not dare be there on my phone.
What problem are you solving, and how quick should the solution ideally show?
Since I am someone to keep nagging till you are completely clear about what I am indicating, here's an example (unfortunately I found of it. I am not a user).
Even if you are not a lot into jewelry (my guy keeps saying that, curious…I thought you might belong to his creed), I bet you know De Beers.
They have been considerate enough to think that engagement and wedding rings need customization. And more so, in thinking that every potential diamond buyer might just not be able to reach them, considering how hectic, engagement and marriage preparations are.
You see, that's a problem. Which diamond is like you….which one is like me….which ring looks like your grin, which one looks like my smile….which one looks like 'forever us'.
In a couple's search for 'forever', De Beers might let them go lose to some other diamond brand. And that would be a regret forever.
They brought an iPad app to such couple in 2013. The app allowed prospective brides and grooms to customize their rings from across a range of 2000 diamonds, without having to visit a store.
A solution for a problem……a solution that is sweet and really quick. Do you have such a thing? If yes, I would be interested to write about you too!
Given a chance, (everything else conducive), would an app be first on your list? Or a mobile website would do?
Many brands get super-enthusiastic about having an app.
Flawed concepts abound.
Sold a little? Have an app, you will sell better…..No one noticing you? Pop out an app….people will magically turn their heads and see you glowing like a star in solitude.
I am amazed. I mean, if you thought, having an app will push your brand a mile deeper into your customers' hearts, well, that's a senseless…bullshit thought!
Count the bucks you have to put into promoting your newly found app. And even if it does make a bang in app stores, will things just be cool with a mobile website?
Take a news agency for an example. It would be a glitch to create an app, so that readers might have access to news pieces throughout the day, on their devices. A better bet is to create a mobile site. It is quicker, it would be more economic and it will solve the purpose.
And that's not me saying! That's coming from an expert.
Go for an app only when a mobile website is not solving your purpose. Go for an app only when there is a task that needs to be performed….something that gives results in tangibility or emotion-wise. if it's information, go for a mobile website. A app is purposeless there.
Is the app adding value?
(We define value as something that your customers would not be able to do without your app, not as something that exists because you want to take the 'screen size' hoopla into consideration)
By value, we mean this. Just in case your are as lazy as I am, I am shaking it off here, with what 'this' is about. It's an app that BMW produced for its users. BMW users were supposed to be able to track their cars, check whether cars are locked and even control temperature inside their cars, using this application.
Apparently, this app is something that cater to needs that cannot be otherwise be catered to, in any other way. See, that's value.
Other category of examples here could be beacon based applications that are used by retailers to send offer notifications to shoppers. You see, that adds value, to people like my friend, who need to know what's going on with your stuff. That purpose cannot be solved by a mobile website as well as it is solved by an app (you can always list your best selling stuff and offers on your website, but the twitching pain here is, I don't know how many people will actually be surfing through a mobile website while shopping. A notification calls for a more spontaneous kind of reaction.
How should your business be forecasting its benefit from the app that you dreamt about?
(How much will the app cost you, vis-a-vis, what budget allocation do other marketing tactics require)
Apps need money — pure, brutal truth. They need money and investing that money is a risk, unless you are dead sure, you are not putting the money in drain.
If you are a startup, better count your beans before sowing them. You might want people to be warmed up to your offerings before, dropping an overwhelming app onto their laps, while they have absolutely no clue of your existence. Unless you have a fool-proof business model that could say a convenient 'Hi' to Uber, test waters well before stepping in.
There is an ideal download-retention ratio that your app must be seeing, to indicate, it is being beneficial to your business. A healthy retention rate would range anywhere between 30%-40%. App loyalty would typically vary according to the industry or the sector you are functioning in.
Here is an elaborate idea: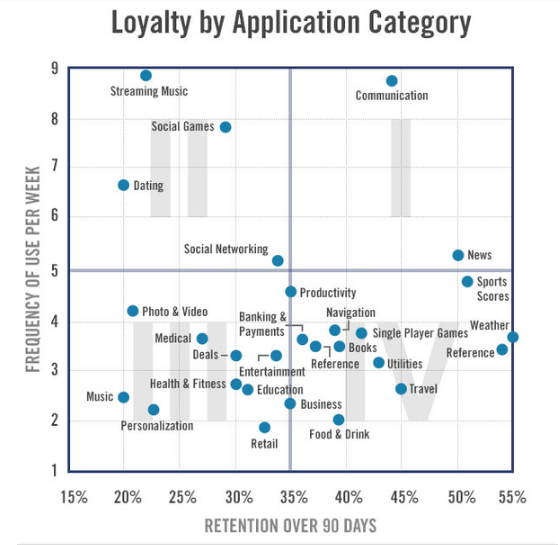 Take my take now
App first approach has died a peaceful death quite sometime back. The newest trend is to make a complete analysis of tasks that your users would be performing, and then track down devices where those tasks would be being performed.
A sun tanner, for example, is something you would want to use while on a sunny beach. So if a tanning lotion manufacturer were to roll out an app that tells its users how warm the sun is, and how long they need to be exposed as such, I would recommend going for a smart-watch app, rather than a mobile app. It makes sense, you see, because hey! how many people would be tapping on their smartphones while they are on a beach? A smart watch would be a more convenient choice, any day.
For deciding whether you should have a mobile app or a mobile website, you need to know what is it that your users are interested in. Would being interactive really add value to the relationship that you share with them? Or will providing structured information suffice?
A mobile website will be more readily available and would cost you less. make an app part of your plan, when you want to go big, go quick and are sure about investment risks that you are taking.